The market continues to slowly inch forward, but there are still a lot of bargains out there. While the prospects for real estate continue to appear dim, many REITs are still worthwhile investments as the market has already priced the equivalent of a commercial real estate apocalypse into many securities. Even if there are a lot of companies that I would keep away from, my basic hypothesis is that there are many quality REITs getting overly punished right now and prudent investors can gobble them up for sizable discounts.
Thus far, I have examined seven REITs in detail:
Part I: Winthrop Realty Trust (NYSE:FUR)
Part II: Colonial Properties Trust (NYSE:CLP)
Part III: Agree Realty Corporation (NYSE:ADC)
Part IV: Douglas Emmett, Inc (NYSE:DEI)
Part V: Alexander's (NYSE:ALX)
Part VI: Lexington Realty Trust (NYSE:LXP)
Part VII: Brandywine Realty Trust (NYSE:BDN)
This is Part VIII in my "Quest for REIT Value" series and for this episode, I focus on a small-cap company known simply as the Pennsylvania Real Estate Investment Trust (NYSE:PEI).
Qualifying Criteria
In my previous articles, I mentioned several factors I initially search for when examining REITs. My list has evolved a bit since my first articles, but here's the general rundown of what I am looking for:
(1) Relatively low leverage
(2) Insider buying and a substantial amount of inside ownership
(3) High levels of liquidity
(4) Property in markets near a bottom, with no excessive exposure to "bubble markets"
(5) Strong asset quality in real estate holdings and other balance sheet accounts
(6) Focus on residential RE favored over commercial RE
(7) Office and industrial RE favored over retail RE
There is probably no REIT in the market that satisfies all my prongs, but the more, the better. Pennsylvania REIT does not satisfy too many of these prongs on the face of it. It does have relatively high insider buying and arguably, it has strong quality in its commercial real estate holdings, so that had me intrigued. It would also appear to have many holdings in markets that might be near a bottom, but that is a debatable subject. What interested me more than anything, however, was the fact that this stock has not shot upwards over the past few months like many other REITs, but still seemed to have enough going for it to be a potential buy.
Overview and Tenants
Pennsylvania REIT ("PREIT") is a business trust with a primary focus on retail shopping malls and strip and power centers in the mid-Atlantic region of the United States. PREIT owsn 56 properties including 38 shopping malls and 14 strip and power centers. Its properties range in size from 150,000 square foot power centers to 1 million plus square foot malls. Pennsylvania REIT was founded in 1960 and was one of the first equity REITs in the United States.
Most of PEI's properties are anchored by major tenants. Its six largest tenants include Macy's (NYSE:M) (12.4%), Sears Holding Corporation (NASDAQ:SHLD) (10.6%), J.C. Penney (NYSE:JCP)(9.2%), Boscov's Department Stores (4.2%), Target Corporation (NYSE:TGT) (3.6%), and The Bon-Ton Stores (NASDAQ:BONT) (3.0%).
Of the properties leased by Sears Holding Corp, 29 are occupied by a Sears store and only 1 is occupied by K-Mart. I would have much greater fears about K-Mart stores than Sears, so this is a positive. However, there are still some substantial risks in PREIT's portfolio.
Boscov's filed for Chapter 11 bankruptcy protection in August of '08. This creates more concerns about its prospects moving forward. Bon-Ton also seems to pose a significant bankruptcy risk. According to its most recent 10-K filing, it has been operating unprofitably over the past year and has some rather frightening metrics, such as a 92.6% Liability/Value ratio and a 64.7% Long-Term Debt/Tangible Assets ratio.
In PEI's most recent earnings call, COO Ed Glickman states that Pennsylvania REIT's weighted average total occupancy is currently at 89%, with a majority of store closings resulting from tenant bankruptcies. PREIT has signed leases for 10% of its total bankruptcy-impacted spaces and state that the company is in negotiations for another 20% of the impacted stores.
Another troubling sign I spotted in the Q1 Earnings Call: PREIT has been asked by many tenants for rent relief. This could signify revenue hits down the road.
Leverage, Liquidity, and Other Fears
Perhaps the most troubling issue for Pennsylvania REIT is its heavy leverage. The company has an 80.3% Liability/Value ratio; that number jumps slightly to 81.7% if you discount intangible assets.
Liquidity is likewise poor. PREIT does not group its balance sheet into "Current Assets" and "Current Liabilities". This makes it a pain to calculate relevant metrics. However, PREIT currently has $19 million in "Cash and Equivalents" and $56 million in "Tenant/Other Receivables." Add the two up together and they comprise a mere 2.2% of total tangible assets. Due to uncompleted construction, PREIT is still free cash flow negative, as well.
PREIT recently announced that it will consider selling some properties, which further validates my beliefs in regards to its liquidity. It has over $2.8 billion in debt and $670 million of that must be addressed by March 2010. The prospects for that do not seem good given its capital funding requirements-- unless it finds some way to raise more cash.
The High Maintenance of Retail
At the beginning of the 1st Quarter earnings call, CEO Ed Glickman states that "even in 2009, the American consumer is still responsive to the beautiful physical environments and compelling value propositions [provided by Pennsylvania REIT]." Pre... Joe Coradino noted that renovations at Cherry Hill Mall in suburban Philadelphia have been successful and shoppers have been very responsive to the new Nordstrom design due to the architecturally distinctive elements.
While this can be spun as a success, it also suggests that things aren't very simple when it comes to leasing mall retail properties. All properties require some maintenance, but it would appear that mall properties would require more than most other properties and are heavily dependent on a very active management approach. This means higher costs in the long run.
The fact of the matter is that in order to lease retail properties, those properties must be in a prime location and attract a mass number of consumers. This means retail properties are more subject to demographic, economic, and cultural shifts, which creates more risks. This is one of the reasons I prefer office RE over retail RE. That said, I have no bias when it comes to value, so the question is whether PREIT's stock price is suppressed enough to compensate for these additional fears.
Property Write-Downs
The first step in trying to come up with a overall valuation for PREIT is to make projections about the underlying value in its retail property holdings. REITs have somewhat nonsensical accounting in that its properties (which make up a huge portion of its total holdings) take depreciation charges in spite of the fact that real estate properties generally appreciate in value. However, in the cases of retail properties, there might be a bit more merit in the idea of "depreciation" than with office commercial properties.
PREIT's accumulated depreciation account is roughly equal to 14.6% of its "Total Investments in Real Estate." Taking a glance at its properties, PREIT appears to have purchased the majority of them around 2003, with a few holdings going back into the late '90s and a few more in '05 and '06. Its properties tend to be located in two types of areas: (a) suburbs of major cities and (b) small and medium-sized cities. However, its holdings appear to be more skewed towards small cities, which is a plus in my view, as real estate in those types of areas were less likely to have become inflated in the real estate boom. Hence, they are less likely to need a significant write-down.
Based on my personal judgment, I believe PREIT's properties are close to being fairly valued once you take into account depreciation charges coupled with potential losses in property value. If this is true, PREIT's net tangible assets would appear to be close to $14, a substantial premium over the stock's current trading range @ $5.50 - $6.00. While this might make it seem like an easy buy, we have to temper that with heavier leverage, which means that if my projections are off by even a slight bit, the underlying value of the company could radically change.

Below is an impairment chart displaying how modifications to PREIT's "Net Investments in Real Estate" account could easily alter that $14 figure. Note that I include negative "impairments" as well in the event that PREIT's properties are undervalued on the balance sheet: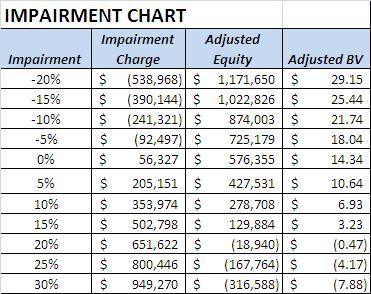 As you can see, a mere 10% drop in the underlying value of PREIT's real estate properties (based on the current book values) would cause the net tangible assets for the company to drop from $14.34 to $6.93; a very substantial difference in price. This is what I mean when I say that PREIT is "high-risk".
Historical Earnings and Cash Flows
In order to get a sense of PREIT's historical earnings and cash flows, I put together the following chart which tracks several metrics over the past six years. I'm always trying to get a sense of "real earnings" (so to speak) with companies so I often come up with my own personal metrics that may look odd to many people.
Note that this chart was created on a constant per share basis so it differs from actual results --- I assume 40.2 million shares for every year: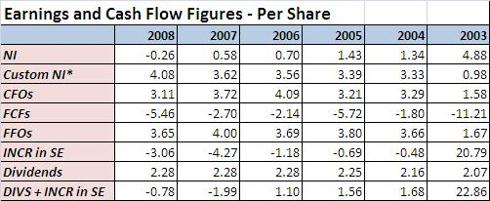 This chart has a few of those odd personal metrics: "Custom NI", "INCR in SE", and "DIVS + INCR in SE". The "Custom NI" measure is a variation of my typical "NI + DA" measure ("Net Income Plus Depreciation and Amortization"), except I found that PREIT had enough odd non-cash items to justify expanding the definition a little bit. The "DIVS + INCR in SE" might seem strange, but PREIT's equity account has consistently declined over the past five years, which is troubling. I wanted to see how much of that was due to dividends and how much of that was simply due to the company "losing value." The results don't exactly impress me.

If you're still perplexed with some of these metrics, here's a handy guide:
NI = Net Income per Share
Custom NI = Net Income + Depreciation/Amortization + Impairments - Gains on Property Sales - Gains on Discontinued Ops
CFOs = Cash Flows from Operations
FCFs = Free Cash Flows
FFOs = Funds from Operations
INCR in SE = Increase in Stockholders' Equity
Dividends = Dividends paid out to common shareholders
DIVS + INCR in SE = Dividends paid out + Increase in Stockholders' Equity
I believe that the "Custom NI", "FFOs" and "DIVS + INCR in SE" metrics are the most insightful; however I do find the continual negative FCFs to be concerning. The below chart shows the 3-, 5-, and 6- year averages for the above metrics. Note that I used a 5-year average (which is atypical for me) due to the fact that there were some funky numbers in the 2003 results (note the massively negative FCFs and massively positive INCR in SE):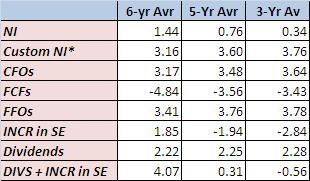 As an addendum, PREIT is projecting FFOs for FY '09 between $2.75 - $2.95 per share.
Revenue Stress Tests
As stated earlier, it's completely possible that revenue will be negatively impacted moving forward. Due to this, I wanted to conduct some revenue stress tests to see how much this could affect FFOs. I use two variants:
Chart #1: The first chart shows how FFOs would be impacted based on a specified percentage decrease in revenues without taking into account the expense side of the equation. This chart could give insight into possible short-term results, but in the long-run, if revenues permanently decline, PREIT will probably find ways to lower expenses to some extent, so this chart is unrealistic in that sense --- but it does give insight into worst-case scenarios
Chart #2: The second chart below shows how FFOs would be impacted once again --- except this time, I also assume the company could lower expenses. However, I also assumes that PREIT's margins shrink with greater revenue losses.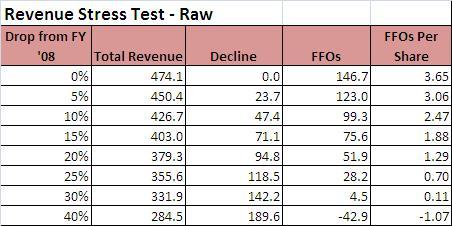 Valuation Chart
With all that out of the way, it's time to look at potential valuations. Rather than create scenarios as I have done in the past, I simply decided to create a valuation table of possibilities. This is a simple way to analyze PREIT and get a sense how different changes in its business environment would change its valuation.
For this chart, the X-axis (horizontal) represents an average FFOs figure. It assumes a 3% growth rate with each successive year. The Y-axis (vertical) represents an "Adjusted Net Tangible Assets" figure. This is based off the earlier "Impairment Chart." I decided to use a 10% cost of capital with PREIT, which is probably high. However, due to PREITs heavy leverage, I'd prefer to stay well on the safe side. Here are my results:

I highlighted in yellow the areas of the chart that would appear to represent a "most probable" range.
Analysis
Based on my research and all my charts, I would assign PREIT a most probable valuation at $32, which is significantly higher than the stock's current price. This assumes a 10% write-down from the balance sheet-stated net value of PREITs properties and "real earnings" in the $1.80 range (a significant discount from current stated FFOs). My discount to FFOs is based on my concerns over high FCFs and the unimpressive drop in shareholders' equity over the past several years.
My upside probable valuation is $46, which assumes a 5% drop in RE holdings from book values plus a small discount to FFO levels. My downside probable valuation is $18 which assumes a 15 – 20% discount in RE holdings from book values plus real earnings around $1.00 - $1.25 per share.
Downside risk is $0. It might seem strange given my probable valuation, but given PREIT's heavy leverage, low liquidity levels, excessive capital expenditures, and historical falling shareholders' equity, I would not completely rule it out. However, I would see bankruptcy as somewhat unlikely and I believe the company would have more value than $0 even in the event of liquidation.
Upside potential for the next 5 years might be around $55. This is based on PREITs RE holdings being fairly valued on the balance sheet and a steady state for real earnings over $2.75 per share.
While my probable valuation is at $32, do not mistake this for a "buy" level. Rather, due to the heavy risks, you would want to own this security with a significant margin of safety. After all, even a small increase in the value of PREITs RE holdings could significantly impair the REITs value due to the leverage. My personal buy target is under $12 and I consider PREIT a strong buy under $8. This is a high-risk security so I would not go long if you are afraid of losing 50% of your money within the next few years.
Here's a chart summarizing the above: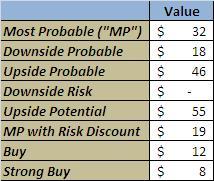 Conclusion
Pennsylvania REIT is an intriguing, if relatively high-risk buy under $6. I have initiated a 1% position in it for my KaChing simulated $10 million portfolio. Despite the poor commercial environment, I believe this position will pay off handsomely at some point. As I am concerned with building up my personal cash cushion for the time being, I have not added a position in PEI to my real portfolio --- however, I might at some point in the future.
As it compares to the other companies I have surveyed, I believe PEI ranks among the best. All the same, due to lower risks, I believe Brandywine (BDN), Lexington (LXP), and Winthrop (FUR) are slightly better buys.
Disclosure: No position in PEI. Long on BDN, LXP, and FUR.