The beginning of the 21st century has brought mobile devices to middle class consumers all over the world. During this time, investors have seen substantial returns in companies involved in the growth of mobile like American Tower (NYSE:AMT), Apple (NASDAQ:AAPL), and Google (NASDAQ:GOOG). As this growth continues in the next decade, we will see increased competition and decreasing margins as the mobile market begins to mature. Manufacturers will look for ways to continue to get their products in the hands of consumers, which will include offering a variety of high-end devices, as well as many affordable low-end models. This wide spectrum of demand will lead to a larger variety of models for consumers to choose from than has existed in the past. Photronics (NASDAQ:PLAB) is in a position to capitalize on a maturing mobile market because it produces photomasks, which see demand increase as the number of product designs go up, and not necessarily when there is a higher volume of mobile devices sold. The beginning of the mobile revolution brought us products like the iPhone and the iPad, and the next 5 years will bring us many variations of these existing products, which will lead to a higher demand for photomasks. I believe Photronics offers a great long-term opportunity to invest in the mobile market as it begins to mature, because of the increased variety in mobile devices we will see in the next decade.
The stock price has lagged in recent years, however, it is up over 30% Year-to-Date. Looking at a historical price chart, I believe it still looks attractive to investors.
Source: Finviz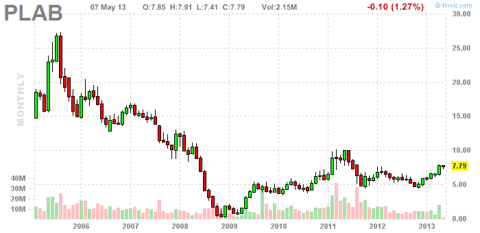 Company Overview
Photronics, Inc. was founded in 1969 in Brookfield, Connecticut. "The company manufactures precision photographic quartz plates containing microscopic images of electronic circuits called photomasks. (Source)" Photronics has eight manufacturing facilities; two in Europe, three in the Asia Pacific region, and three in the United States.
Source: Photronics 4/3/13 Investor/Analyst Day

Across its supply chain, Photronics employs 1,300 people. The management team has a combined 182 years in the industry, many of them previously working for competitors or current customers of the company. This experience gives them an opportunity to leverage connections in the industry to put Photronics in a competitive position in the photomask market.
(click to enlarge) Source: Photronics 4/3/13 Investor/Analyst Day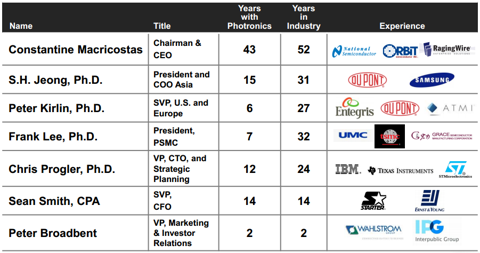 Competitors
Photronics' competitors include: Compugraphics, Inc, Dai Nippon Printing Co., Ltd, Hoya Corporation, SK-Electronics Co. Ltd, Taiwan Mask Corporation, and Toppan Printing Co., Ltd.
The Company also competes with semiconductor manufacturers' in-house photomask manufacturing operations that supply photomasks for internal use, and occasionally external customers and foundries.
Customers
Photronics sells its photomasks to semiconductor designers, manufacturers and foundries, as well as to other high performance electronics manufacturers. The company does business with over 600 customers around the world, its largest being Samsung which consisted of 22% of its total sales in 2012. Photronics' 5 largest customers made up 43% of total sales in 2012, and the company also disclosed a list of its 20 largest customers in this past year:
Aptina Imaging Corporation, AU Optronics Corp., Dongbu HiTek Co. Ltd., Global Foundries, Inc., Himax Display, Inc., IM Flash Technologies, LLC, Inotera Memories, Inc., Intel Corporation, Jenoptik AG, LG Electronics, Inc., Magnachip Semiconductor, Micron Technology, Inc., Nanya Technology Corporation, Novatek Microelectronics Corp., Ltd., Samsung Electronics Co., Ltd., STMicroelectronics, Inc, Systems on Silicon Manufacturing Co. Pte. Ltd., Texas Instruments Incorporated, United Microelectronics Corp., X-FAB Silicon Foundries.
Based on the list above, and this report by Gartner, I am assuming that Photronics' five largest customers are Samsung (OTC:SSNLF), Intel (NASDAQ:INTC), Texas Instruments (NYSE:TXN), STMicroelectronics (NYSE:STM), and Micron (NASDAQ:MU). These assumptions will be carried forward as we continue to look at different data sets. Keep in mind that is exactly what these are: assumptions. One or more of these companies may not be one Photronics top 5 customers and you should do your own research and form your own opinions before making an investment decision.
What are Photomasks?
"Photomasks are a key element in the manufacturing process of semiconductors and flat panel displays, and are used as masters to transfer circuit patterns onto semiconductor wafers and flat panel substrates during the fabrication of Integrated Circuits (ICs), Flat Panel Displays (FPDs), and other types of electrical and optical components. (Source)" In layman's terms, a photomask is a template used to create semiconductors. Light passes through the photomask with an electron beam or laser writing device, etching the design onto the semiconductor chip. The diagram below shows the role photomasks play in semiconductor production: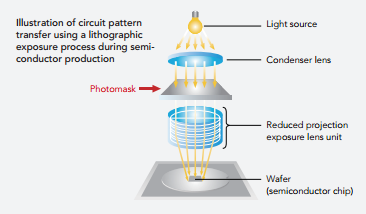 IC photomasks are used to transfer circuit patterns onto semiconductor wafers during the fabrication of the circuits, and FPD photomasks are used in the fabrication of screens for televisions, PC monitors, Tablets, and mobile devices.
Semiconductor Industry
Semiconductors are the foundation of modern electronics, which includes computers, mobile devices, and other digital appliances. The semiconductor industry has historically been very cyclical and grew at a CAGR of 9% from 1996 to 2008. With each new generation, the computing power gets larger, while the sizes of the chips get smaller.
Data source: Gartner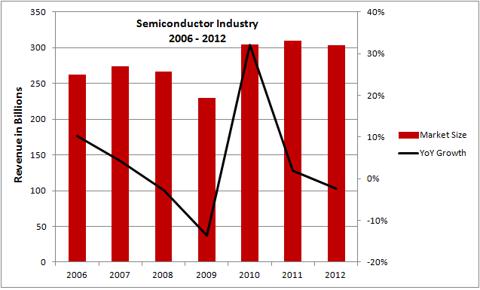 Trends in the chart above suggest that we may be due for another surge in semiconductor production in the next few years. This would be fueled by growth in mobile devices, specifically in smartphones and tablets.
The semiconductor industry is generally perceived as being highly competitive, and requires large capital spending to remain competitive in an industry that changes completely every few years. Photronics has spent a total of $250 million on capital expenditure the past 3 years, and expects to spend between $70 and $90 million in the next year.
In the table below, you can see the Photronics assumed top 5 customers made up 34.37% of the semiconductor market share in 2012, and were able to increase share up from 28.98% in 2008.
(click to enlarge) Data source: Gartner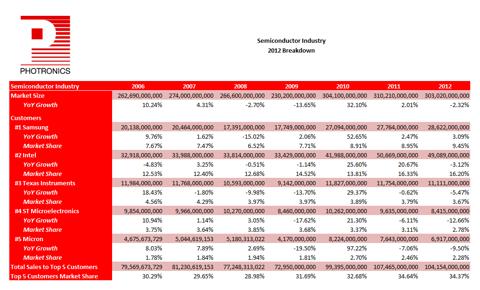 I believe this is a positive sign for Photronics, as its customers have been able to grow their share of the semiconductor market, specifically Samsung and Intel. Samsung has established itself as the first real competitor to Apple in the smartphone and tablet industries, and Intel will benefit with its new Haswell chip that will be introduced in ultrabooks, the PC industry's competitor to the tablet. In addition to the Haswell chips, Intel has also established itself as a force in the mobile industry, explained very well in this article by Seeking Alpha user Sneha Shah.
Photomask Industry
The total market size for IC and FPD photomasks is approximately $3.6 billion. Photronics has historically held an average of just over 14% market share, with a slight decrease in recent years. This places it as the 4th largest photomask manufacturer in the world.
(click to enlarge) Source: Gartner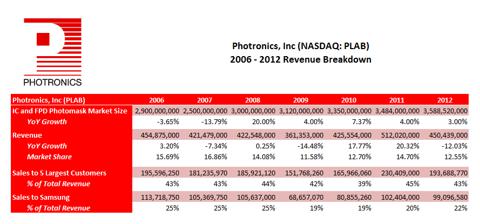 Historically, the semiconductor industry has been volatile, with sharp periodic downturns and slowdowns. These downturns have been characterized by, among other things, diminished product demand, excess production capacity and accelerated erosion of selling prices.
Growth in the photomask industry is being driven by migration to advanced technology feature sizes (less than 65 nanometer) found in new electronic devices, and increased manufacturing in Asia-Pacific. Taiwan surpassed Japan in 2010 as the largest photomask regional market, and is expected to remain the largest market for the next few years.
Photronics management team believes that the demand for photomasks depends primarily on design activity rather than sales volume from products using photomask technologies. New designs require new IC and FPDs, and as the mobile market matures in the next few years, I believe we will see more variety in screen sizes and computing power offered by mobile providers, which will lead to a greater demand for photomasks. Smartphones and tablet sales have seen steady increases over the past 3 years, and are projected to continue to grow into the next few years.
Source: Photronics Investor/Analyst Day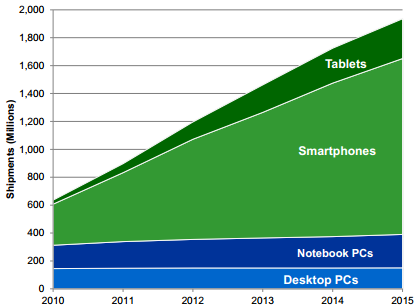 In any market, as it becomes more mature, competition increases because more and more companies try to capitalize on the growing industry and gain market share. The mobile market is no different, and as the number of smartphones and tablets increases, the variety of product offerings for consumers will increase as well. More product variety will mean many different designs, and more demand for photomasks. This not only includes internal features and computing capabilities, but also actual sizes of the products. The graph below shows that over the next 5 years, and specifically the next 2, there will be more sizes, and a more equal amount of each size. I interpret this as each company who enters the tablet market will have multiple screen sizes, meaning they will have multiple designs that need masking. An example of this would be the original iPad versus the iPad mini. It is not enough for a tablet maker to come out with just one tablet, and we will see each company offer a wide variety to match varying consumer tastes.
Source: Photronics Investor/Analyst Day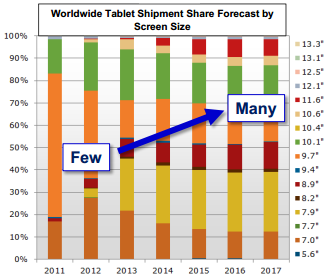 In addition to an increasing number of designs, Photronics customers are now using multiple masks to create single device layers, called multiple patterning. Multiple patterning requires the masks to align perfectly for composing a single layer of the chip. Photronics has experience with multi mask alignment dating back to 2007, when it did flash memory work.
Photronics Strategy
Photronics has been strengthening its position as the most cost-efficient mainstream merchant in the market. It has focused its capital expenditures towards capturing high-end market share (>45 nm nodes in semiconductors and >G8 AMOLED (Generation 8 Active-Matrix Organic Light Emitting Diode) FPD screens), which will be a key growth driver going forward. Photronics has improved its revenue mix of masks for high-end chips from 1% of revenue in 2008, to 31% in 2012. Capital investments have been put in place specifically to serve the >22 nm nodes, and management has stated that future investments will go towards serving the high-end market.
Source: Photronics Investor/Analyst Day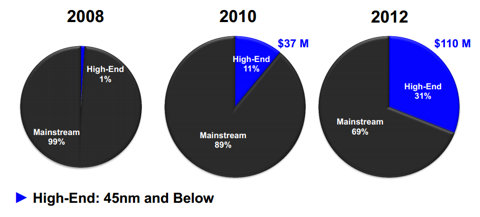 The semiconductor market has seen significant increases in revenues in the Americas and Asia-Pacific regions in recent years. Japan has historically been the largest market, however, it has seen significant decline over the past decade.
Source: Photronics Investor/Analyst Day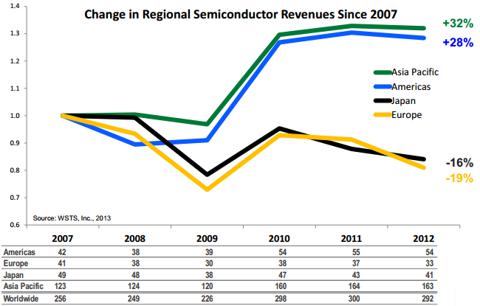 Photronics has invested heavily in Taiwan over the last three years, a central hub of Asia-Pac region. On February 26th, 2013, Photronics announced the intent to acquire the remaining 25% of its Taiwan subsidiary, Photronics Semiconductor Mask Corporation (PSMC), from Micron for $25-30 million. This acquisition gives Photronics full ownership of this strategic location, and also eliminates its quarterly minority interest expense from its income statement.
Source: Photronics Investor/Analyst Day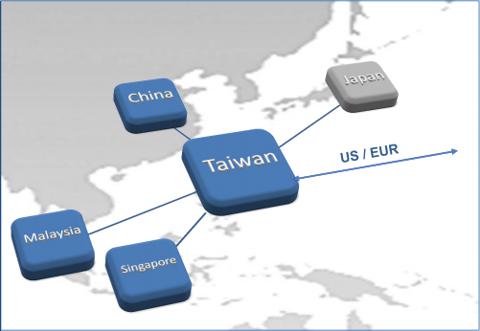 Photronics is looking to gain market share from transitioning from a lean, mainstream provider, to a technology leader. It will continue to serve its existing customers, however, the company has invested in high-end manufacturing capabilities the last few years, which will enable it to produce photomasks used in the production of the new products and capitalize on the upcoming changes in the mobile landscape.
Risks
There is potential market share to be captured by photomask producers, however, many risks lie ahead as well. As stated earlier, an increase in semiconductor or FPD sales does not necessarily result in an increase in photomask sales. The reduced use of customized ICs, a reduction in design complexity, other changes in the technology of manufacturing or designing semiconductors, or a slowdown in the introduction of new semiconductor or FPD designs, could actually reduce demand for photomasks even if the demand for semiconductors and FPDs increases. Advances in design and production methods for semiconductors and other high performance electronics may also reduce the demand for photomasks if these advances minimize the use of photomasks in the manufacturing process.
Photronics' business is very dependent on the semiconductor industry. Consumer spending on mobile devices is typically seasonal, tending to fall more around the holiday season. This seasonal spending may cause unpredictable fluctuations in earnings.
Photomasks for high-end semiconductors are becoming more prevalent, and require extensive capital expenditures. Photronics may fail to invest in appropriate capital projects to remain competitive in the next few years.
Photronics operates in a global environment, and is subject to fluctuations in exchange rates. If rates become too volatile, it may become difficult for management to manage cash between its operations in different countries.
The above risks may also lead to a decrease in orders from one or more of Photronics largest customers. Its five largest made up 43% of its sales last year, and a decrease in orders poses a significant risk. Many of Photronics' customers are leaders in the semiconductor industry, and have been capturing market share the past few years. I believe a drop in sales to its top customers may be indicative of secular decline in the semiconductor industry, and not specifically due to Photronics inability to provide high quality photomasks.
Many of the risks Photronics is exposed to affect the entire photomask industry, and I believe it is best in class from an investment standpoint.
Investment Thesis
I believe Photronics will benefit as the mobile market begins to reach maturity, because as the market matures, it will lead to more diversity in the product offerings to consumers. More product designs will lead to the use of more high-end chips, and also require manufacturers to use more photomasks. Photronics has established itself as a leader in the photomask industry, and has positioned itself to manufacture high-end masks. The opportunities in high-end production will continue to improve, and the management team is committed to remaining a leader in the high-end market going forward. There have been many opportunities for investors to receive alpha (returns greater than the market) due to the explosive growth of mobile devices in recent years, and I believe it will be more difficult to do so as the market matures. Photronics is a great play on mobile, and the stock price should continue to go up as long as consumers continue to demand more mobile devices.
Disclosure: I have no positions in any stocks mentioned, but may initiate a long position in PLAB over the next 72 hours. I wrote this article myself, and it expresses my own opinions. I am not receiving compensation for it (other than from Seeking Alpha). I have no business relationship with any company whose stock is mentioned in this article.