We have been following J.C. Penney Company Inc. (NYSE:JCP) off and on since 2011 because Bill Ackman had taken a position in JCP and because Ackman was influential in recruiting Ron Johnson away from Apple Retail (NASDAQ:AAPL) in order to become JCP's new CEO to succeed Myron Ullman, who was JCP's CEO from 2004-2011. Although we demurred from taking a stake in JCP, we were intrigued by the idea of JCP's willingness to "shake things up" as its EPS peaked in FY 2008 and declined by 68% during the following three years. We were surprised that Ron Johnson's first year as CEO of JCP was quite frankly an utter disasterpiece. We think that is why J.C. Penney's Board of Directors decided to cut its losses and cashier Ron Johnson and his team in April.
JCP's stakeholders must be furious that the company spent $170M of their money to hire Ron Johnson and his team. Johnson secured $170M for his team and proceeded to rack up dreadful five quarters of 15%+ year-over-year declines in comparable sales.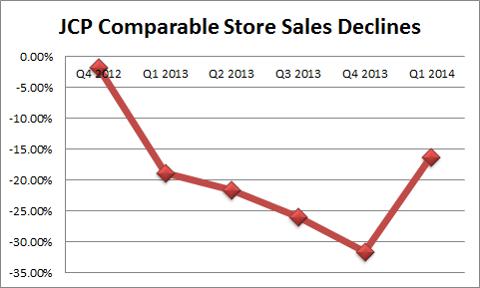 Source: JCP's Q1 2014 Preliminary Results and Last 5 Earnings Results
After euthanizing the Ron Johnson experiment, JCP rehired Myron (Mike) Ullman in the hopes of leading the company back to the mediocre sales performance that took place under his watch. When Mike Ullman was CEO of JCP, revenue growth was pedestrian from 2003 to 2007 and in 2012, it regressed to levels last seen in 2003. That prompted Bill Ackman to take his activist stake in JCP and push for Mike Ullman to be replaced by Ron Johnson of Apple Retail. Now that Mr. Ullman is back in charge of JCP, he must be shocked, shocked, to see how JCP has gone from mediocre to distressed and dreadful. We had difficulty identifying JCP's value proposition before the Ron Johnson experience and we are trying to figure out what exactly it can do to salvage value for its long-suffering shareholders.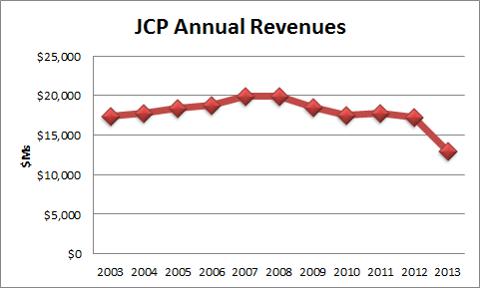 Source: Morningstar Direct
When it appeared that JCP would wind up with its fifth straight quarter of 15%+ comparable store sales declines, JCP pulled the plug on the Ron Johnson era. JCP's performance in FY 2013 was absolutely atrocious and 2014 was shaping up to be another stinker. Ron Johnson even lost the support of Bill Ackman, who was the guy who was responsible for recruiting Johnson away from Apple Retail. After JCP sacked Johnson, JCP sacked two of Johnson's lieutenants and a third one resigned. JCP's Q1 2014 revenue was projected to be $2.635B, a decrease of approximately 16.4 percent from $3.152 billion in the same period last year, and a comparable store sales decrease of approximately 16.6 percent for the quarter compared to the same period last year. This was due to Ron Johnson's strategies failing to work out as well as he was anticipating. JCP ended FY 2013 with $930M in liquidity and $3B worth of debt and yet its liquid position went from bad to worse in Q1 2014 ($821M in liquidity and $3.8B). At least Goldman Sachs stepped in with a $1.75B senior secured term loan package.
We are still stunned at how poorly JCP has performed since Ron Johnson's arrival! We have seen a number of notable investors in J.C. Penney's shares and bonds because they were expecting Mr. Johnson to reinvent JCP because of his solid record of performance with Target and his outstanding track record with Apple Retail. The following notable individuals and institutions own JCP's stocks and bonds:
Bill Ackman's Pershing Square Capital (39M shares representing 17.8% of JCP's stock)
George Soros' Soros Fund Management (17M shares representing 7.8% of JCP's stock)
Steven Roth's Vornado Realty Trust (NYSE:VNO) (13.4M shares representing 6.1% of JCP's outstanding shares, which includes rights to buy 4.8M shares of JCP at a per share forward price)
Dodge & Cox (20.2M shares representing 9.3% of JCP's stock)
Evercore (11.95M shares representing 5.5% of JCP's shares)
Fidelity Investments (15.8M shares representing 7.19% of JCP's stock)
Wellington Management Company (14M shares representing 6.36% of JCP's stock)
Hotchkis & Wiley Capital (13.9M shares representing 6.32% of JCP's stock
Glenview Capital (7.3M shares representing 3.3% of JCP's stock)
Daniel Fuss of Loomis Sayles has $134.5M worth of JCP's bonds in three active fixed income funds that he and his team manage and we estimate he had a similar amount in his SMA and institutional account mandates as well.
The J.C. Penney Savings, Profit-Sharing and Employee Stock Ownership Plan also has 11.3M shares representing 5.14% of JCP's outstanding shares
Notable recent reductions in JCP share holdings by came from Vornado (10M shares sold on March 4th 2013) and Maverick Capital (sold off its 9M share position in Q4 2012). Notable Q4 2012 additions came from Wellington (11M), Hotchkis & Wiley (4.9M) and Glenview (2.8M) while Soros Fund Management initiated its position in April 2013.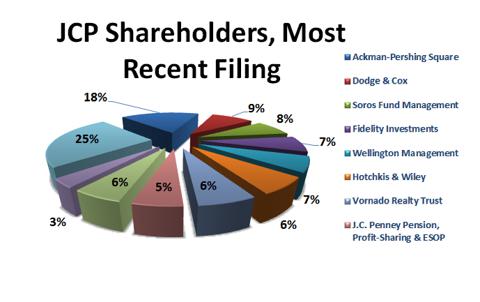 Source: Morningstar Direct
Barron's Magazine was skeptical about Johnson's new strategy as far back as January 2012 and J.C. Penney's shareholders have suffered through the indignity of a negative 50% total return and the suspension of its dividend. Macquarie analyst Liz Dunn made an interesting point about how JCP was seeing the slow decline of sagging stagnation relative to its peers and that a new model needed to be tried, however the new system has generated deep losses within its first year. UBS recently decided to add insult to injury by cutting its rating on JCP to sell and slashed its price target from $21/share to $13/share. We can see why everyone lost confidence in Johnson as he had to reintroduce discounting and his handpicked President Michael Francis left the company.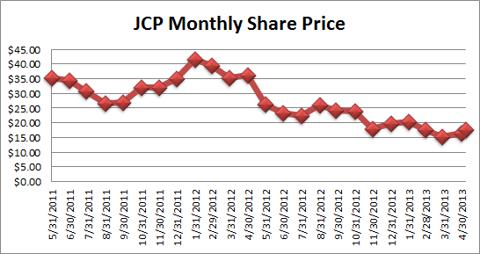 In conclusion, we continue to expand our formal coverage of J.C. Penney. We are intrigued with the high level of capital conviction as the 17 largest shareholders own nearly 90% of JCP's outstanding shares. JCP is not a company we would have ordinarily pursued due to its underwhelming brand name, shopping experience and financial performance. We can see that we saw the same mediocre management that Bill Ackman referred to in his presentation at the Ira Sohn conference. We liked that at the very least, it owned 49% of its retail square footage footprint and because JCP is failing at its grand new strategy, it can potentially monetize the real estate owned in order to salvage value for shareholders.
While we are impressed by Ron Johnson's record of results as a merchandising executive with Target (NYSE:TGT) and as the father of Apple Retail, it was clearly obvious that he was out of his element at JCP and his administration has severely weakened JCP's ability to compete as an independent going concern. JCP was never the number one all-time most disciplined retailer but when Ron Johnson ran it, he asked his stakeholders to be fire hydrants and they got hosed.
Disclosure: I am long AAPL. I wrote this article myself, and it expresses my own opinions. I am not receiving compensation for it (other than from Seeking Alpha). I have no business relationship with any company whose stock is mentioned in this article.
Additional disclosure: This article was written by an analyst at Saibus Research. Saibus Research has not received compensation directly or indirectly for expressing the recommendation in this article. We have no business relationship with any company whose stock is mentioned in this article. Under no circumstances must this report be considered an offer to buy, sell, subscribe for or trade securities or other instruments.