The Ira Sohn Conference took place on Wednesday; the investment forum, which raises money to fight pediatric cancer, has become a widely covered, influential event in the financial world.
This year, activist hedge fund manager Bill Ackman of Pershing Square Capital Management was one of the speakers. His appearance looked set to create a lot of buzz; at an appearance at a Sohn conference last December, Ackman famously called Herbalife (NYSE:HLF) a pyramid scheme, leading to a battle with fellow famed investors Carl Icahn and Daniel Loeb, among others.
This year, Ackman seemed intent on avoiding the spotlight, as a number of commentators noted, focusing instead on his fund's long position in Procter & Gamble (NYSE:PG). Perhaps after the notoriety of his Herbalife short and the sharp decline at JC Penney (NYSE:JCP), Ackman's best idea at the conference a year ago, he felt less interested in stirring up controversy.
Ackman is a well-known activist investor, having launched campaigns against companies such as Target (NYSE:TGT), Fortune Brands (NYSE:FBHS) and Canadian Pacific Railway (NYSE:CP). And coverage of his presentation Wednesday appears to confirm that his valuation of Procter & Gamble's stock is similarly based on the idea that the company should be better run, more profitable, and more valuable than it currently is.
Of course, that is the very definition of an activist investor; but the problem with Ackman's thesis -- which does not appear to have moved PG stock much, as opposed to positions touted by other presenters at the conference -- is that Ackman is simply asking too much of the company.
The Numbers
According to multiple sources, Ackman claimed that by June 2015, PG could be earning $6 per share. Giving the stock a P/E multiple of 20, and including roughly $5 in dividend payments over the next two years, Ackman credited the stock with an intrinsic value of $125 per share, a 60% return based on Thursday's close of $78.21.
From the midpoint of PG's guidance for "core" EPS of $3.96-$4.04 -- an even $4 per share -- that would represent annual earnings growth of 22.5 percent. Yet over the past five years, Procter & Gamble has posted total earnings growth of just 17.3 percent. Last year, the company announced a $10 billion restructuring to cut costs and boost its bottom-line growth rate, and indeed, the company is ahead of its workforce reduction plan according to the most recent earnings presentation. But even with the above-expected success of the restructuring, at the midpoint of guidance, core earnings will still grow less than four percent year-over-year in fiscal 2013 (ending June), a far cry from Ackman's projected growth for FY14 and FY15.
In fact, Procter & Gamble itself has belied Ackman's growth projections. In a presentation accompanying its fiscal 2012 results, the company laid out its plan for growing earnings per share: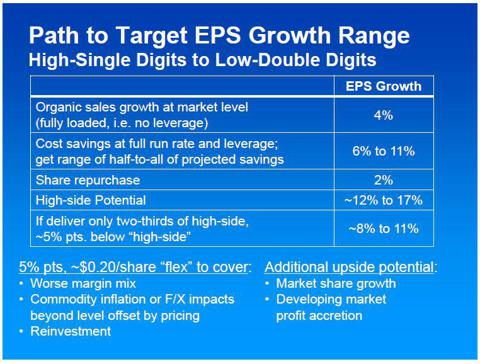 Click to enlarge
Procter & Gamble management's own estimate of its earnings potential comes in well below that of Ackman; the top of its "high-side" range comes in a 17%, and the top of its more conservative range for earnings growth is less than half that required for Ackman's 2015 earnings per share estimate. Ackman simply seems to be alone in his growth projections; of 26 analysts surveyed by Reuters, the highest estimate for 2014 is $4.57 per share. From there, PG would need to grow earnings by 31 percent in 2015 to reach Ackman's figure.
Making matters more difficult, P&G will need to create this bottom-line growth without any real top-line growth. According to a Wall Street Journal live blog of the event, Ackman believes that P&G should be able to create "consistent" organic growth of 5 percent. Organic growth has been between 3 and 4 percent for the last four fiscal years, counting company guidance for 3-4 percent in FY13. Ackman gets around the lack of significant top-line expansion by arguing that the company's cost structure is too high; gross margins should be 52-54 percent, he claims, relative to a 49.3 percent gross margin in fiscal 2012, according to the company's earnings release. To its credit, P&G is working toward Ackman's goal; over the first nine months of fiscal 2013, gross margin rose 100 basis points, to 50.3 percent. Yet the company still needs another 170-370 basis points to reach Ackman's target.
Even assuming P&G can somehow create 22 percent annual earnings growth over the next two years amidst what its own CEO has called a "choppy" economic recovery, it's not entirely clear that PG deserves -- or will attain -- a multiple of 20 times earnings. Certainly, the stock hasn't reached that valuation very often in recent history: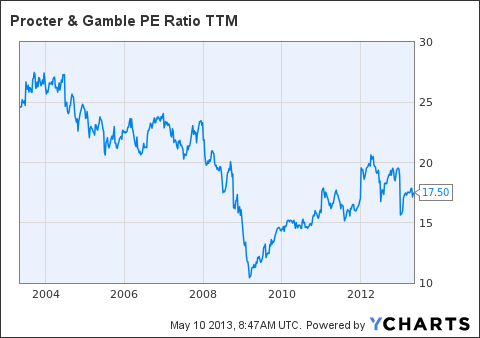 PG PE Ratio TTM data by YCharts
Ackman himself is calling for five percent revenue growth; the company itself is implementing a multi-billion restructuring plan. So, assuming that Procter & Gamble somehow does earn $6 per share in 2015, where will the earnings growth come from at that point? Ackman mentioned the possibility of "scale" in emerging markets boosting margins and profits, but the fact of the matter is that Procter & Gamble is highly unlikely to see the growth it saw last decade. And if that's the case, and if it removes the low-hanging fruit in terms of cost and workforce reduction, it is not going to receive a growth multiple in 2015 if there's little growth on the top-line and little fat to cut on the bottom line.
The Process
Ackman's thesis is further complicated by the fact that he has not always been that complimentary toward P&G, and particularly its CEO, Bob McDonald. While Ackman said on Wednesday, according to the WSJ, that P&G people are "first class" and that "the culture is of winning," Ackman has been repeatedly critical of McDonald for some time now. On Wednesday, Ackman accused McDonald of serving on the board of 21 different organizations; the fund manager told the audience that "we make the conservative assumption that just attending board meetings and not including travel time, this accounts for 25 percent of his time," Ackman said, according to CNNMoney.
A P&G spokesperson disputed Ackman's claim, asserting that McDonald sits on only seven boards, six of which are "linked to his business," according to the New York Times. (McDonald is a member of the board of directors of Xerox (NYSE:XRX).) Regardless of who is correct, Ackman's long-running criticism of the Procter & Gamble CEO calls into question his optimism about the near term. How is a chief executive who Ackman claims is spending one-quarter to one-third of his time on side projects going to turn around a $200 billion company? And if he can't, why is Ackman valuing the stock based on that potential turnaround?
It's all well and good for Ackman to claim that EBIT (earnings before interest and taxes) margin at P&G should be 24 percent, up from 15.9 percent in fiscal 2012. He's welcome to posit that organic growth should be higher; the cost structure lower; and the benefits of scale in emerging markets more powerful. But that doesn't mean it will happen, and it surely does not mean it will happen in two years. Changing the process at a behemoth like P&G -- one of the largest companies in the world -- has been compared to turning around an aircraft carrier: it must be done slowly, and carefully. The idea that the company can cut costs, grow revenue, and emphasize emerging markets, all at once, is excellent -- in theory. But, time and time again, it has been shown that corporate cultures and the general inertia of bureaucracy can thwart even the most determined attempts to overcome them.
Ackman's argument is that P&G has an "intrinsic value" substantially higher than its current market valuation. That may be true. But the path to that intrinsic value is difficult and complex; it will likely require some help from the global economy and ruthless efficiency on the part of P&G executives and managers. And, even then, Ackman's argument that the company will get a 20x P/E multiple and reach $6 per share in earnings remains in doubt.
Indeed, it seems just as likely that PG's cost-cutting will disappoint -- as it did in its most recent quarter, when the low-beta stock dropped 6 percent due to below-expected FY13 guidance -- and that the "choppy" recovery will continue. In that scenario, P&G might grow earnings in the range of 6 percent a year over the next two years and put up FY15 earnings of roughly $4.50 per share. At a multiple of 17 -- far more in line with recent history than Ackman's estimate of 20, and far more appropriate for a company that is striving for 5 percent revenue growth -- PG would trade for $76.50, below Thursday's close. (Including dividends, in that scenario shareholders would receive a modest return below 2 percent annually.)
Indeed, more modest success in cost-cutting, modest revenue growth, and some occasional worries about currency effects (if the world economy stays wobbly and the US dollar strengthens) or higher commodity prices (which would lessen the bottom-line impact of a stronger economic recovery) seem a far more likely outcome for P&G than the future projected by Ackman. After all, this is a company that has for years posted single-digit growth in revenue, earnings, and its dividends. Arguing that this growth will suddenly accelerate -- with a distracted, embattled CEO, no less -- takes a leap of faith. Even if that growth comes up, the important thing to remember is that it is simply not sustainable. P&G is promising $10 billion worth of cost cuts and trading at 19 times earnings. When those cost cuts are gone, why on Earth would the multiple expand without revenue growth?
In short, Ackman is asking too much of P&G and the market. He expects earnings growth without revenue growth; multiple expansion in the face of myriad headwinds; and nimble, efficient management from a company whose diversity of geography and product lines is nearly unprecedented. What Bill Ackman sees for P&G can be done on paper, or on a PowerPoint. Whether it can be done in the real world seems far more questionable.
Disclosure: I have no positions in any stocks mentioned, and no plans to initiate any positions within the next 72 hours. I wrote this article myself, and it expresses my own opinions. I am not receiving compensation for it (other than from Seeking Alpha). I have no business relationship with any company whose stock is mentioned in this article.