Intel (NASDAQ:INTC) has been making major investments into the mobile processor market in the last couple of years, and Intel's processors can already be found in new tables and smartphones. According to recent data, Intel has already captured ~5% of the global tablet SoC market during the first quarter. However, Intel is not manufacturing its mobile chips at its 22 nm leading edge machines, as the company is still in the process of designing chips for the 22 nm node. Its best mobile processor "Clovertrail+" is still being produced at the 32 nm node. Even these older generation chips have received good reviews and their performance is almost as good as those of competitor chips made by Qualcomm (NASDAQ:QCOM), Nvidia (NASDAQ:NVDA), Samsung (OTC:SSNGY) and others. All mobile chip companies make chips using the architecture licensed from a British semiconductor company named ARM (NASDAQ:ARMH). Intel has never really concentrated on the mobile chip market because of its small size. However, the recent explosive growth in tablets and smartphones has substantially expanded the market, leading to a spurt in mobile chip stocks like ARM and Qualcomm. Intel revealed its new Atom architecture named "Silvermont" on 6th May. The new Atom architecture dramatically improves over the current one and will make Intel gain a strong edge over the ARM players. Along with Intel's new "Haswell" PC processors, "Silvermont" is set to improve Intel's earning power in 2014. I remain highly positive about Intel's stock based on these new products.
What is Silvermont and why it is important for Intel's mobile push
Intel has not refreshed its low power, low cost Atom architecture since 2008 when it first introduced these processors for the "netbook" market. Intel has generally made high end processors which are focused towards processing power and are not geared towards energy efficiency. Mobile devices such as smartphones and tablets require very low power consumption because of their small form factors. ARM has dominated this space as its design is optimized for energy efficiency. Intel's new Silvermont architecture will use Intel's 22 nm Tri-Gate SoC process. This will improve energy efficiency without compromising on the processor power.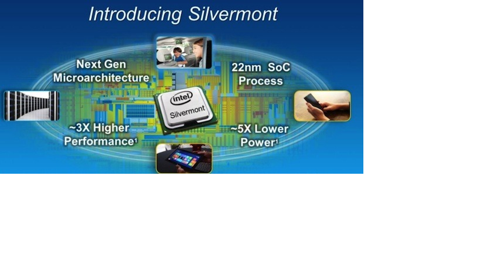 Silvermont Advantages
Better power consumption and security management capabilities - Intel will manage to dramatically improve performance without compromising on power management. Intel is claiming 3x better performance at the same power, or 5x lower power at the same performance. The new chips will also have better security management capabilities as compared to the existing chips. For mobile devices, performance per watt is more important than performance alone, as good battery performance is a critical need.
More cores, higher bandwidth and lower latency- Intel's current generation of chips do not support more than 2 cores compared to the 4 to 8 core chips being shipped by competitors. The new architecture will not only allow Intel to pack in more cores, but will also have higher bandwidth and lower latency.
One architecture, 3 markets - Silvermont architecture will allow Intel to produce chips for three major markets - tablets, smartphones and servers. While Intel is already dominant in the server space, the company will make major inroads into the tablet and smartphone chip market.
Intel's quad-core "Bay Trail" SoC is scheduled for holiday 2013 tablets and will more than double the compute performance capability of Intel's current-generation tablet offering1. Due to the flexibility of Silvermont, variants of the "Bay Trail" platform will also be used in market segments including entry laptop and desktop computers in innovative form factors.

Intel's "Merrifield" is scheduled to ship to customers by the end of this year. It will enable increased performance and battery life over current-generation products1 and brings support for context aware and personal services, ultra-fast connections for Web streaming, and increased data, device and privacy protection.

Intel's "Avoton" will enable industry-leading energy efficiency and performance-per-watt for microservers2, storage and scale out workloads in the data center. "Avoton" is Intel's second-generation Intel® Atom™ processor SoC to provide full server product capability that customers require including 64-bit, integrated fabric, error code correction, Intel virtualization technologies and software compatibility. "Rangeley" is aimed at the network and communication infrastructure, specifically for entry-level to mid-range routers, switches and security appliances. Both products are scheduled for the second half of this year.
When will we see the new Atom Products?
Intel has already started to ship chips to its partners and it is expected that the new Atom chips will be available in commercial electronic products during the 2013 holiday season. "Baytrail" chips will be targeted towards the tablet market, while "Merrifield" chips will be targeting the smartphone market. All these chips will use the new Atom architecture which is geared towards providing a low cost, high performance semiconductor solution for mobile devices.
Silvermont Risks
I don't think there is a lot of risk with Silvermont, given Intel's experience and expertise in the processor industry. However, Intel may face execution issues which would delay the introduction of these new chips during the crucial holiday season. Competitors like Qualcomm and Nvidia are also not sitting idle, with TSMC (NYSE:TSM) expected to provide its fab partners with a 20 nm manufacturing ability in the near future. Nvidia has slowed Tegra 4 introduction to speed up 4G integration in its Tegra 4i chips. The world's largest smartphone company Samsung (OTC:SSNLF) is also a formidable competitor which makes its own chips. Samsung is also the world's second largest spender on semiconductor equipment and the company would be looking to migrate to the next generation mobile processors soon.
Silvermont Losers and Winners
Losers
Apple (NASDAQ:AAPL) - I don't think Apple will be a big loser as it may migrate to Intel chips if they provide a substantial advantage over ARM chips. Apple currently designs its own mobile chips and gets them manufactured by Samsung. Apple is trying to change its manufacturing from Samsung to TSMC. If Intel can offer a compelling offer, then Apple might migrate the whole design and manufacturing to Intel. However, Apple will lose control over design and its products will not be optimized for iOS.
Samsung - Samsung is the only mobile devices company which designs and manufactures its own processors. If Intel gets a big lead through its manufacturing expertise, then Samsung will lose out to competitors who use Intel chips. Samsung cannot use Intel chips as it will lose out on massive revenues from designing and making its own chips.
Qualcomm, Nvidia and Mediatek - The main mobile semiconductor companies Qualcomm, Nvidia and Mediatek will be the main losers from Silvermont introduction as Intel gains a big market share.
Winners
Intel has partnered with a number of Asian companies (ZTE, Xolo) to introduce mobile devices using its chips. These companies will benefit as their products gain an edge over other products using ARM designed chips. Microsoft will be another major beneficiary as the Windows operating system is optimized to run on the x86 architecture. The Surface RT tablet based on ARM chips was a big flop as it could not use most of Microsoft's (NASDAQ:MSFT) software. Microsoft is looking to launch a new 7 inch Surface tablet and a new OS "Windows Blue" which will be optimized for mobile computing devices. The second largest PC vendor Lenovo is a close Intel partner and is about to launch a flagship smartphone (K900) using Intel's "Clovertrail+" chips.
Intel's Valuation is attractive
Intel's stock has gone up by almost 20% in the last few months, as the company continues to announce new products. The company gives a very attractive dividend yield at a cheap valuation. Intel has got substantial competitive barriers in its existing PC and server chip business and is rapidly expanding into mobile chips. The stock is trading at ~$24 with a forward P/E of ~11x.
Summary
Intel is firing on all cylinders with new product launches for the whole computing industry. Haswell has the potential to revive flagging PC sales as it will greatly increase the battery duration for ultrabooks and laptops. These new chips will also have greatly enhanced graphic capabilities as well as better processing performance. Silvermont architecture will help Intel gain a big share of the mobile chip market as it will tremendously improve the performance of its mobile chips, which currently use the five year old Atom architecture. Intel is also set to introduce a new SoC for the mobile market which will integrate the 4G functionality. This has made Intel lose out to Qualcomm chips which already have this feature. Intel also has a roadmap in which it will migrate mobile chips to the 14 nm node. I think that Intel's stock is just starting to reflect the new catalysts and the stock has a lot further to go up.
Disclosure: I have no positions in any stocks mentioned, and no plans to initiate any positions within the next 72 hours. I wrote this article myself, and it expresses my own opinions. I am not receiving compensation for it (other than from Seeking Alpha). I have no business relationship with any company whose stock is mentioned in this article.