Activision Blizzard (NASDAQ:ATVI) reported better than expected numbers on May 8, 2013, but shares sank as much as 7% the following day, on fears of dampened expectations in the second half of 2013. Somewhat perplexing, management still raised its guidance for its full year 2013 expectations, but indicated a number of hiccups including console transitions, general weakness in consumer demand due to economic turmoil in Europe and a reduction in subscribers to its blockbuster role playing game, World of Warcraft.
World of Warcraft lost 1.3 million subscribers, or roughly 11%. CEO Bobby Kotick noted, however, that a majority of the subscriber loss was from the East where average revenue per user ("ARPU") is lower. Management also believes further declines in subscribers are likely due to free-to-play games, and management indicated it will combat subscriber decline rates by releasing content more frequently to keep players engaged.
Currently valued at $16 billion, ATVI shares have appreciated sharply in 2013, up 35.5% year-to-date, on the back of increasing revenue and earnings.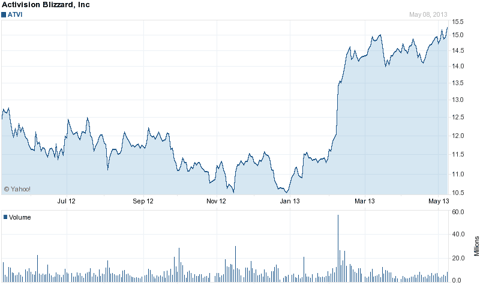 In addition, ATVI has a bullet proof balance sheet comprised of $4.6 billion in cash and equivalents, or roughly $3.89 per share. At ATVI's current price, cash makes up about 27% of its market capitalization; producing $335 million in free cash flow in the quarter.
The company expects to generate $4.22 billion in sales and $0.73 cents in GAAP EPS ($0.82 non-GAAP). Based on that outlook, ATVI trades at 19x 2013 GAAP earnings (17.5x non-GAAP), or 14.4x GAAP (12.8x non-GAAP) ex-cash. However, a more appropriate way to value ATVI given its debt free balance sheet and light capex model is to assess a multiple to free cash flow to equity ("FCFE"), which appears poised to be roughly $1.2 billion in 2013 (similar to 2012). A reasonable FCFE multiple might be 17x considering ATVIs growth profile (and potential challenges), implying about a 25% discount to underlying value at current prices.
In terms of the dampened outlook, management had the following to say:
Now moving on to our outlook. Q1 was a good start to 2013, but as Bobby mentioned, we believe that the back half of the year will be more challenging than we previously expected. As you may recall, last November, we said we expected 2013 to be a difficult comparison for us due to the console transition, challenging macroeconomic conditions and our slate. All of these factors remain, but since our February outlook, we have also seen further declines in World of Warcraft and intensified competition in the second half of the year. While these factors have made us more cautious on our outlook for the back half the year, we are still, today, raising our revenue and EPS outlook for the full year based on our Q1 performance.
ATVI usually under promises and over delivers. Given management's raised guidance, curiously in conjunction with the warning above, I expect ATVI will deliver in 2013. In addition, management may be able to use its stellar balance sheet and copious free cash flow to reward shareholders with an increased or special dividend and/or significant share buyback. Currently, ATVI yields about 1.3% at current prices (dividends are paid annually, not quarterly, and ATVI went ex-dividend on March 18, 2013).
Conclusion:
The video game industry is going through a turbulent time due to console transitions, free-to-play games winning share and more competition for users free time from social media sites, etc. However, ATVI continues to innovate and release blockbuster titles while it expands into new markets, as seen with its recent agreement with Tencent to distribute Call of Duty Online in China.
ATVI looks moderately priced at today's levels, given management's warning about the second half of 2013 and the competitive landscape. If investors still seek exposure to ATVI, one way to own it is through owning shares of Vivendi (OTCPK:VIVHY), the French media conglomerate which I continue to pound the table for. By the way, if you are looking for a dividend idea, Vivendi's board approved a proposed 1 euro cash dividend per share for holders of record as of May 14, 2013, payable on May 17, 2013. At current prices, it equates to a yield of about 6.3%. Better go pick up some shares soon!
You can also own ATVI at cheaper than market prices by picking up shares of Vivendi, which is afflicted by a conglomerate discount and also owns roughly 62% of ATVI's float.
While Vivendi has been generally underperforming the broader market, that is precisely why its better to own it rather than ATVI at their respective valuations. With a number of catalysts looming including potential management LBO of the outstanding 38% float of ATVI and telecom asset sales, Vivendi's share price may outperform with less risk in the future.
Remember what Warren Buffet advised: "The first rule in investing is to not lose money; and the second rule is to never forget the first rule."
Disclosure: I am long OTCPK:VIVHY. I wrote this article myself, and it expresses my own opinions. I am not receiving compensation for it (other than from Seeking Alpha). I have no business relationship with any company whose stock is mentioned in this article.