On May 27th, AutoZone (NYSE:AZO) reported earnings that beat even the most optimistic EPS and same store sales (SSS) estimates. For AutoZone, it was the 11th consecutive quarter of double-digit EPS growth and the largest SSS increase since 2002. Despite a seemingly impressive quarter, the stock took a drubbing; opening 2% lower than the previous day's close and finishing the day down roughly 5% in high volume trading. After some collective head scratching in the analyst community, the general consensus for the drop settled on the lack of upside for the stock at its current price. In my opinion, that assessment is much too narrow. The stock's negative reaction to a fairly positive earnings report speaks volumes of its current precarious position and the lack of near-term catalysts is only one of a few bearish developments that have formed in recent weeks.
In the recent earnings release, AutoZone reported a 7.4% year over year improvement in SSS and EPS of $3.13, which beat estimates by about $0.20. Gross margin remained flat year over year at 50.2%. Management stated that they expect SSS to return to a more normal growth rate of 4% over the next few quarters. The concerns here are the SSS growth rate's "second derivative," which is the rate of increase or, in this case, decline of growth and the lack of margin expansion. Of the three largest players in the DYI (do-it-yourself) auto parts space, AutoZone was the only one not to grow its margins during last quarter. In comparison, competitors Advanced Auto Parts (NYSE:AAP) and O'Reilly (NASDAQ:ORLY) expanded their gross margin in the last quarter by 130 bps and 200 bps, respectively. AutoZone has the highest gross margin by a few percentage points and nearly twice the operating margin than its competitors. These high margins have served the company well as the stock has repeatedly made new all-time highs over the past few months but it leaves less room for margin improvement going forward.
Margins may come under further pressure due to a tough pricing environment. As part of the integration plan for O'Reilly's recent acquisition, CSK Auto Parts, the company announced sizable price cuts across the board. This will hurt AutoZone in the Western region, where CSK is based, but may spread as price cuts this broad based often create a chain reaction among competitors seeking to stave off a decline in market share. AutoZone recently announced that it will not be lowering prices in response to CSK's decision, however, this will be a story worth monitoring over the next few months as AutoZone mulls following suit or risk losing market share.
As most stocks were forging multi-year lows during the past 18 months, AutoZone bucked the trend and even pushed to new all-time highs on the back of strong insider buying.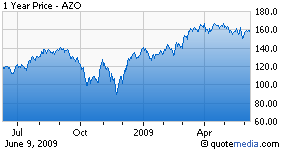 The only hiccup occurred from September-Nov '08, but investor worries were mostly focused on a rumor that AZO's largest shareholder, Edward Lampert, was going to start selling some his massive 45% stake in the company. However, fears were quickly disseminated as Lampert purchased 485,605 shares for $95.50 - $106.19 in October '08. Lampert's only other recent purchase occurred in April '08, when he bought 880,902 shares at prices $113.71 - $121.21. However, Lampert isn't the only major player buying up shares. AutoZone's aggressive share buy-back program has also buoyed the stock in recent months. AZO reported a total share count reduction of 6.575 million, or -11.5%, year over year from mid-Feb '09 – mid-Feb '08.
Both Lampert and AutoZone's management have created a tremendous demand for the stock, however, their interest seems to wane as the stock moves above $130. Lampert's last purchases were both in '08 and stopped after the stock moved above $121.21. The majority of AZO's buy-backs occurred in the last three quarters of '08 when the stock's average price was $122.47. In the last quarter, as the average share price crept up to $144.68, AZO only purchased 450,000 shares. After buying back roughly 2 million shares a quarter for three consecutive quarters, management drastically reduced its purchases by 77.5%. As the stock nears its all-time high of $169.98, set in late April, it will not be an easy task to once again push to new highs without the full support of its two largest holders.
When modeling for product demand, an important data point for AutoZone is the monthly total numbers of miles driven by drivers within their operating regions. More miles driven means more wear and tear on autos, leading to higher demand for replacement parts. Americans have slowly returned to the roads as gas prices have declined from a record high of $4.01 in early July '08 to just above $1.60 by year end. In August '08, Americans drove 5.6% fewer miles than August '07. Over the past few months, the year over year comps for miles driven has greatly improved as the decline fell to 1.2% by March '09. A rise in oil over the next few months, as many experts predict, will hit the consumer even harder than it did in '08, due to further deterioration of the economy over the past year. This means a spike in gas prices to the levels seen in the summer of '08 will cause an even more drastic reduction in miles driven or similar driving reductions will occur at lower price points. Either way, a rebound in oil prices will negatively affect product demand.
The final reason to be bearish on AutoZone is an increase in new car sales due to higher consumer confidence and price slashing by dealers. The month of May had the highest amount of new car sales in 2009 thus far. Almost 10 million new cars were sold, compared to the February low of 9.1 million. A bit of the boost was due to seasonality but the '09 increase was much higher than typically seen from April to May. As new car purchases increase, more of AutoZone's bread and butter, automobiles 6 years and older, will get relegated to the junkyard. The new cars generate little profit for parts retailers since they are typically covered by warranties for up to four years and business from dealer service departments generates little revenue.
One of the main reasons behind the uptick in new car sales is the buyer's market that has emerged in the auto-world. As car dealers, with hopes of working off tons of excess inventory, increasingly realize how difficult it is to lure battered consumers back onto dealership lots, prices have been slashed to levels that would have been unthinkable prior to 2008. In addition to lower prices, dealers are offering "job-loss protection" plans in which the dealer will make the buyer's car payments for a few months if the buyer loses his/her job. As consumers slowly venture back out into the market place they are finding substantial buying opportunities. If new car sales remain on the same trajectory, it only decreases the number of profit generating cars for parts retailers on the road.
As we move further into 2009, the advantageous market experienced by auto part retailers over the last year seems to be shifting in the opposite direction. Gas prices may once again start taking drivers off the road, which lessens the wear and tear on their cars. Auto prices have fallen far enough that new car sales are beginning to increase, which takes AutoZone's most profitable demographic off the road. Expectations for the stock are high enough that the best SSS number in years and a projection of historically average growth leads to disappointment from investors. The company may soon face pricing pressures from expanding competitors. All these scenarios are developing as the stock remains at price levels that have yet to draw much interest from its two dominant stakeholders. As this most recent rally has progressed, it seems increasing likely that the worst, for most companies, is behind them. For AutoZone, it seems the worst has yet to come.
Disclaimer: No position