Just in case there were any doubts, we believe that over the past few weeks that Japan has put to rest any doubts that they were not the quintessential risk-on trade in the current market. The bottom line is that they are and so long as the Yen continues to weaken, the Nikkei shall continue to strengthen. This is not bad for the US and others, but good as it adds to the growth in Japan long-term and hopefully reinvigorates the economy at the end of the day.
Chart of the Day:
As the Japanese Yen is now at 4 year highs versus the US Dollar, we have seen the Nikkei move higher as well. It is a chart we have thrown up before, but so long as the currency gets cheaper in dollar terms, the stocks shall continue to rise as exports will improve and add another growth avenue for Japan's companies.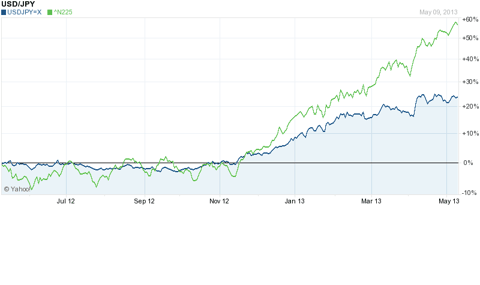 Click to enlarge
Chart courtesy of Yahoo Finance.
We have economic news due out today, and it is as follows:
Treasury Budget (2:00 p.m. ET): +$112.0 Billion
Asian markets finished higher today:
All Ordinaries -- up 0.20%
Shanghai Composite -- up 0.62%
Nikkei 225 -- up 2.93%
NZSE 50 -- up 0.29%
Seoul Composite -- down 1.75%
In Europe, markets are higher this morning:
CAC 40 -- up 0.77%
DAX -- up 0.67%
FTSE 100 -- up 0.58%
OSE -- up 0.29%
Technology
The story at Rackspace (NYSE:RAX) continues to get bleaker as Amazon (NASDAQ:AMZN) steps up competition in the cloud computing space by lowering prices. The margins in the industry are getting compressed and revenues are declining as well as Amazon and other players are moving to gain market share and use the cloud computing space as a way to gain customers in order to cross sell other services. All of this has put a hurting on Rackspace and turned what was previously a positive story into a negative one which has forced investors to exit their positions and lower the valuation given to the company. The company missed on their numbers for the current quarter and provided guidance which was below analysts' expectations for next quarter which led to yesterday's sell-off of $12.88 (24.66%) with shares closing at $39.36/share on volume of 16.9 million shares. There is a bad trend which has developed here and we are not ones to bet against Amazon, thus not willing to bet on Rackspace at this time.
The negative news continues and so too does the negative trend in the share price.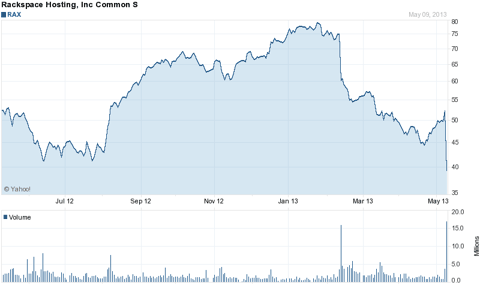 Click to enlarge
Chart courtesy of Yahoo Finance.
Consumer Goods
We saw Green Mountain Coffee Roasters (NASDAQ:GMCR) rise $16.56 (27.84%) to close at $76.04/share with volume rising to 26.2 million shares on the back of a very strong earnings report. The company dramatically raised their EPS guidance for the year from $2.82 to $3.15/share while also announcing that they had entered into a broader deal with Starbucks (NASDAQ:SBUX) whereby they will supply more brands to the coffee shop for a period of five years. All of this is good news for the company and investors.
Another Herb Greenberg stock saw the opposite type of move yesterday as shares in Monster Beverage (NASDAQ:MNST) fell $2.96 (5.20%) to close at $54.01/share with volume rising to 9.4 million shares as worries resurfaced about the company's marketing strategy and the health concerns surrounding its energy drinks. People act surprised that the company targets youth in its advertising, but we must ask where they have been all these years and who they figured those commercials and celebrity tie ins were geared towards. More troubling however is the fact that Europe has more studies coming out soon which should add details to the health effects of the company's drinks and could lead to new regulations in the EU. That could lead to trouble in Europe but also here in the US as regulators might become more emboldened to follow suit and enact like-kind legislation.
Biotechnology
Dendreon (NASDAQ:DNDN) is a company which is hard to understand. It seems every time one wants to throw in the towel the company all of a sudden surprises and looks to then turn a corner, and right when one wants to buy into the story wholeheartedly they get these negative surprises. It makes this a dangerous stock as one is sucked in and chased off at precisely the wrong times. With Provenge being the company's one drug and sales falling more than expected in the quarter many investors were left scratching their heads and rushing for the exits. Shares closed the session at $4.03 after falling $0.71 (14.98%) on volume of 20.9 million shares. The story here seems to cause more losses than profits and with that said we would recommend moving on to greener pastures.
Getting back down to support, but not entirely sure this is even worth a buy as it is too frustrating. There are much better biotech names out there to play right now.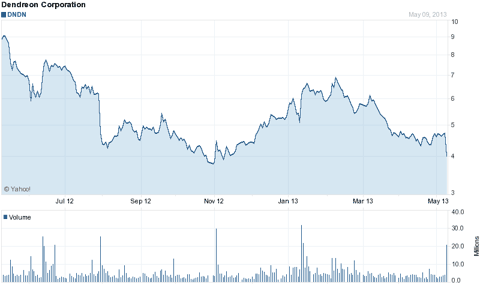 Click to enlarge
Chart courtesy of Yahoo Finance.
Automobiles
One name which we had been downright wrong on earlier was Tesla Motors (NASDAQ:TSLA), but contrary to our initial thoughts the company has managed to grab the consumers' attention and sell their environmentally friendly sports cars. It is not a story we want to be investors in, but we do recognize that for some it does supply diversification of sorts and is a decent trading vehicle at times for readers who like momentum trades. We think that the company has the wind behind its back right now and with the Model S sales zooming they should find more and more getting "introduced" to the vehicles as they see them on the road and in their neighbors' driveway.
Disclosure: I have no positions in any stocks mentioned, and no plans to initiate any positions within the next 72 hours. I wrote this article myself, and it expresses my own opinions. I am not receiving compensation for it (other than from Seeking Alpha). I have no business relationship with any company whose stock is mentioned in this article.