As many of you know Velti Plc (VELT) will be reporting its first quarter earnings next Monday. The company is dealing with significant risks that threaten the long-term sustainability of its business operations.
These risks were disclosed in the 2012 20-F Annual Report as well as the more recently filed F-3 Registration Statement. It is important for investors holding Velti or for those considering an investment position, to weigh these risks carefully and make any investment decisions accordingly.
While it is required for all public companies to disclose risks to their businesses, I would like to highlight some of the risks that would have a material effect on Velti's future business operations. Additionally, after the review of these risks, there will be an assessment of Velti's financials to be considered for Monday's announcement.
Material Risks
Risk 1) "We may need to raise additional capital to meet our ongoing capital commitments and to fund our operations, and we may not be able to raise capital on terms acceptable to us or at all."
This risk has been prevalent in all three of Velti's public 20-F filings. However, in 2010 and 2011, it was stated that:
"We believe that our existing working capital will be sufficient to fund our working capital requirements, capital expenditures and operations for at least the next 12 months."
In the 2012 filing, the title of the risk was adjusted to state "We will likely need" as well as:
"Although we obtained a $50.0 million credit facility with HSBC in August 2012, as of March 31, 2013, we have substantially utilized this revolving credit facility. Accordingly, we anticipate that we will need additional financing in the next three months to meet our ongoing capital commitments and to fund our operations."
Velti successfully raised $24.8 million of capital through a private placement transaction last month. In the most recent risk disclosure there is no identified time period of how long Velti can sustain its business based on current available cash and working capital, and therefore we cannot assume that these newly raised funds will be sufficient for the entire 2013 year. The impact to shareholders from the private placement was an increase in share dilution of 25%, and is an indication of the costs associated with Velti's current situation. Further significant dilution may occur at the expense of shareholders if Velti continues to pursue other similar private placements.
Risk 2) "The report of our independent public accounting firm for the year ended December 31, 2012 includes a reference raising a substantial doubt about our ability to continue as a going concern."
This risk speaks for itself that the needed cash raised was not just a positive event, but fundamentally necessary for Velti's near-term business operations. This risk is reflective of Velti's comprehensive operational needs, internal controls processes, and relationships to customer contracts, etc. The following key component is stated:
"Any substantial doubt about our ability to continue as a going concern could also affect our relationship with our partners and customers and their willingness to continue to conduct business with us on terms consistent with historical practice. Our partners might respond to an apparent weakening of our liquidity position and to address their own liquidity needs by requesting faster payment of invoices, new or increased deposits or other assurances. If this were to happen, our need for cash would be intensified and we might be unable to make payments to our partners as they become due."
The "going concern" will remain until Velti is able to prove otherwise that it can firmly sustain itself through its operations, financial commitments, and through proper internal processes to guide sustainable growth.
Risk 3) "We have identified a material weakness in our internal control over financial reporting which could, if not remediated, result in material misstatements in our financial statements."
Velti has stated that in the past, it has encountered material weaknesses within internal controls for financial reporting. This has been disclosed as an occurrence since 2007.
2010 20-F:
"With respect to fiscal years 2009, 2008 and 2007, we identified control deficiencies, including several material weaknesses, in our internal control over financial reporting. Two of these material weaknesses related to our period end financial statement close process resulting from controls over the use of spreadsheets and controls over analysis of significant estimates. As a result of these material weaknesses, together with deficiencies in our treasury management processes, in the six months ended June 30, 2010 we identified gaps in our internal control over financial reporting that resulted in changes to our financial results as originally disclosed, requiring us to restate these results in subsequent disclosures."

"The other two material weaknesses related to our revenue recognition process, specifically management review of key revenue arrangements in order to determine proper accounting treatment, and knowledge of our finance staff regarding accounting standards governing revenue recognition. In addition, we noted a significant deficiency in the administration of our employee equity awards relating to the documentation and administration of our equity awards. We have remediated these two material weaknesses and this significant deficiency as of December 31, 2010."

"While we have made efforts to improve our accounting policies and procedures and have remediated two of these material weaknesses, we may experience additional deficiencies and additional weaknesses may be identified, or there may be a recurrence of these weaknesses in future periods. If material weaknesses or deficiencies in our internal controls exist and go undetected, our financial statements could contain material misstatements that, when discovered in the future could cause us to fail to meet our future reporting obligations and cause the price of our ordinary shares to decline."
2012 20-F:
"The primary factors contributing to the material weakness, which relates to our financial statement close process, were as follows:"

"We did not maintain effective controls to provide reasonable assurance that there was adequate support for certain prepaid assets and deferred costs, that the aging of previously factored accounts receivable was adequate and that accounts receivables were effectively reconciled."

"We did not have adequate policies and procedures in place to ensure the timely, effective review of estimates, assumptions and related reconciliations of capitalized software, including tracking software asset cost by product and/or associated version release, and the timely review of revenue by product."

"We did not have adequate policies and procedures in place to ensure the timely, effective review of estimates, assumptions and related reconciliations and analysis, relating to our tax provision calculations prepared by outside consultants."
The fact that this has been prevalent for the past six years is not to be taken lightly. It suggests that Velti has always operated with a material weakness in internal controls since the company was founded, or roughly over a 12-year period. Management has been unable to comprehensively correct these issues to date, and as a result, the company's financials lack credibility.
The hiring of Jeffrey Ross and other finance personnel under Mr. Ross is a positive event in my opinion, and should serve as a means to correct the material weaknesses. However, the house cleaning to get to solid policies and procedures for internal controls may include requiring restatements of previous filings, which will add pressure to the stock price.
Risk 4) "We have in the past and may in the future fail to comply with our financial covenants under our credit facility with HSBC, enabling our lender to exercise one or more of its available remedies, including the right to require the immediate repayment of all outstanding indebtedness under such facility."
This risk was introduced in the 2012 20-F based on Velti's fourth quarter financial performance. The key part of this risk to consider is the following statement:
"Although we continue to be current with all principal and interest payments under the loan agreement, as of December 31, 2012 we were in violation of certain financial covenants contained in the amended loan agreement that require us to maintain certain ratios of actual earnings before interest, taxes, depreciation and amortization (EBITDA) to projected EBITDA. HSBC has agreed to waive non-compliance by us with this financial covenant. However, if we fail to comply with our financial covenants in future periods, there is no assurance that HSBC will give us a waiver or forbearance agreement in the future. Any future violations under this credit facility may result in an acceleration of our obligations under the amended loan agreement and HSBC may exercise other remedies for default."
The uncertainty in the near-term for Velti's operational and financial performance necessitates this disclosure for future potential actions that HSBC may decide to pursue. While Velti is currently making payments to the credit facility, in the event things turn sour, HSBC will aggressively take action to protect their investment. This will possibly intensify any future operational shortcomings between other partners and customers.
Risk 5) "Our days sales outstanding, or DSOs, may fluctuate significantly from quarter to quarter. Deterioration in DSOs results in a delay in the cash flows we generate from our customers, which could have a material adverse impact on our financial condition and the results of our operations."
This risk has been prevalent in all public 20-F filings. The concern here is well documented and has been spoken to many times over the past year at earnings calls and conferences. Velti claims that new customer contracts will incrementally reduce DSO, and that forgone contracts not meeting more conservative criteria will simultaneously reduce DSO. Velti also claims that new customer contract terms are going to be under 100 DSO.
When considering Millennial Media, Inc.'s (NYSE:MM) DSO over the past couple of years, Velti's receivables collection periods are significantly longer. Additionally, Velti has yet to provide sustained reductions in DSO and until proven otherwise, this risk will remain.
Anyone with an interest in Velti should consider all risks that the company faces and not just the ones listed above.
Financial Review
The aforementioned risks provide primary concerns for those with an interest in Velti. Additionally, there are some highly important developments that must be scrutinized at Monday's earnings announcement.
Investors should note that Velti's revenues are seasonal with the fourth quarter being the highest revenue generating quarter and the first quarter being the lowest. The revenue charts below provide a clear indication of Velti's seasonality.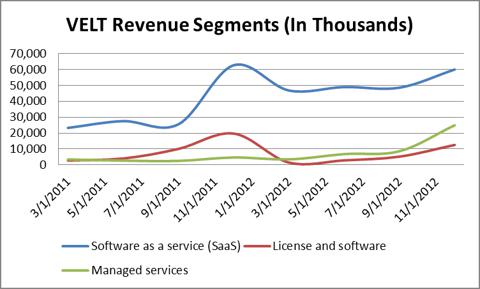 Click to enlarge
(Click to enlarge)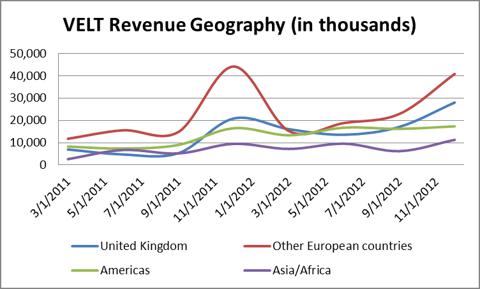 Click to enlarge
(Click to enlarge)
Velti is estimated to realize a roughly 19% decrease in 2013 first quarter revenue from 2012. This is attributed to the revamping of customer contracts as has been discussed; please refer to the 2012 fourth quarter earnings call transcript. It will be very important to consider the growth trends occurring in the geographies where Velti's future is focused, namely the United Kingdom, or U.K., Americas, and Asia/Africa.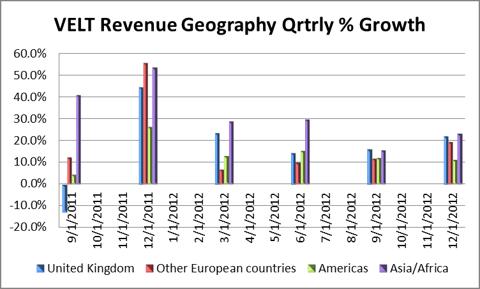 Click to enlarge
(Click to enlarge)
The Other European countries category excludes the U.K. and is the geography including the divestiture of certain non-strategic assets to Starcapital Limited, or Starcapital, a Cyprus company owned by certain former non-management employees of Velti (please refer to the corporate highlights section of the 2012 20-F or above fourth quarter earnings call transcript). This geography is also where we should expect reductions in eastern European customer contracts to occur. Ideally, we will want to see the majority of Velti's decrease in total revenue from 2012 to fall within this geography.
For all other geographies, we will want to see accelerating growth. If Velti is able to sustain solid growth in its future key geographies, this will serve as a positive for the company's revised longer term estimates; please refer to the fourth quarter presentation, slide 15. Any decreases in the U.K., Americas, or Asia/Africa should be strongly considered and assessed; as such a trend could potentially weigh on Velti's abilities to transition its business effectively.
Both the U.K. and Asia/Africa have consistently remained above the 10% quarterly growth rate quite substantially, while the Americas has been the slowest growing geography over the past couple quarters; these trends should be monitored. Velti has integrated their services through Velti Media to more directly compete with Millennial Media, and Google Inc.'s (NASDAQ:GOOG) AdMob among other companies. Quarterly revenue growth for the Americas has varied slightly and an increase in growth would bode well for Velti's prospects in the U.S. market. If successful, 2013 should provide increased revenue growth for the Americas based on Velti's integrated approach and strategies.
Investors should also note that the Mobile Interactive Group, or MIG acquisition was the primary contributor to the rapid U.K. growth near the end of 2011. The U.K. continues to be one of the strongest market geographies for mobile advertising and marketing. This is evidenced by mobile device growth and trends including tablets and smartphones. Velti's recent two-year mobile marketing partnership agreement with Bauer Media Group U.K. is a possible indication of sustained robust growth.
Investors should also pay close attention to both the Software-as-a-Service, or SaaS revenue segment and to Third-Party costs.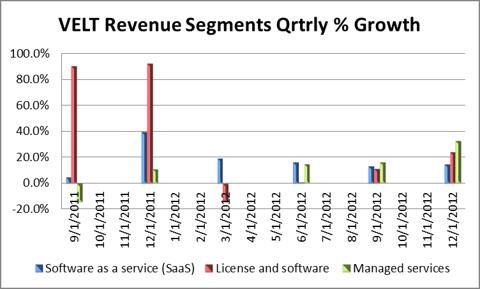 Click to enlarge
(Click to enlarge)
From 2013 first quarter SaaS revenue segment results, investors should consider the correlation between revenue geographies to attempt to better understand the impacts to this core revenue segment. Over the past two years, SaaS revenues have generally grown at a quarterly rate between 15-20%. In the event that this rate declines on Monday, there may still be positive associations assuming other geographies are sustaining robust growth.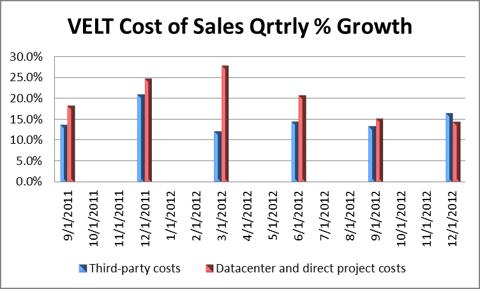 Click to enlarge
(Click to enlarge)
A spike in third-party costs should be expected resulting from Velti catching up with its late payments. This was discussed during the previous announcement and will be a driver for reduced operating cash flows. The trend of third party costs should be monitored and in the event a slowing of third-party costs should occur, this could be a reflection of worsening customer and partner demand.
On the balance sheet side investors should anticipate total debt liabilities near $50 million based on the above risk disclosure, that management has substantially used the credit facility. At year-end December 2012, Velti had $37 million cash. During the fourth quarter conference call, management stated that there was an additional $19 million available from the credit facility. Including the roughly $25 million from the private placement in April a total near $81 million has been made available for operating needs and acquisition liabilities.
As of December 2012, there was roughly $33 million in acquisition-related liabilities and $58 million for accrued third-party costs. At the fourth quarter call, management explained that $31 million of the acquisition liabilities was due to MIG, with $16 million payable in cash and that the other $15 million was going to be payable in shares.
Investments for software development and purchased software on a quarterly basis have ranged between $10-15 million over the past year. Purchase of property and equipment has ranged between $2.5-5 million per quarter over the same time period. Collectively these liabilities and capital expenditures total roughly $111 million, on a conservative basis. Less the assumed $15 million payable in shares to MIG, this can be revised to $96 million.
This forms a gap of close to $15 million. Based on the increasing trend of days payables outstanding or DPO for current accrued liabilities and other assumed payments, we should consider the balance of these current liabilities for the first quarter against the remaining cash and cash equivalents to gain perspective. Mr. Ross mentioned that free cash flow for the first quarter would be in the "25ish" range, which should be interpreted to mean a ($25) million loss. Positive trends would include significant decreases in software development and purchased software offset by strong progress made paying acquisition-related liabilities down and late third-party costs.
Further guidance for the upcoming quarters and year-end will most likely be the primary driver regarding the sentiment for the stock.
Based on management's fourth quarter presentation (see above link, slides 16 and 17), Velti is estimating free cash flow for the 2013 year of $10 million. Additionally, Velti has projected significant free cash flow growth moving forward after 2013, creating speculation that if the company is able to pull through this year, a potential windfall may be on the horizon. The company has stated that the majority of the 2013 free cash flow will occur in the back half of the year. When Monday's report is publicized, it will quickly become apparent whether Velti is in a similar position as it was soon after the previous fourth quarter announcement forcing the company to seek additional capital to sustain its business over a near-term period.
Conclusion
Velti's stock price and company value is currently trading near all-time lows as illustrated by its 2-year chart and enterprise and book value below.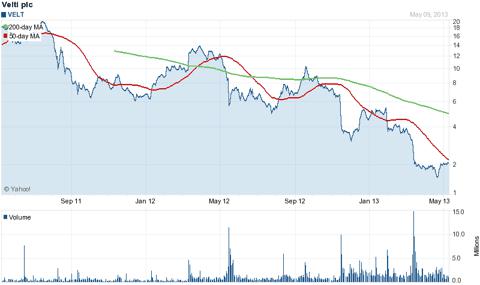 Click to enlarge
(Click to enlarge)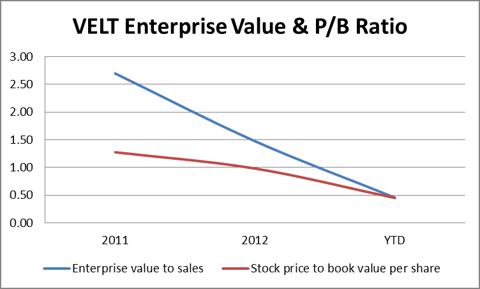 Click to enlarge
(Click to enlarge)
Based on the risks highlighted above, near-term payment obligations, and DSO collection cycle, Velti is faced with the challenge of maintaining adequate levels of cash to operate. If the company is unable to improve DSO and revenue growth deteriorates, the company may be forced to advance payment to HSBC, seek additional debt or equity funding sources, and as a result possibly threaten relationships amongst partners and customers.
These factors will continue to weigh on the stock price and put significant pressure on investors. This company is not for the risk averse, let alone any investor who desires to sleep peacefully at night as their investment grows over time. Velti will have a lot riding on the next few quarters and things could get interesting quite quickly once information is disseminated this Monday.
On a positive note, Velti has significant experience in developing performance-based mobile campaign solutions and data analytic capabilities. The company has a wide consumer reach for advertisers and publishers and a growing list of partners to support a wide variety of client needs. The new CFO, Jeff Ross has significant experience to create more transparent accounting processes, and will attempt to strengthen Velti's internal controls and procedures.
There are a wide variety of trends supporting the long-term sustainability for the mobile marketing and advertising industry as detailed in the following article: "Mobile Marketing And Advertising: Explosive Growth And The Companies Driving It". Velti is definitely in the right place for a company to capture significant growth potential. The bottom line for Velti is whether or not they will be able to continue to scale significantly in the UK, Americas, and Asia/Africa geographies, and equally important, will they be able to establish DSO collections in a timely manner to sustain their business operations.
Disclosure: I am long VELT. I wrote this article myself, and it expresses my own opinions. I am not receiving compensation for it (other than from Seeking Alpha). I have no business relationship with any company whose stock is mentioned in this article.
Additional disclosure: The information contained in this article should not be considered as investment advice and is solely the opinion of the author. Any investors seeking investment advice should consult a professional advisor, broker, or agent.