Company Overview
Company Summary
SYNNEX (NYSE:SNX) is a business process services company which services resellers, retailers, and original equipment manufacturers (OEM). With over 10,000 employees, SYNNEX operates mainly in the supply chain of technology companies. SYNEXX's business is extremely capital intensive, and its two main segments are distribution and global business services (GBS). SYNNEX is small compared to its competitors, and competes mostly on efficiency. It has over 30 distribution facilities located in the United States, Canada, Mexico, and Japan. About 80% of its revenue comes from North America.
Supplier Dependency
The largest OEM supplier for SYNNEX is HP, which represented 36%, 35%, 38% of the total revenue for fiscal years 2012, 2011, and 2010 respectively. While SYNNEX's relationship with HP is well established, it is contractually tenuous, and may be terminated on short notice. Such a scenario would heavily impact SYNNEX's inventory, but the contractual flexibility also reduces SYNNEX's dependency on HP. Other companies with which SYNNEX has distribution agreements include Lenovo, Acer, Panasonic, Seagate Technologies, and Microsoft. For the present, SYNNEX's exposure to HP does not appear problematic as it has a wide range of suppliers. However, SYNNEX is an intermediary between OEMs and resellers, and as a result has little bargaining power over pricing with any OEM.
Industry Overview
Business process companies such as SYNNEX are by nature highly cyclical. Most of SYNNEX's revenue comes from distributing technology and providing business services. Thus, the main driver for its earnings is capital expenditures of other businesses. The return for computers and peripherals segment has closely matched the NYSE composite index over the past 5 years.
click to enlarge images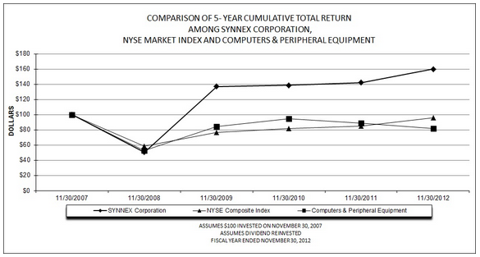 SYNNEX reports itself as in the computers and peripherals industry, but in reality SYNNEX and its peers are intermediaries between OEMs and businesses. They are heavily dependent on the pricing and competitive actions of their suppliers. Price reductions by OEMs can cut into distribution margins, and the liquidity of inventory is highly dependent on OEMs.
Since SYNNEX and its competitors focus mostly on distributing IT products, inventory turnover is extremely important. The technology industry innovates rapidly, and failure to quickly sell inventory may result in obsolescence of certain products. The ability to accurately predict consumer demand for certain products heavily determines performance.
Competitive Performance
Share Price
In terms of market positioning, SYNNEX lacks the influence of its competitors. Industry peers for SYNNEX include Arrow Electronics (NYSE:ARW), Ingram Micro (NYSE:IM), Avnet (NYSE:AVT), Tech Data Corporation (NASDAQ:TECD), and ScanSource (NASDAQ:SCSC). Of these, only ScanSource has a smaller market cap. Despite this, SYNNEX shares have consistently outperformed both the S&P 500 and its peers over the past five years: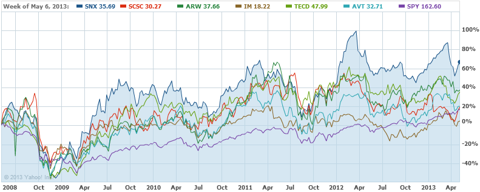 Source: Yahoo! Finance
SYNNEX is currently trading slightly below its book value, but this alone does not imply that the company is undervalued. This is because SYNNEX's agreements with its OEM suppliers may not cover the risk of a decline in inventory value. However, SYNNEX's liquidity is comparable with that of its competitors. SYNNEX has a quick ratio and current ratio of 1.15 and 1.83 respectively along with about $200 million in cash on hand. This, along with the fact that SYNNEX is trading at a discount relative to the multiples of its peers, indicate SYNNEX represents a good value:

Profitability
In terms of profitability, SYNNEX lags behind its competitors, with a gross margin, operating margin, and net income margin of 6.26%, 2.40%, and 1.43% respectively. This is unsurprising given the relative size of SYNNEX, but ScanSource, which is significantly smaller than SYNNEX, has higher margins all around.

SYNNEX does seem to have other ways of returning value to shareholders. Its ROE and ROA are 11.45% and 5.32%, both higher than their respective competitors' averages. Furthermore, over the past four years SYNNEX has managed to grow its revenue by an average of 7.66%, also above its competitors' average. It's clear that while SYNNEX does not hold a significant competitive advantage over its peers, it is also not performing significantly worse than them. Thus, it should trade at multiples closer to industry averages.
Intrinsic Valuation
A discounted cash flow model was used to determine the intrinsic value of SYNNEX. The valuation was determined by projecting cash flows for 5 years and then calculating a terminal value based upon perpetuity growth. The assumptions in the model used are very conservative, and project that SYNNEX will not maintain its historical performance.
| | |
| --- | --- |
| DCF Assumptions | |
| 5 Year Net Revenue Growth Rate | 4.00% |
| EBITDA Margin | 2.70% |
| Depreciation (as a % of CapEx) | 70.00% |
| Tax Rate | 38.00% |
| WACC | 9.50% |
| COGS (As a % of Sales) | 94.00% |
| SG&A (As a % of Sales) | 4.00% |
Cash Flow Projections
Assuming a WACC of 9.5% and a terminal growth rate of 2%, the present enterprise value of SYNNEX was calculated to be $1.819 billion. After accounting for cash and debt, the intrinsic value per share was determined to be $46.23, a 28% premium to its May 8, 2013 closing price of $36.14. Even if SYNNEX continues to face pricing pressure from both industry competitors and OEMs, the company will likely generate consistent cash flow well into the future.
Conclusion
As a company working in distribution and global business services, SYNNEX is neither an innovator nor an industry leader. However, given its current market price, SYNNEX provides a great opportunity for any investor looking to add to their mid cap value portfolio. Even though the sector it operates in is very competitive, SYNNEX seems to have found its niche and maintains a healthy balance sheet with comparable liquidity to that of its peers. The company reported disappointing results last quarter, but this misstep is likely only temporary, as SYNNEX is well positioned for the long term.
Disclosure: I have no positions in any stocks mentioned, and no plans to initiate any positions within the next 72 hours. I wrote this article myself, and it expresses my own opinions. I am not receiving compensation for it. I have no business relationship with any company whose stock is mentioned in this article.