Stratasys (NASDAQ:SSYS) is due to report first-quarter earnings on Monday, and the company will be in the spotlight, which was reserved for 3D Systems (NYSE:DDD) recently. Stratasys is expected to report continued revenue and adjusted earnings growth, and the company's main focus this year is the integration process after the Objet merger.
Earnings preview
2012 was a strong year for Stratasys. All of the data is on a pro forma combined basis, as reported in the last quarter. Full-year revenue rose 30% to $359 million, and non-GAAP earnings per share increased 60% to $1.49. Non-GAAP gross margin improved to 58% from 56.5% in fiscal 2012. Year-end system backlog was very strong, and stood at $28.6 million, which gives confidence for this year's performance.
The company guided full-year revenue in the $430 million to $445 million range, which would be a 22% increase over 2012 at mid-point of the guidance. Adjusted earnings are expected to be in $1.80 to $1.95 range. At mid-point of the guidance, earnings growth would be 26% year-over-year. Analyst estimates are slightly above the mid-point of the company's guidance, and they expect revenue of $439 million and $1.88 earnings per share.
Analysts expect first-quarter earnings to rise 35% to $0.38. Revenue is expected to reach $98 million.
Management expects stronger revenue growth in the second half of the year, as the company integration progresses. Revenue synergies of the combined product portfolio will ramp up with more resellers being cross-trained to sell the combined product line. Merger integration will be the major focus in 2013, and Stratasys intends to invest heavily to fund growth.
Stratasys launched two new printers in the fourth quarter: Objet1000, the large-format 3-D printer for industrial scale prototypes and the Scholar, an accessible and affordable PolyJet 3-D printer package for academia. The company also introduced 16 new composites, and the total of PolyJet materials available exceeds 120.
Competition
Stratasys' share price turned up in early March after a sharp correction in February, which sent the stock down 35%. The downtrend was ended by an upbeat earnings report. 3D Systems bottomed two weeks later and surged higher after reporting earnings in late April, and rose higher again after the acquisition of QuickParts services. Another boost to the stock's price came after the announced deal with Staples, which will be the first major U.S. retailer to sell 3-D printers. You can read more about 3D Systems in my latest article.
Exone (NASDAQ:XONE) is the strongest stock in the group, as it was the only one reaching new all-time highs recently. Exone will report earnings a day after Stratasys, and it will conclude the earnings announcements for 3-D companies. It is the smallest company in the group, and its management is focusing on the industrial side of the 3-D printing business, and it does not plan to focus on the consumer part of the business for the time being. Management expects to reach $100 million in revenue in three years and aims to expand gross profit margins in the process.
Price action
Stratasys has moved higher significantly after bottoming in early March. The share price is not far from all-time highs. The earnings announcement will provide more color on the short-term price movement and fundamental prospects of the company. Price and volume action preceding earnings is constructive, with accumulation in the pattern, meaning more up days on higher volume than down days on heavy volume.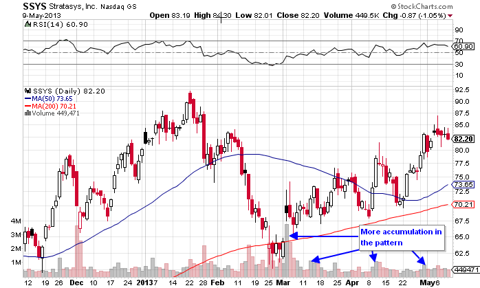 Source: Stockcharts
Conclusion
Stratasys is focusing on merger integration, and expects stronger revenue in the second part of the year. Strong backlog and merger synergies give confidence in the future performance of Stratasys, and the company will certainly benefit from long-term secular trends in 3-D printing.
Disclosure: I have no positions in any stocks mentioned, but may initiate a long position in XONE, DDD over the next 72 hours. I wrote this article myself, and it expresses my own opinions. I am not receiving compensation for it (other than from Seeking Alpha). I have no business relationship with any company whose stock is mentioned in this article.