Like many strong dividend-paying companies, a recurring revenue that is cash generative and scalable is in my opinion key to core holdings for dividend portfolios. We have previously discussed tobacco companies being one such sector that fits this criteria, however telecoms have a similar ability. There are two large-cap names that come to the forefront and have a large established customer base; Verizon Communications (NYSE:VZ) and AT&T (NYSE:T).
Although there are arguments to invest in both of these companies, I am going to look specifically at AT&T's ability to continue paying its dividend and maintain it between 4-6%.
Recurring Revenue - Communication is a staple of modern day society, as such contracts for mobile phones, broadband and television enable companies like AT&T to generate recurring revenue. Once a customer has been established, it is common for the customer to remain with his or her provider rather than switch to an alternative.
Cash Generative - Once initial infrastructure costs have been established, margins are healthy; Wireless EBITDA margin rose to 43.2%. It has managed to maintain a healthy positive free cash flow during turbulent economic conditions.
Scalable - with a contract-based customer base, revenue is easily scaled as one can quantify future earnings-based price increases. AT&T can easily pass on inflationary pressure to customers and scale revenue accordingly.
AT&T started paying a dividend in 1987, and has managed to maintain payments through thick and thin. This global telecommunications provider operates in four main segments; Wireless, Wire line, Advertising Solutions and Other.
Despite the competition between a number of top telecommunication providers, AT&T continues to grow revenue and generate strong free cash flow. Over the years, communication has developed from land lines, to super fast broadband and mobile networks. First-quarter 2013 results showed EPS growth was up 8.5% on adjusted terms from the year before on higher broadband subscribers, mobile data and strategic business services growth.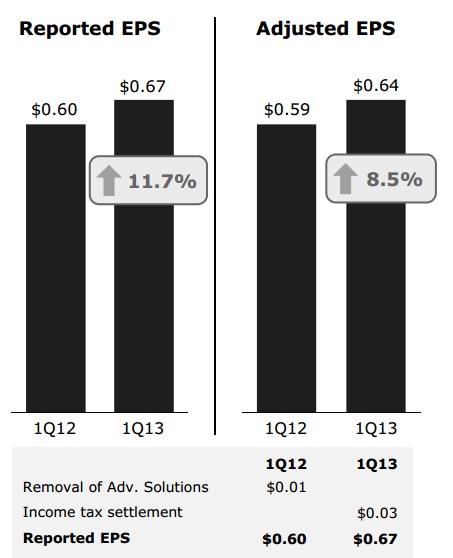 The first quarter wireless revenue increased by 3.4%, supported by a 20% increase in data revenue. The 4G LTE network is seeing impressive results and is sure to generate further revenue growth. AT&T operates the fastest 4G LTE network in the U.S. and its overall wireless network ranked 1/14 across all 24 markets surveyed by Rootmetrics. Smartphone sales continued to bolster revenue, and with its best-ever first quarter for sales, 6 million contract subscribers.
Wire line revenues have also seen impressive growth as they capture a larger market share. Total U-verse subscribers for both TV and broadband reached 8.7 million. With record net adds to broadband for the quarter of over 750,000.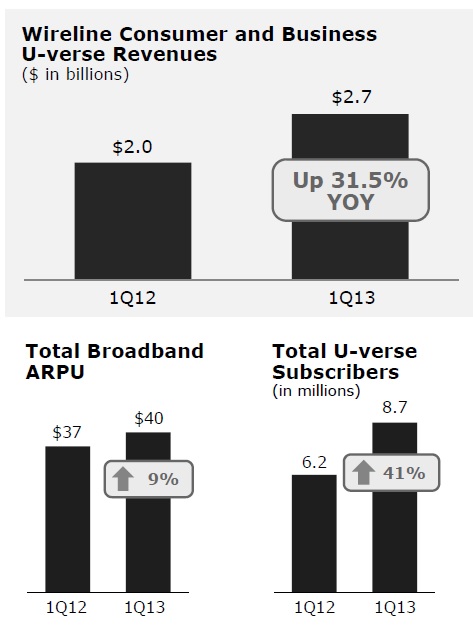 Strategic Business Services again saw consistent revenue growth, as companies continue to upgrade IT services and infrastructure to adapt to the changing business environment. Revenue rose 10.8% year on year.
Despite all main segments showing solid growth figures, what makes this company attractive, is its potential to capture further market share as the fast moving telecommunication sector evolves. Cloud computing is fast becoming a major tool and AT&T ranks number one for offering the most powerful network.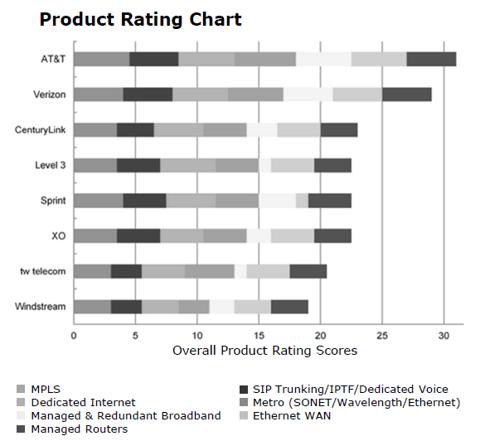 This should help the company continue to expand revenue going forward.
For dividend-paying companies, balance sheet strength is a must. AT&T excels in this area, and in 2013 Q1 returned over $8bn to investors through share buy backs and dividend payments. Free cash flow is paramount, and this highly cash generative business provides this in spades. The chart below shows the consistent positive free cash flow provided, which enables it to grow dividends and return money to shareholders.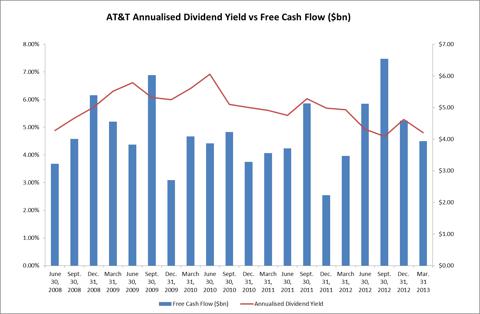 The share price has underperformed the market year to date, however in my opinion offers a great entry point for those hunting for yield. Price is not overly valued, with a P/E currently at 15.75, and forward P/E of 14.8 and although I do not see a large amount of capital appreciation in the near term, demand for high-yielding equities such as this one is ever increasing, supporting the share price. The current yield is 4.82%, and with a current payout ratio at 67%, there is still room for more growth.

Summary
All major business segments continue to perform well, with strong revenue growth. Margins remain strong providing a highly cash generative environment for the company. This has enabled it to maintain its balance sheet strength and strong free cash flow allowing it to repay investors in full. For dividend investors, this company will provide a stable revenue going forward and its fast network should help capture market share going forward.
Disclosure: I have no positions in any stocks mentioned, and no plans to initiate any positions within the next 72 hours. I wrote this article myself, and it expresses my own opinions. I am not receiving compensation for it (other than from Seeking Alpha). I have no business relationship with any company whose stock is mentioned in this article.