Potash (potassium chloride, KCl) is a resource predominantly used as an agricultural, nutrient-rich compound in fertilizers. It is a main source of potassium, which helps plants retain water, stay disease resistant, and grow strong roots. It has been subject to very volatile price swings throughout the last couple of years, with the underlying price going from approximately $150/metric tonne in 2005 to over $850 in 2009, while struggling throughout the past year, equating to a price of approximately $391.50 as of April 2013.

Source: YCharts
There are a number of reasons for the decline, for example:
1. Oversupply in the market - Potash heavyweights including Potash Corporation (NYSE:POT), Mosaic Company (NYSE:MOS), Belaruskali, Uralkali, Agrium (NYSE:AGU), have increased, or are planning to increase, production capacity that is overwhelming in demand. This concern still lingers as some mining giants like BHP Billiton (NYSE:BHP) are planning to build massive potash facilities. The exploration to production process usually takes seven years, as there are significant barriers to entry when mining potash. Fellow miner Vale S.A. (NYSE:VALE) recently cancelled their Argentina potash mine primarily due to government and cost of money concerns. The supply for potash is projected to increase by 7.1% from 2011-2015, while demand is up 3.1% over the same period.
2. Potash Monopoly - The top dozen potash producers dominate market share with approximately 80% of worldwide production. There is little incentive to decrease price, as there are not many places where commercially proven potash deposits lie (recently companies in India and China have been signing set contracts to lock down prices and create price ceilings - more on this later). There was around 35,000,000 tonnes of potash produced in 2010, with the vast majority coming from Canada, Russia and Belarus. Canada's three top producers (POT, MOS, and AGU) aggregate form Canpotex, the trading vehicle used for distribution, while Belaruskali and Uralkali (Russia) form the Belarusian Potash Company, a similar trading vehicle. These two organizations for the most part control potash distribution, and when demand is slacking, collectively change prices to offset it.
3. Cost of alternatives - Farmers have been turning to lower-cost alternatives like urea and phosphate over potash. Some miners in India even consider having potash a "luxury." India, although being the second largest potash importer (3.5 million tonnes in 2012), subsidizes 20%-30% of its urea requirement.
4. US Drought -> Last summer, the US had its worst drought since 1956.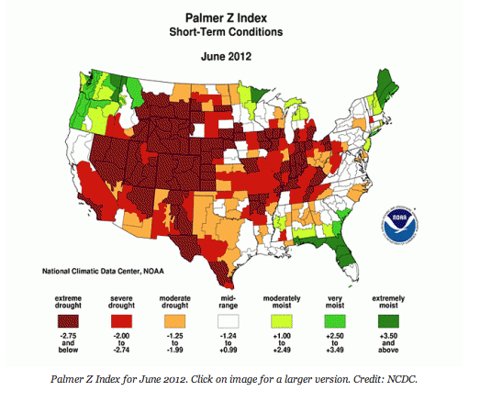 The corresponding effect was felt in many places, specifically the Midwest's Great Plains, where potash may be used in corn, wheat and other crop production. Here is a chart that shows which crops potash is used most for: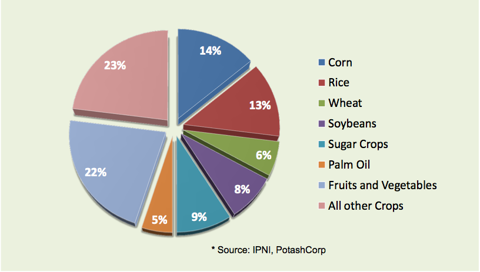 Source: MAG Industries
Future Outlook
The future outlook for potash does look better. Population growth is a key driver as, quite simply, there are mouths to feed. Just in the US alone, population is projected to increase to approximately 363 million by 2030, a 48 million person increase from today's statistics, while the world's population is projected to increase by 1.5 billion people on the same time frame. Although I mentioned supply drastically outdoing demand earlier, key growth opportunities still exist for potash in Asia, specifically in South and East Asia (India and China being key consumers):


Potash as K2O; multiply KCl output by .61 to get K2O (SOURCE: United Nations)
Another key factor for potash growth is nutrient deficiencies in huge markets like Brazil, India and China. Balanced fertilization (what the majority of the developed world has) has excellent crop yields, largely from its potash applications. In undeveloped or developing countries, these yields are either already significantly decreased or will decrease over time as the soil gets less fertile. This, inevitably, will also increase potash demand as farmers look to "heal" their arable land. This also transitions into another demand driver for potash, which is better eating habits globally. As developing countries grow socially, economically and become more sophisticated, citizens are changing their diets to include more beneficial nutrients, specifically protein. This leads to the desire to get the most "bang-for-your-buck" quality feed for livestock, which increasingly includes potash use.
The biofuels industry is also expected to represent a growth driver for potash, with the global macro biofuel-industry projected to triple by 2019, garnering $525 billion in annual revenues (AFAI). Potash is a key player here as it once again helps farmers get the most out of their crops. Biodiesel represents huge potential over regular gasoline, and sugarcane biofuel is booming in South American countries like Brazil. Biofuel is also thriving in the US, as the Department of Agriculture is still handing out grants despite the sequestration and Minnesota even has its own Biofuels Association.
And in the short term, the drought does not look as bad this summer as it did the last, which will help spur potash demand, specifically in the Midwest: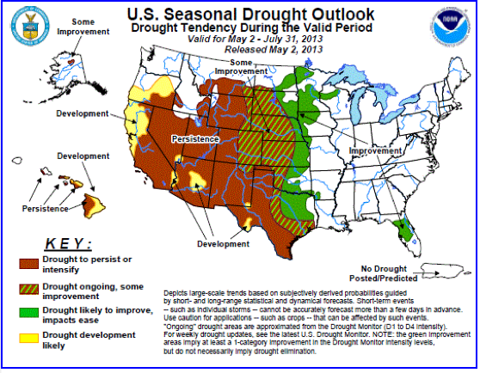 So, as you can see, there are various degrees of improvement within areas of the agriculturally friendly Great Plains.
US Potash
Although concerns of an oversupply glut loom, potash is still a finite resource. Canada, specifically the province of Saskatchewan, has almost half the world reserves, and the Big 3 of Canada, Russia and Belarus contain about 90%. The US on the other hand only has about 1.4% of the world's reserves, and is a huge net importer and consumer, only producing approximately 1.2 million tons/yr while consuming 5.2 million tons/yr. The majority of this production comes from Mosaic and Intrepid Potash (NYSE:IPI), which operate a couple of mines in Utah, Michigan and New Mexico. North Dakota also had plans to develop potash mines as well, although they have been stalled due to disappointing preliminary results. However, a recent state-sponsored study could decrease America's potash import deficiency in the years to come.
In 2008, the Arizona Geological Survey released a study estimating .7 to 2.5 billion metric tonnes of potash was located in the Holbrook Basin of Holbrook, AZ. Three entities won control of the basin: Private Hunt NZ, American West Potash (a subsidiary of Prospect Global Resources (NASDAQ:PGRX)), and Passport Potash (OTCQX:PPRTF). Although I like Passport as well, for the rest of this article, I will largely focus on what company I think offers the best undervalued opportunity, Prospect Global Resources.
Reasons
a.) The sheer amount of land they have rights to - Prospect, through American West, has land rights to 150 plots of land (42 state, 108 private) encompassing 93,000 acres, containing 132 million tonnes of potassium chloride (muriate of potash). At the moment, they have exploration permits on the state land and valid permits on the private land that allows them to explore, develop, operate, and/or reclaim the mineral deposits. I will post two maps: the first containing all of the land plots, and the second containing a more detailed plot of most of the land plots, which I will focus on.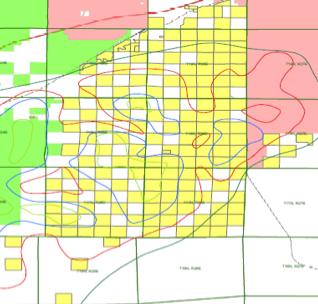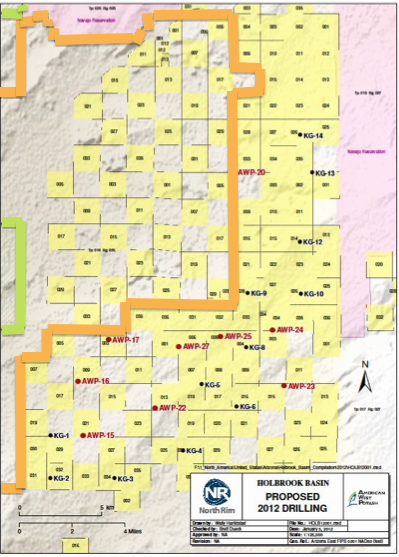 On the first map, the yellow depicts what land Prospect owns, the red is the Navajo Indian Reservation, the green is the eastern bounds of a National Forest. On the second map all of the indicators stay the same, except the orange line depicts my rough sketch of the Congressionally-approved expansion to the Forest (exact specifics are still getting worked out). As you can see, a portion of Prospect's land is in the proposed park expansion zone. Prospect officials have met with Park Superintendent Brad Traver and are in the process of working together to prove that underground mining would not impact the visitor experience. Prospect's team is quoted as saying that the underground mining would be "unseen, quiet, and safe." Now, a good thing for Prospect is that they have had excellent community relationships with neighbors, including participating in festivals and parades, supporting a new skills center that will teach the basics on potash mining, able to provide Arizona a huge quantity of tax revenue and the creation of jobs to the area. There are not many jobs in the highly rural community (unemployment is rampant in the Native American population) and the building of the facility alone would bring over 4,500 jobs, with a full-time workforce of approximately 1,200 over mine lifetime. The tentative schedule for opening is in late 2015 to early 2016, with approximately 2 years until full operational capacity. This greenfield mine (building from scratch) would have an operational life of 40 years, which is better than the sector average (Passport's mine lifespan is a projected 26 years). The potash mining would also bring hundreds of millions of dollars in state tax and royalty revenue (over $1.5 billion in state/county/local levels during mine lifetime).
Arizona also has a year-round mining climate (warm and dry) compared to the likes of Canada, Russia and Belarus. This will equate into easier, and more, mining when the facility reaches operational capacity. The estimated initial capital cost of the mine is $1.34 billion, which is not that much relative to the bigger projects of VALE and BHP. Additionally, the potash is located at relatively shallow depths (less than 551 meters underground), considerably less than competitors (for example, POT's Allan ore depth is 1,040 meters, POT's Rocanville ore depth is 960 meters). There is little-to-no competition from oil and gas companies in the area, which would complicate both logistical matters and area quality matters. Finally, Holbrook is close to waterways and areas of high potash use (Great Plains, Pacific Ocean, Gulf of California, Mexico, etc.)
b.) Recent volatility in share price - Prospect has gotten downright beaten recently, going from 3.30/share and 200 million in market capitalization in late October 2012 to a current price of approximately .30/share and approximately 20 million in market capitalization. Some major events that occurred during that time were one of the largest potash export contracts ever, a 10-year, $2 billion+ agreement with state-owned Chinese company Sichaun Chemical, and the offer and subsequent rescinding of an $100 million dollar investment by Apollo Global Management (NYSE:APO).
The Apollo investment was mutually nullified in early March, and as a result the share price underwent a 77% haircut to the current level. The company was priced for bankruptcy as they had to re-pay a $53.7 million payment to the Karlsson Group by March 30, 2013 and a $125 million payment to the same group by July 31st, with no obvious indication on how they were going to pay (Karlsson group was an old American West business partner who got their ownership bought out by Prospect). However, instead of Karlsson issuing a notice of default, this debt was recently re-structured into more manageable scheduled payments.
Was a 77% drop in shares actually warranted? Prospect needs the approximate amount of $1.34 billion in up-front cost to build their mine, and Apollo was only offering $100 million, largely just to pay Karlsson in the interim. With this debt restructured, I can think of no reason why the share price hasn't moved much as a result of the restructuring.
c.) Macro-potash mine investment landscape, specifically juniors - Recently, Goldman Sachs likened potash to the last decade's iron ore craze, saying that potash could be to the next decade what the boom commodity of iron ore was to the last. It cites examples of mines that have just been capital expenditure sinkholes (including $1.2 billion on BHP's Jansen thus far), and China demand. A recent Reuters article discussed how much current interest there is in the mining sector by private equity funds. They cite that smaller firms are in the pole position, as their size corresponds to quicker turnaround times. Remember that the Apollo agreement was mutually terminated due to unfairness to shareholders and not having the capital until late 2013 or early 2014, which would have been too late to pay Karlsson.
Risks
Although the debt maturity to the Karlsson Group was refinanced, there are a number of risks still transparent. While most of the money (approximately $128 million) to Karlsson won't be due for a couple of years, $5 million is due to Karlsson 5/15/13, $7 million by 6/15/13, $18 million by 9/18/13, and $25 million by 8/1/14. A press release was given on 5/8/13 that Prospect raised $5 million from two investors in order to cover the 5/15/13 payment, but also announced a non-transferable rights offering in addition to a public offering sometime soon. Further dilution is a very plausible scenario if outside financing does not occur, as it is unclear how exactly Prospect will be able to pay their debt, as the mine (and subsequently, revenue) won't open (or be able to be accumulated) until late 2015 or early 2016. CEO Damon Barber is actively pursuing financing options for the mine, but it's hard to rely on that. Also, it is possible that one of the metrics needed to complete their Definitive Feasibility Study gets denied and the mine timeline gets extended or the underlying plan gets altered. Prospect is finalizing its Aquifer Protection Permit for submission to the Arizona Department of Environmental Quality this quarter, and has multiple outstanding permits there as well. It is also possible that the Park Service doesn't comply with Prospect (or vice versa) and a dispute about where the mining facility will be located ensues. A great amount of patience is needed before investing in any mining company, particularly a junior miner.
Passport Potash
As I mentioned earlier, I also like Passport as well. According to an updated independent NI 43-101 study, they have access to an estimated 161.09 million tonnes of potassium chloride between its holdings and the Indian Hopi Tribe (Passport reached a joint agreement with them in October 2012). Passport's aggregate holdings total around 120,000 acres, with direct access to the second-largest freight railroad, Burlington Northern Sante Fe, and Interstate 40 runs adjacent to the project. This represents a competitive advantage over Prospect, whose smaller land holdings aren't as close to these major transportation outlets. Passport also doesn't have as sticky financing as Prospect does with respect to the Karlsson Group, but still has land payments to the Twin Buttes and Fitzgerald Ranches. However, Passport is not as far along in the mining process as Prospect, as their pre-feasibility study is not due until the end of 2013, while Prospect is into phase 3 of its bankable feasibility study.
Conclusion
The potash industry is definitely an exciting one to be in for both investors and entities. With the economy looking up, prices are stabilizing and consumer confidence is at five-year highs. With the underlying fundamentals intact, it will be interesting to see if a resource like potash can get back on track to where it was in the late-to-middle 2000s. Long-term prospects look strong as well for the reasons I listed above. I believe, for a patient investor, a junior minor such as Prospect can be a good way to bet on the growth of potash.
Disclosure: I am long PGRX. I wrote this article myself, and it expresses my own opinions. I am not receiving compensation for it (other than from Seeking Alpha). I have no business relationship with any company whose stock is mentioned in this article.