We must admit that we don't think a lot about Pep Boys (NYSE: PBY) - unless we need a replacement windshield wiper or the oil light comes on in our cars.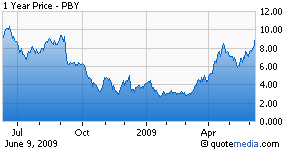 But looking at their stock performance of late, maybe we should change our opinion. Shares in Pep Boys have been positively electric. From a close of $2.71 on January 23, 2009, the stock has rebounded strongly to close at $9.33 on June 9, 2009..
The automotive service and retail chain, in its latest quarterly report, reported first-quarter profits of $10.9 million, or 21 cents per share, compared with $4.7 million, or 9 cents a share, in the year-ago quarter. Net earnings from continuing operations came in at $11.1 million. The biggest piece of that earning surprise came in the form of a $6.2 million gain resulting from bond repurchases. Revenue fell $1.5 million to $496.5 million and comparable sales decreased only 0.3% during the quarter.
The company cited their "disciplined approach towards category management and spending" as a one of the reasons for the surge. It didn't hurt that, according to their CFO Ray Arthur,
In the first quarter, we also capitalized on our strong liquidity position by repurchasing almost $17 million of the company's senior subordinated notes for an average purchase price of 63 cents on the dollar.
The company is one of the most dominant players in its niche and operates approximately 11.5 million gross square feet of retail space, including service bays. The SUPERCENTERS average approximately 20,700 square feet and the PEP BOYS EXPRESS stores average approximately 9,500 square feet. In most of its stores, the company has a commercial sales program that provides commercial credit and delivery of tires, parts and other products to local, regional and national repair garages and dealers. Founded in 1940, Pep Boys clearly knows the auto parts business.
The question in our minds is if their run might be coming to an end. Several of the technical indicators are still bullish, but, other than a short-term play, I would be wary of this stock. In its recent chart, Pep Boys MACD reflects a strong bullish signal, with the indicator above the 9-day moving average signal line, and also above the 0 level, indicating that moving averages are trending higher.
With share prices currently above the stock's 13-day moving average, a bullish trend is indicated. Also, a rising moving average signals that there has been buying interest in this stock. With the most recent up day (91cents to close at $9.33 on June 9th) Pep Boys is trading above the upper Bollinger Band, which might result in downward pressure on the stock price. Stochastics also indicate that the stock might be overbought and due for a correction.
We, like lots of Americans, are keeping our cars longer and doing more of our own simple repairs. We will probably visit Manny, Moe & Jack in the very near future for some auto parts. We just don't know if we'll buy any of their stock.
Disclosure: No positions held