While the number of North American men being diagnosed annually with prostate cancer has seen a slight decline during the past decade, this trend will likely reverse in the coming years due to the aging of the Baby Boomers, who are just entering the demographic most susceptible to the disease.
However, a groundbreaking new treatment for the disease will likely receive U.S. Food and Drug Administration (FDA) approval and become widely available just as the first Baby Boomers reach 65 in 2010. While the new treatment is not a "cure-all," it offers a new possibility for a longer life to those diagnosed with the almost-always fatal advanced form of the disease.
Prostate cancer is the second most common cancer among men after skin cancer and the second leading cause of male cancer deaths after lung cancer. The American Cancer Society estimates that in this decade about 190,000 new cases were diagnosed every year, and almost 30,000 men die every year from it.
The disease primarily affects older men, with those age 65 and older accounting for about eight of 10 positive diagnoses. Scientists believe that given enough time, the majority of men would eventually get prostate cancer, and that at least 80 percent of men over 80 years old have some form of the disease. Prostate cancer's mortality rate would likely be higher if it afflicted more younger men because older men who are diagnosed with it are just as likely to die from other causes. The cancer hits African Americans especially hard, as blacks are more than twice as likely as whites to get prostate cancer and have a nearly two-fold higher mortality rate over whites.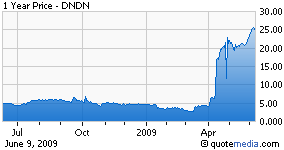 Seattle-based Dendreon (NASDAQ:DNDN) will likely become the first company to receive FDA approval for a cancer-fighting, immunotherapy based vaccine, as it released Phase III clinical trial results for its therapy–Provenge boosted survival rates in men with the advanced form of the disease beyond any currently available treatments, and met FDA thresholds for approval.
Cancer fighting immunotherapy vaccines are designed to stimulate the body's immune system to recognize tumors as foreign invaders, and thus trigger an immune response to fight the cancer. Numerous biotech and pharmaceutical companies have been developing a variety of immunotherapy based vaccines for the past 20 years, with mixed results in laboratories and clinical trials, and with no approval as of yet from the FDA.
One of the most recent setbacks in the arena was experienced in 2007 by Genitope Corp., whose patient-specific, non-Hodgkins Lymphoma therapy, MyVax, worked for some patients in a phase III clinical trial, but did not for others. The results were not robust enough to warrant approval, and the FDA rejected an appeal from the company to amend its application to allow the submission of a subset of positive data to account for the personalized nature of the treatment. In other setbacks, Cell Genesys and Favrille, Inc. terminated their cancer vaccine programs after disappointing phase III clinical trial results.
Success in the field, however, was met last year by Antigenics, Inc., whose patient-specific cancer vaccine became the first in the world to be approved by a regulatory body when it was approved by the Russian Federation for the treatment of kidney cancer. Its treatment, Oncophage, is currently under review by the European Medicines Agency, and undergoing phase III trials in the U.S. for review by the FDA. But it is Dendreon's Provenge that is poised to become the first cancer vaccine to receive U.S. regulatory approval.
The Dendreon story, both as a groundbreaking biotechnology company and as a controversial stock, is worthy of a book. A super condensed version is as follows: In 2006 DNDN released Phase III Provenge results that failed to meet the primary endpoint of reducing tumor size, but showed a survival benefit beyond anything currently available for advanced prostate cancer. The FDA allowed the company to amend its application to account for the survival benefit and resubmit its application for approval.
Skeptics of Provenge, which included a massive float of short sellers, some members of the medical community, and just about every analyst that followed the stock, argued that Provenge would never receive FDA approval. These critics contended, among other things, that the survival benefit, if not an outright fluke, was not robust enough to meet approval. They also contended that the FDA would not ignore Provenge's failure to shrink tumors, and that the rigid bureaucracy of the FDA would not allow for the acceptance of new paradigms of cancer treatment.
However, in March 2007 an FDA advisory committee unanimously deemed Provenge as safe and recommended by a 13-4 vote that the FDA grant approval. Because the FDA traditionally followed the recommendations of its advisory committees about 90 percent of the time, the stock price soared some 260 percent, from about $5 to $18, and then hitting as high as $25 in the subsequent week before settling down in the high teens.
A little over a month later, though, the stock plunged back down to the single digits when the FDA refused to approve Provenge and requested more data from a much larger phase III trial.
On April 14, DNDN announced the "unambiguous" success of its phase III "Impact" trial in prolonging the survival of men with advanced prostate cancer, and the stock soared into the $20s again. The long-time skeptics quickly poured on all manner of negative sentiments, but following Dendreon's actual release of the data two weeks later during the American Urological Association's annual conference, negative sentiment all but dried up and six analysts upgraded the stock to buy and set new one-year price targets of between $22 and $35.
There should be no question now about whether the FDA will approve Provenge, as the data conclusively met the criteria and specifications outlined in DNDN's Special Protocol Agreement with the FDA. DNDN will amend and resubmit its new license application to the FDA in the fourth quarter of this year and should receive approval within 90 days after that, at which time the company's already-in-place facilities should be in position to accept patient blood for immunotherapy infusion.

The question is what is DNDN's stock worth? Currently men facing death due to advanced prostate cancer have only one medical option, Taxotere, a chemotherapy drug with side effects considered so severe that it is declined by more than 40 percent of patients to whom it is offered. DNDN management has indicated that they plan to offer Provenge at a cost similar to that of other leading cancer treatments, which currently average about $50,000 per patient, and that they expect that the treatment will be covered by Medicare and insurers.
Even by using the most conservative numbers the company's potential sales numbers are impressive. With a 10 percent discount on existing treatment costs, for a cost of $45,000, and 10,000 patients, sales add up to more than $400 million. If all U.S. advanced prostate cancer patients were to opt for the "discounted" treatment, sales would reach more than $1.5 billion.
Provenge also has the immediate potential for off-label usage in much larger population of those in the earlier stages of prostate cancer, especially since studies indicate that the therapy is much more effective when used by patients with less-compromised immune systems (FDA protocols call for many experimental therapies, such as Provenge, to be used in clinical trials on the sickest patient populations). And with castration being one treatment option for earlier stages of the disease, chances are good that many of these patients might want to try Provenge first.
There is also the rest-of-the-world market, which for most drugs and therapies is generally worth as much as the U.S. market, and thus theoretically doubles Provenge's potential revenues. DNDN management has indicated that it may partner with a larger drug developer for overseas sales, but the company's share in such revenues would still be impressive.
Finally, the DNDN story does not end with prostate cancer. To conserve cash following the FDA's 2007 request for an additional clinical trial to study Provenge, the company halted early stage trials of testing its immunotherapy on breast cancer and head and neck cancers. The company plans to restart those trials soon and will evaluate its immunotherapy approach for a range of other cancer types. The breast cancer trials can now be re-tailored as a less-timely label expansion study, potentially putting it up for FDA approval in five years. And the breast cancer market is at least as large as the one for prostate cancer.
We believe that placing price targets can be useful to investors; however, in cases like Dendreon, a small biotechnology company, the trend of positive new flows, reinforced by promising earnings surprises and price action, is more important.
By implying a 6X sales ratio to a conservative revenue projection of $500 million in 2012, we obtain a valuation of $3 billion, or $27 per share. If Provenge can surpass conservative expectations and reach revenues of $3 billion by post 2016, this would translate into a 6X sales valuation of almost $165 per share.
The stock has been a strong performer of late, rising from about $4.50 at the beginning of the year to a high of $27.40 on April 29. The shares currently trade at about $25, and we believe that the share price has consolidated due to both the recent stock offering cash call to raise $221 million to eliminate debt and fund working capital for the ramp of Provenge, and to Chief Executive Officer Mitchell Gold's 600,000 share trade (he still remains one of the top 25 shareholders).
The shares should break above their all-time high of around $28 on the next earnings or news surprise. And then, to borrow an equine metaphor, Dendreon will be "off to the races."
Disclosure: Long DNDN