Gerdau Ameristeel Corp. (GNA) has been downgraded by Desjardins Securities due to price appreciation and reduced production.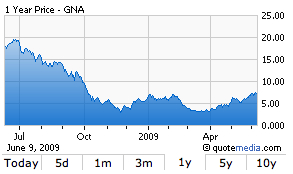 Analyst John Hughes lowered his rating on the stock from "buy" to "hold," and maintained his C$8 price target, noting shares in Gerdau have doubled since early March.
"The rapid price increase in Gerdau's shares is the catalyst for our revised recommendation," he said.
He also commented that mill shutdowns recently announced will reduce production by 1.6 million tonnes per year and result in an after tax charge of $80 to $140-million or $.18 to $.32 per share.
Mr. Hughes said:
We have adjusted our earnings forecasts for Gerdau to reflect the expected higher end of the range of charges related to the shutdowns.

As a result of these closures, our 2Q09 earnings estimate has been reduced to - $.31 per share (formerly $0.03) and our 3Q09 estimate is now $0.02 per share (formerly $0.07 per share).
The analyst added that long-term steel production should pick up beginning in the third quarter.