I know all about the great performance that American Capital (NASDAQ:AGNC) has had over the last three years. I have heard all too often that my decision to own shares of the more conservative, and time tested, agency backed mREIT, Annaly Capital (NYSE:NLY), has cost me money. Sometimes it takes a while for issues to crop up, but crop up they did when AGNC reported earnings last week.
Not only did the company report a massive loss, but its book value dropped like a rock:
American Capital Agency Corp. (AGNC) today reported a comprehensive loss for the first quarter of 2013 of $(557) million, or $(1.57) per common share, and net book value of $28.93 per common share.
Whoops!
Maybe I am being cavalier about this, as any company in this business could find navigating the current interest rate environment difficult to say the least. However, let's compare the above noted report and headline to the NLY earnings via the Seeking Alpha Market Currents:
Wednesday, May 1, 4:57 PM More on Annaly Capital (NLY) Q1 earnings: Income of $0.47/share compares to $0.46 in Q4, $0.54 a year ago. Company disposed of $17.2B of Investment Securities for gain of $182.8M vs. $5.3B for gain of $80.3M a year ago - net income in 2013 Q1 was $464.4M. Net interest spread of 91 bps, off 4 bps from Q4 and 80 bps from a year ago. Leverage of 6.6:1 vs. 6.5:1 a year ago. Book value/share of $15.19 vs. $15.85 on Dec. 31, $16.18 a year ago. Conference call tomorrow at 10 ET. Shares up marginally AH.
NLY made a huge profit as outlined in its earnings release, and even though the company had a drop in book value, it was nowhere near as steep as the AGNC drop.
Even with a lower leverage approach, NLY still outperformed AGNC with a net interest spread of 91 basis points vs 78 basis points for American. As far as I am concerned, all of that leverage that AGNC employed has apparently produced poor results this time around.
In the conference call, Gary Kain, CEO of AGNC, basically said it all with this comment:
"And again economic earnings are the combination of book value changes and the dividend that we pay out. And you can see that volatility very plainly in our last three quarters of economic earnings which totaled positive 15% in 3Q 2012, positive 1% last quarter and then this quarters negative 5% result."
The results speak for themselves and Kain spelled it out as eloquently as ever. In answering a question about the weakness showing up in March (the last month of the quarter) Kain had this to say:
No, I mean look, I don't want to tell you that all the weakness occurred in March, it clearly didn't. We saw weakness kind of throughout the quarter. What I would say is, specifieds relative to interest rates and the way we think about them really started to become more compelling late - we'll say very late in the quarter and even more so as we at the very early part of Q2. But the mortgages performed poorly throughout the quarter and it was not just the March effect.
With an obvious nod towards a better future, Kain stated that the whole quarter was basically lousy. I guess every company can have a lousy quarter.
Now, compare that to what Wellington Denihan, CEO, stated during the NLY conference call:
"For the quarter, our overall dividend yield and yield on core earnings remains at historically high levels relative to virtually all other asset classes. For example, our dividend yield of 11.3 is 967 basis points greater than the 10 year treasury. Our historical yield spread since inception versus the benchmark has been around 730 basis points. Our current yield on core earnings of approximately 7% remains higher than even the corporate high yield index which now stands at about 5.3."
I would say that this particular comment struck a much more positive tone, not just for the present, but for going forward as well:
"The CreXus's acquisition is accretive to the Annaly dividend and represents a meaningful step in the evolution of Annaly's capital allocation strategy, one that will enable us to take advantage of a broader spectrum of investments. Since the announcement of this acquisition in November, we have continued to build out our commercial expertise and we remain confident that CreXus' capabilities and growth may be significantly enhanced when coupled with Annaly's broader capital base."
With this comment we now know where NLY is headed, and they are off to a positive start with the CreXus acquisition. Lo and behold, it also appears that NLY is moving ahead quite aggressively with this press release:
Annaly Capital Management, Inc. (NLY) (Annaly) today announced the recent hiring of several key additions to its existing commercial real estate platform. Over the past few months, FIDAC has continued to grow its commercial real estate expertise, said Wellington J. Denahan, Annalys Chairman and Chief Executive Officer. Given the size of the opportunity that we see in the commercial real estate market, we are investing in additional personnel to further complement our origination, underwriting and asset management capabilities within this asset class.
NLY is moving to where the money is, and is quickly becoming a "hybrid" of RMBS and CMBS instruments. This could give Annaly even greater flexibility in the business, and eventually reward shareholders with higher dividends in y mopinion.
So What Happened After AGNC and NLY Reported?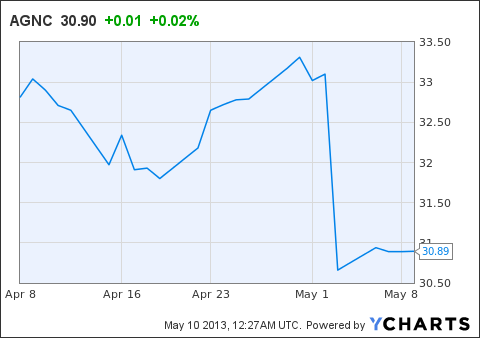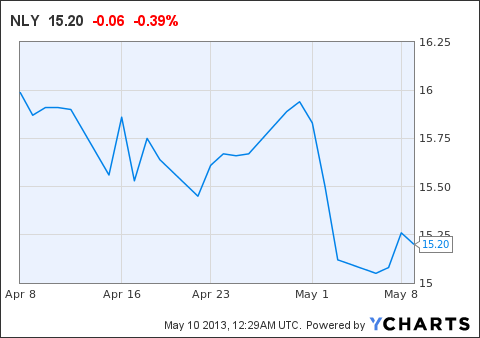 AGNC dropped roughly 10%, and NLY dropped about 3%. Both dropped but I believe NLY dropped because AGNC had such a poor quarter. As a matter of fact, NLY is selling for about book value now, but AGNC is still selling for a 6-7% premium. My opinion is that AGNC has more room to fall, and might not be able to avoid a dividend cut.
NLY, in contrast, still made money, completed the CreXus acquisition, which, as far as I am concerned bodes well for dividends from NLY in the next few quarters. Who knows, maybe we will see a dividend hike in 2013 from NLY, as opposed to a dividend cut by AGNC.
My Opinion
Both of these companies have had to navigate a business that has been riddled with risks, as I have noted time and time again. I believe both companies have done very well in spite of the hurdles in their path, but as far as making an investment now, I will stick with Annaly Capital.
Keep in mind that this is a dividend opportunity play. I would allocate no more than 2-4% in either of these stocks regardless of which one I happen to like.
Disclaimer: The opinions of the author is not a recommendation to either buy or sell any security. Please do your own research prior to making any investment decision.
Disclosure: I am long NLY. I wrote this article myself, and it expresses my own opinions. I am not receiving compensation for it (other than from Seeking Alpha). I have no business relationship with any company whose stock is mentioned in this article.