Tesla (NASDAQ:TSLA) reported earnings that blew away analyst estimates. The market's reaction was very positive, and the gap up was 24% on the following day. Although it may seem as the price going too far in a short time period, this might be just a beginning of Tesla's move, because the company's future potential is huge.
Earnings highlights
Tesla reported first-quarter adjusted earnings of $0.12, beating analyst estimates for $0.04. It is the first profitable quarter ever for the company. Revenue was $562 million, handily beating estimates for $492 million. Gross margin rose from 8% in the fourth quarter to 17%. Management expects gross margin to reach 25% in the fourth quarter, assuming zero ZEV credit revenue. Zero Emission Credit revenue in the first quarter was $68 million, or 12% of total revenue. Management expects ZEV credit revenue to decline substantially in future quarters, since ZEV credits will only apply to 1/6 of worldwide deliveries.
The company delivered 4,900 vehicles in the first quarter, exceeding its own raised guidance for 4,750 vehicles. Tesla also raised full-year sales guidance to 21,000, up from 20,000. Vehicle sales for the second quarter are expected to be 4,500. The number is lower because the company will start shipping some cars to Europe to start deliveries in the third quarter. The management noted that the U.S. demand is expected to exceed 15,000 vehicles per year, and that the global demand is likely above 30,000.
Tesla is improving the production process. The time needed to build a car reduced by 40% from December to March. Inventory management also improved. Raw materials declined 26% in the first quarter, while unit production increased 80%.
The numbers are good, and above expectations. Tesla has potential to ramp up production and increase sales substantially in the future, especially with the expectations of a more affordable third-generation vehicle, which would enable even more owners to buy an all-electric car.
Earnings cycle
In my early April article, I noted that the Tesla was in the most favorable stage of the earnings maturation cycle. The expectation of the first quarterly profit, massive sales growth, expanding margins and positive analyst estimate revisions gave are all characteristics of the second stage of the earnings cycle. Tesla has them all. A break through the $40 price level gave the stock firepower, as it surpassed the long-term resistance line. As of Thursday's close, Tesla is more than 70% up from the breakout level, and the stock is up 105% year-to-date. Tesla is also one of my best-performing potential 'superperformance' stocks.
Price action
After the latest massive gap-up move, Tesla is extended from buying range, except for those who like to buy gap-ups. The share price might consolidate after recent gains, which would be quite normal and not at all unusual. But don't forget the very high short interest, and we might very well see an epic short squeeze. It can happen. Just take a look at Netflix (NASDAQ:NFLX). The turnaround in Netflix caused the price to move up more than 300% in just seven months.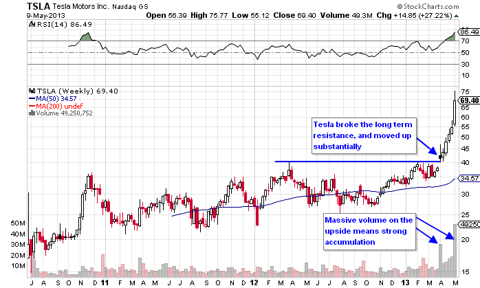 Source: Stockcharts
Conclusion
It may seem that Tesla has moved too fast in a short time frame. But this move might be just the beginning of a more meaningful rise. Substantial revenue growth, expanding margins, strong global demand, rising production and enormous future potential might force the shorts to cover in panic mode.
Disclosure: I have no positions in any stocks mentioned, and no plans to initiate any positions within the next 72 hours. I wrote this article myself, and it expresses my own opinions. I am not receiving compensation for it (other than from Seeking Alpha). I have no business relationship with any company whose stock is mentioned in this article.