Achillion Pharmaceuticals' (NASDAQ:ACHN) share price has been driven down recently from when I first suggested considering this stock to buy. I even doubled down on the initial purchase in The Young And Restless Retirement Portfolio.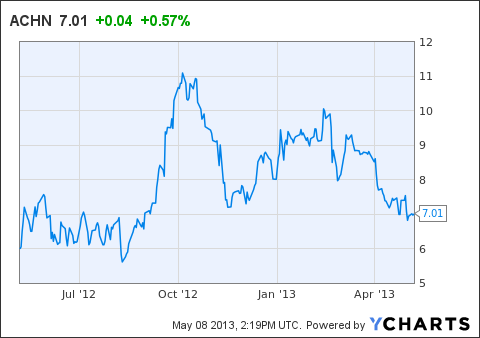 I followed up with this report which detailed some of the successful results in phase II trials, as noted by Milind Deshpande, Chief Scientific Officer and President of Research and Development:
"We are very pleased to see that the profile of ACH-3102 continues to exceed our expectations for providing a truly improved barrier to resistance. As the first-ever clinical trial to evaluate a NS5A inhibitor as a single direct-acting antiviral in combination with ribavirin, we are extremely encouraged by these initial results that demonstrate rapid suppression of the HCV GT1b virus and a well-tolerated safety profile through 12 weeks of therapy," commented Milind Deshpande, Ph.D., President of Research and Development and Chief Scientific Officer of Achillion. "As this data set continues to mature, we look forward to reporting initial SVR results at a medical meeting in the second quarter, and are planning to expand enrollment in the study to include non-CC GT 1b treatment-naïve patients later this quarter pending regulatory discussions."
At the time of that report, it was also stated that the company will report further clinical results more frequently:
ACHN has 3 drugs in its pipeline at various stages of clinical trials that could be considered potential hepatitis C oral, once per day, treatments.

Sovaprevir (ACH-1625) and ACH-3102 are nearing phase III trials, which will be the most significant, and ACH-2684 is nearing phase II trials. As of today, the company has stated that throughout the balance of 2013, more updates on success or the lack thereof will be given on each.
Achillion Has Made Progress And More Announcements Are Soon To Come
A few weeks ago the company released this report which detailed the positive progress on the efficacy and safety of ACH-3102, as well as the differentiation of the drug from other drugs being tested:
Dr. Andrew Muir, Principal Investigator and Assistant Professor of Medicine and Director of Gastroenterology/Hepatology Research at Duke Clinical Research Institute commented, "The preliminary results from this novel study of a single DAA, an NS5A inhibitor, plus ribavirin demonstrates the safety, high barrier to resistance, and preliminary efficacy of ACH-3102. The profound activity of ACH-3102 as a single DAA, along with its safety profile and lack of virologic breakthrough to date makes this a very promising compound to study further in combination with other oral agents, including sovaprevir, for the treatment of HCV."
Having the progress measured by Duke Clinical Research, and have the principal investigator impressed, is very encouraging to say the least.
In addition to that report, ACHN presented at the ILC conference with an even more focused progress report, aimed directly at the promising results of both ACH-3102 and sovaprevir in treating hepatitis types 1a and 1b:
"The high barrier to resistance observed with ACH-3102 to date continues to confirm our view that ACH-3102 is unique from other NS5As and has the promise to be a cornerstone therapy in the treatment of Hepatitis C," said Milind Deshpande, Ph.D., President of Research and Development and Chief Scientific Officer of Achillion. "The unique characteristics of ACH-3102, combined with the unique profile of our 2nd generation PI, sovaprevir, which also has a higher barrier to resistance than typical PIs, make for what we believe is a high potential combo, competitive against both current and emerging combinations."
Supportive of these findings, other sources have honed in on the potential of ACHN in this huge market. As reported in this article, the effectiveness of the drug regimen is duly noted:
Achillion Pharmaceuticals Inc. said an experimental drug against hepatitis C suppressed the virus in 63 percent patients in a study. Four weeks after completing a 12-week course of treatment with the medicine, ACH-3102, the liver-damaging virus, was undetectable in the blood of five out of eight patients, New Haven, Connecticut-based Achillion said in a statement today. Two didn't respond to the drug while on treatment, and in another the virus returned three weeks after therapy ended.

Achillion said last week its started a trial of ACH-3102 in combination with its lead drug, sovaprevir, in as many as 50 patients, and expects to report interim results in the third quarter. Other drugmakers, including Bristol-Myers Squibb Co. (BMY), are also trying to develop treatments that are faster and safer than the current standard, and which don't involve injections. Achillion "will continue to explore and execute opportunities to combine our agents with other compounds that could further shorten the treatment duration or provide additional flexibility for treatment regimens to broadly cure HCV," Chief Executive Officer Michael Kishbauch said in the statement.
There are also indications that the investment community is beginning to see the potential for the stock as well as the drugs. This article offers some insight from a key analyst in this sector, Brian Skorney, Senior Analyst at Robert W. Baird & Co.:
Achillion Pharmaceuticals remains undervalued as investors continue focusing almost exclusively on Gilead Sciences (GILD) for hepatitis C treatment, a market so large that ACHN has the opportunity to find and penetrate segments Big Pharma is not expected to reach for years......."I think Gilead is a great powerhouse on hepatitis C, but the market opportunity is so large from a volume perspective that I just can't see one company really dominating the market; to that extent, there will be pockets where pricing is going to have an opportunity to create a market where Gilead may not even want the price to penetrate for a number of years," Skorney said........"I think Achillion has a great opportunity with a regimen for hepatitis C that I think will come very close to matching Gilead's profile."
As far as I am concerned, this is a wonderful endorsement of the recent progress that Achillion has delivered.
Further progress reports will be forthcoming this week, as the company will be a key presenter at three upcoming conferences:
Bank of America Merrill Lynch 2013 Health Care Conference on Wednesday, May 15, 2013 at 3:00 p.m. PT at the Encore at the Wynn in Las Vegas, NV;
UBS Global Healthcare Conference on Tuesday, May 21, 2013 at 3:30 p.m. ET at the Sheraton New York Hotel in New York, NY;
Deutsche Bank 38th Annual dbAccess Health Care Conference on Thursday, May 30, 2013 at 2:10 p.m. ET at The Westin Boston Waterfront Hotel in Boston, MA.
Investors will surely be looking for more positive news at these events.
Other Reports On The Advancements In Hepatitis C Drug Treatments
There have been updates on a variety of progress reports covered by Medpage Today in various articles, and you can visit that link for all of the latest advancements in the treatment of hepatitis C, and see that some drugs are progressing, and some have not lived up to expectations.
In this particular report, it was duly noted that an all oral, triple combination of drugs appeared to be effective in the most difficult form of hep C to treat; viral genotype 1a, which is the primary focus of the ACHN drug regimen:
Hitting hepatitis C virus (HCV) from three directions was a winner in a phase II trial involving patients with the particularly hard-to-treat viral genotype 1a, researchers said here.

Excellent sustained 12-week viral response were seen in a phase II study of patients infected with HCV genotype-1 receiving various regimens that were interferon free and combined the investigational agents daclatasvir, asunaprevir, and BMS-791325.
The study was done by Bristol-Myers (NYSE:BMY), and now that ACHN has released company earnings the other day, investors have been further emboldened by Achillions' progress, with this statement by Michael Kishbauch, President and CEO:
"Our goal to advance our potentially best-in-class HCV compounds continued to pick up significant momentum during 2013. We believe that the 12-week safety and efficacy results recently announced on ACH-3102, our second-generation pan-genotypic NS5A inhibitor, continue to support its differentiated profile with a high barrier to resistance and no viral breakthrough," commented Michael D. Kishbauch, President and Chief Executive Officer of Achillion. "We recently initiated an all-oral Phase 2 program evaluating sovaprevir and ACH-3102 for the treatment of genotype 1 HCV, and we expect to achieve a number of significant catalysts over the next few months including interim RVR results from the -007 trial in the third quarter, followed by SVR results during the fourth quarter. Furthermore, we remain focused on evaluating additional assets with complementary mechanisms of action that could potentially expand our treatment regimens to treat subsets of patient populations not adequately addressed by current regimens."
ACHN is focused on developing a strong pipeline of drugs, and while I believe ACHN could still be a takeover target, the company does have over $200 million in cash to see these trials right through phase III, on its own. By going after the type 1 viral strain, ACHN seems to be making a clear statement that their drugs work better than the myriad of competitors.
The risks of course, is the failure of any of the drugs during clinical trial phases, and the risk of losing an entire investment. That being said, I believe at the current price, the shares offer a risk/reward in this market that cannot be overlooked.
My Opinion
I remain bullish on the potential of ACHN and believe that the company will be a vital part of a $20-$30 billion market. Whether on its own, or gobbled up by a larger company, investors could profit from the success of ACHN.
The recent pullback in price makes for yet another compelling entry point.
Disclaimer: The opinions of the author is not a recommendation to either buy or sell any security and is strictly his opinions. Please do your own research prior to making any investment decisions.
Disclosure: I am long ACHN. I wrote this article myself, and it expresses my own opinions. I am not receiving compensation for it (other than from Seeking Alpha). I have no business relationship with any company whose stock is mentioned in this article.