Lumber prices have lost ground over the last six weeks, with prices down 17% off their March 14 highs. This puts futures into oversold levels, and the price seems to be finding support just under $330 (red line).
The contract size for lumber is 110,000 board feet. This means every $1 move represents a gain/loss of $110. This contract is far from liquid, as volume and open interest are both light. The open interest (OI) in July contracts is only 4000, and average daily volume for the last several weeks has been between 500 and 600 contracts. Factor in slippage, bad fills and the potential to see volatile moves when big orders hit the market. If you still have an interest, read on…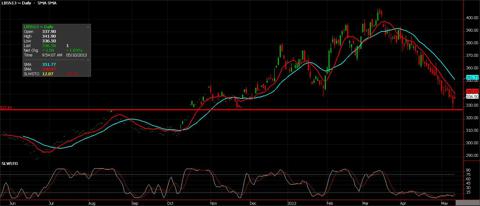 Click to enlarge
Perhaps it's too elementary to look just at the housing market, but the question continues to nag me: if we have a housing recovery… why are lumber prices on the decline?
I think the disconnect between the housing recovery and lumber prices has to do with pre-existing home inventory. If buyers are scooping up pre-existing homes instead of building new ones, it's easier to understand why the recovery isn't a bullish driving force for lumber prices.
Please, better-informed real estate investors should chime in. It would appear at a glance that with housing starts jumping and building permits increasing, the movement in lumber prices would be north, not south. Right!?
It may be premature to call a bottom today, but I think aggressive traders can wade lightly into bullish trade. Be willing to add to your position on a trade above the 9 day MA (red), targeting a move back up to $380. Consider a stop loss around $325 and an objective of $380, giving us a risk/reward ratio that's better than 4:1.
Risk Disclaimer: The opinions contained herein are for general information only and not tailored to any specific investor's needs or investment goals. Any opinions expressed in this article are as of the date indicated. Trading futures, options, and Forex involves substantial risk of loss and is not suitable for all investors. Past performance is not necessarily indicative of future results.
Disclosure: I have no positions in any stocks mentioned, and no plans to initiate any positions within the next 72 hours. I wrote this article myself, and it expresses my own opinions. I am not receiving compensation for it. I have no business relationship with any company whose stock is mentioned in this article.