Commentary
"Slow and steady wins the race." Maybe not so true for a short-distance sprint, but true for many long-distance races -- and certainly true for long-term investing. In an age where life moves at the speed of light (or, at the very least, at the speed of bits and bytes over a high speed Internet connection) it is often easy to dismiss such idioms; however, a successful strategy cannot, and should not, be dismissed or ignored.
Many years ago my wife worked for Pratt & Whitney, a division of United Technologies Corporation (NYSE:UTX). Then, as now, the company prided itself on supporting continuing education for its employees, and the company was willing to demonstrate its commitment by investing heavily in its people. At the time, my wife was studying for her MBA degree and she was one of the fortunate recipients of the benefits provided by the company's continuing education program. Much to our amazement, the company paid for everything. It covered the cost of registration, tuition, and it even paid for all of her books. And, to make the deal even sweeter, the company awarded her $10K worth of UTC stock when she received her degree.
In order to avoid paying taxes out of pocket for the shares, my significant other ultimately decided to accept the shares net of taxes. Thus, in the final tally, she was awarded $6,500 worth of UTC stock. Once in our possession, my wife and I never touched the shares and simply allowed them to appreciate in value. After a stock split or two, and a number of dividend reinvestments, what was once a nice $6,500 award matured into -- well -- a rather significant sum of money.
The point to be made here is that it is not always the latest and greatest, set your hair on fire, stock investment that is required to generate wealth. Sometimes (oftentimes) it's "slow and steady" that wins the race -- especially when that race is life's marathon. Investing for the future in this manner, however, does require a couple of very important ingredients for it to work. First, an individual needs time on his or her side. If an investor were to attempt to employ this strategy at the age of eighty, then the most likely beneficiaries would be the investor's "beneficiaries" rather than the investor him/herself. On the other hand, a young individual at the dawn of his or her career would be well served by such a strategy. The other ingredient required for such a strategy to work is one's ability to exercise patience. Though it is the most important ingredient, it is also the one most lacking in today's fast-paced world.
Company
United Technologies' origins date back to 1929 when William Boeing of the Boeing firms teamed-up with Frederick Rentschler of Pratt & Whitney to form a large, amalgamated firm that would unite all aspects of the aviation industry. They called their newly formed company United Aircraft and Transport Corporation. The company broke-up in 1934, at which time the United Air Corporation [UAC] was formed; and, in 1975, UAC came to be known as United Technologies Corporation [UTC].
Over the years, UTC has become a manufacturing powerhouse and a household name; and, for its investors, UTC has proved to be a tremendous wealth generator. When we take a look at a long-term chart pattern for the company's stock, we see that, during a nearly 20-year period, the company's stock price has appreciated in price rather steadily and in a, relatively, uniform upward pattern.
Couple the chart pattern (i.e. UTX's price appreciation over the years) with a dividend reinvestment plan and the company's commitment to return value to shareholders through stock repurchase programs, and through product innovations, and you have the perfect recipe for what may very well be a very comfortable retirement.
Fundamentals
One of the most hopeful signs this year for UTC's continued share price appreciation is the reinstatement of the company's share repurchase program. In connection with the company's acquisition of Goodrich Corporation, company management decided to temporarily suspend the repurchase program in the latter part of 2012; however, according to the company's most recent 10-K document, on February 4, 2013, the company's Board of Directors approved a new share repurchase program for up to 60 million shares of the company's common stock.
During the three months ended December 31, 2012, we did not make any repurchases of our common stock under the share repurchase program approved by the Board of Directors in March 2010. In connection with the Goodrich acquisition, we previously announced a suspension of share repurchases until January 1, 2013, and a significant reduction in repurchases for two years thereafter. On February 4, 2013, the Board of Directors approved a new share repurchase program authorizing the repurchase of up to 60 million shares of our common stock. This current authorization replaces the share repurchase program approved in March 2010. Approximately 6,937,000 shares of our common stock available for purchase under the March 2010 share repurchase program became unavailable as of February 4, 2013 upon the authorization of the current program. Under this current share repurchase program, shares may be purchased on the open market, in privately negotiated transactions and under plans complying with Rules 10b5-1 and 10b-18 under the Securities Exchange Act of 1934, as amended. These repurchases are included within the scope of our overall repurchase program discussed above. We may also reacquire shares outside the program from time to time in connection with the surrender of shares to cover taxes on the vesting of restricted stock. Approximately 3,000 shares were reacquired in transactions outside the program during the quarter ended December 31, 2012.

Source: UTX 10-K (2012 -pdf)

Also promising is news that the company plans to lower its outstanding debt by $2 billion in 2013 (up from $1 billion in its original guidance) and that the company's management team maintained earnings guidance of $5.85 to $6.15 per share for the full year.
Though not considered a "hot" stock for the 21st century, UTC's businesses hold a firm footing in their respective industries, and, in efforts to bring new products to market, several business units have been investing heavily. One such investment involved Pratt & Whitney's development of its "geared turbo fan technology" which, by some measures, forced competitors to release upgraded products sooner than they would have liked. According to one of the footnotes in one of the attachments (Exhibit 13 ) to its 2012 10-K document:
The increase in 2012, as compared with 2011, includes approximately $250 million incremental research and development spending related to the Goodrich businesses that were acquired during 2012, and approximately $65 million at Pratt & Whitney to further advance development of multiple geared turbo fan platforms.

Source: EX-13 (Note 5)
Some of the company's other more notable highlights are:
Pratt & Whitney's announcement of nearly 3,000 new orders for its revolutionary PurePower Geared Turbofan engine. (Note: PurePower PW1000G engine models have been selected by Bombardier to power the new CSeries passenger aircraft, by Mitsubishi Aircraft Corporation to power the new Mitsubishi Regional Jet, and by Irkut Corporation of Russia to power the proposed new Irkut MC-21 passenger aircraft. These aircraft are scheduled to enter into service in 2013, 2015, and 2017, respectively. Furthermore, on January 8, 2013, Embraer announced the selection of the PurePower engine to exclusively power the next generation of Embraer's E-Jet family of aircraft, scheduled to enter service in 2018.)
UTC Climate, Controls & Security (the combination of Carrier and UTC Fire & Security businesses) recorded industry-leading profit margins, which were produced primarily through the introduction of new products, such as the high-efficiency Infinity 98 gas furnace; the WeatherExpert rooftop unit (the company's most efficient commercial rooftop unit ever); and the new Kidde Worry-Free Smoke Alarm, which significantly increases fire safety in homes while reducing maintenance, thanks to the introduction of a sealed battery system which has a lifespan of 10-years.
By expanding its distribution footprint and establishing joint ventures in key markets, UTC Climate, Controls & Security also strengthened its emerging market presence. Highlighting this approach was the new joint venture in India with Midea, and the opening of a new Indian manufacturing facility designed to take advantage of that nation's fast-growing residential air-conditioning market.
Sikorsky certified the S-76D helicopter, which provides customers with higher cruise speeds, better fuel efficiency, and greater reliability.
Otis significantly strengthened its position by introducing the Gen2 elevator application for the fast-growing social housing segment in China, and the company is planning an upcoming Gen2 application with a battery-backup system for the Indian and South Asian markets.
In an effort to support growth in central and western China, Otis also significantly expanded its presence in China by opening a new manufacturing facility in Chongqing.
Otis is planning to open new factories in Bengaluru and São Paulo in 2013, highlighting Otis' customer-focused strategy of investing in key growth markets around the world.
In 2012, the company was able to extinguish approximately one-third of the debt incurred through the acquisition of Goodrich.
The company's dividend payment was increased by 11.5% in 2012.
UTC's record of returning value to its shareholders is to be admired. Over the last seven years, UTC has returned to shareholders 70% of its free cash flow. Though the Goodrich acquisition will, over the next several quarters, act as a drag on the company's bottom line, the return to the company's share repurchase program adds a layer of comfort to shareholders by reinforcing the company's commitment to return value to those who have invested in the company.
UTC's current dividend yield now hovers around 2.2%, and its margin of safety is reflected in its current Payout Ratio of 37.9%.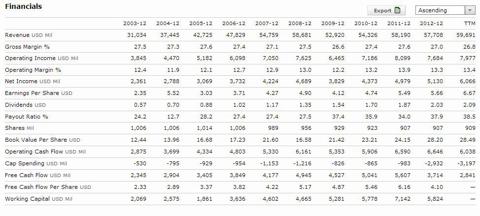 Conclusion
UTX would be an excellent choice as a core holding in one's portfolio. The company has shown its commitment to investing in research and development, and to returning value to its shareholders. Though some may believe recent government cutbacks (i.e. the Sequester) will have a negative impact on the company's bottom line, I, personally, do not believe it will be a long-term issue. As I stated in a response to one of my readers in my article on Elbit Systems: "… I cannot predict, with any certainty, how long the reductions will last, but my personal observations lead me to believe that, presently, global social structures have become too unstable to ignore for too long the threats that have been created by the instability."
With regard to the overhang created by the acquisition of Goodrich, the company has already extinguished one-third of the debt, and management plans to use the proceeds from the divestiture of non-core businesses to extinguish the remaining debt.
On March 14, 2012, the Board of Directors of the Company approved a plan for the divestiture of a number of non-core businesses. Cash generated from these divestitures has been and will be used to repay the debt issued to finance the acquisition of Goodrich. These divestitures are expected to generate approximately $3 billion in net cash, on an after-tax basis, when complete. In the first quarter of 2012, the legacy Hamilton Sundstrand Industrial businesses, Pratt & Whitney Rocketdyne (Rocketdyne) and Clipper Windpower (Clipper) all met the "held-for-sale" criteria. On June 29, 2012, management of the Company approved a plan for the divestiture of UTC Power. The results of operations, including the net gains/losses expected on disposition, and the related cash flows which result from these non-core businesses have been reclassified to Discontinued Operations in our Consolidated Statements of Operations and Cash Flows for all periods presented. The sale of the legacy Hamilton Sundstrand Industrial businesses was completed in the fourth quarter of 2012, while the sale of Clipper was completed in the third quarter of 2012. On July 23, 2012, we announced an agreement to sell our Rocketdyne unit to GenCorp Inc. for $550 million. On December 22, 2012, we announced an agreement to sell our UTC Power unit to ClearEdge Power. Although the Pratt & Whitney Power Systems business was also approved for sale by the Board of Directors of the Company, it was not reclassified to Discontinued Operations due to the level of expected continuing involvement in the business post-sale. The sales of the remaining non-core businesses identified for disposition are expected to be completed in the first half of 2013.

Source: EX-13 (p. 4/141)
In sum, UTX is a stock well suited for those looking for steady, long-term capital appreciation.
Note: Information for this article was obtained from the company's 2012 10-K filing, from Exhibit 13 (an attachment to the 10-K) from the company's 2012 Shareowner Letter and from Morningstar.com. Charting data was provided by optionsXpress.com
Disclosure: I am long UTX. I wrote this article myself, and it expresses my own opinions. I am not receiving compensation for it (other than from Seeking Alpha). I have no business relationship with any company whose stock is mentioned in this article.