For all the fuss that Tesla's (NASDAQ:TSLA) parabolic rise is a product of short sellers running for cover, I am sorry but that does not compute with the data. Unless someone has real time daily data to be able to tell if shares are being covered on a daily basis, while new short positions open at the same time, the data simply does not show that shares are being covered.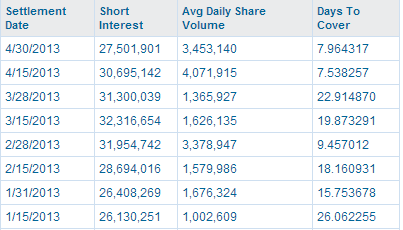 As the most recent data from NASDAQ shows, while short sellers have covered a little over the past several weeks, the truth of the matter is that the stock has been rising for several months now and short covering has nothing to do with it.
But with about 49% of the float sold short, all the stock really needs is several people on CNBC saying it is being covered, and speculation activity takes over and the by-product is the above chart. In either case, the shorts have been killed.
However the situation in Green Mountain Coffee (NASDAQ:GMCR) is a little different.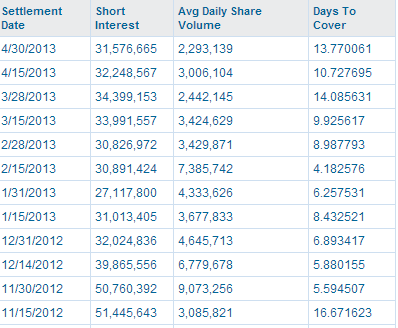 As the above data shows, there has been quite a bit of short covering activity since December of last year. With about 38% of the float shorted, coupled with the fact that Italy's Lavazza just bought more shares in the company -- whereby the total float has been reduced even more -- it really does not take much for a parabolic move, especially when a company is growing as Green Mountain Coffee is.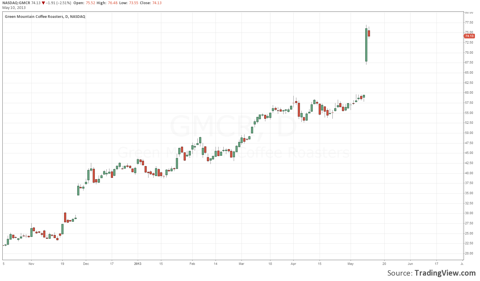 Click to enlarge
(Click to enlarge)
Nokia (NYSE:NOK) is also an interesting case. Take a look at the short interest in the stock in the table below.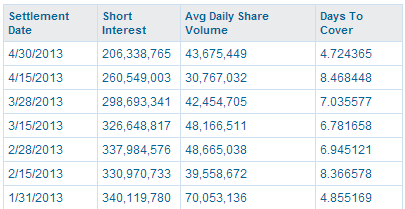 Ever since the end of January when short interest in Nokia hit an all time high, shorts have been covering. However most of that short covering has been done over the past month or so.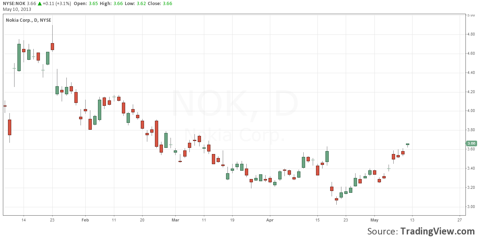 Click to enlarge
(Click to enlarge)
If we observe the movement of Nokia's stock, I think it's fair to say that almost the entire ride from the $3 range to today's price just shy of $3.70, is a product of short covering.
I have to say that I expected a much bigger move from the stock, but the news has not been that great for Nokia's stock to be able to leverage the short covering that has transpired. But never say never.
First Solar (NASDAQ:FSLR) is also a very interesting case. As of the latest data, about 36% of the float is sold short. At the same time the data shows that short interest in the stock has been reducing for a while now.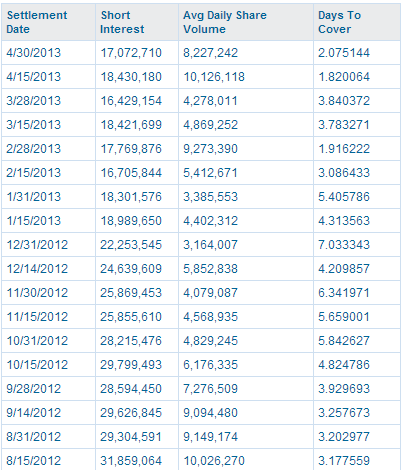 However the data does not suggest that the recent run-up in the stock is a product of this long term short covering. The run-up in the stock does not suggest short-squeeze activity at all, because recent short interest in the stock has actually risen and not fallen.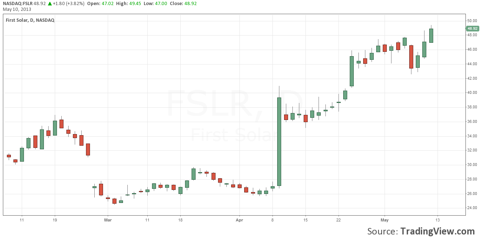 Click to enlarge
(Click to enlarge)
I have not looked into what piece of news has lead to the rise of the stock from a month ago, but I can say for certain that it was not short covering. Noteworthy however is the low price/sales ratio of this stock.
Finally, it's worth looking at BlackBerry (NASDAQ:BBRY) to investigate what might happen, since like many of the other stocks mentioned above, a very big percentage of the float has been sold short.
Let's start with the most recent data: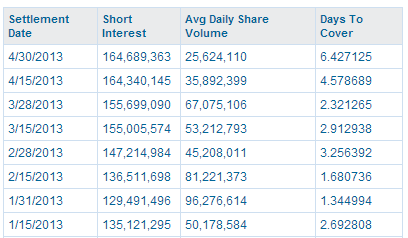 To begin with, short interest in the stock did not increase since 4/15/2013 and has remained constant at around the 164 million level. At the same time however, the stock is near its recent highs and has not bulged at all. But there is one big difference that characterizes Blackberry's stock from all the other stocks mentioned.
It is the only stock that has increased in price over the past several months, while short interest in the stock have increased.
We have not seen any short covering yet, but since Blackberry shares have been rising while more and more short sellers are piling in, what will happen if and when short sellers decide to change course and cover?
My guess is something along the lines of Tesla, Green Mountain Coffee and First Solar put together.
Disclosure: I have no positions in any stocks mentioned, and no plans to initiate any positions within the next 72 hours. I wrote this article myself, and it expresses my own opinions. I am not receiving compensation for it (other than from Seeking Alpha). I have no business relationship with any company whose stock is mentioned in this article.