As of late, Google (NASDAQ:GOOG) shares have taken a slight downslide somewhat similar to the beginning of what Apple (NASDAQ:AAPL) experienced over the last six months; nonetheless, the search giant has a long way to go before reaching losses anywhere close to the recent plummet Apple experienced. About a month ago, Google shares were closing in on $900 per share. Speculators and analysts alike felt as though this company could soon hit $1,000 per share. Recently, the stock was heading back down toward $750 per share; however, they rallied back mainly due to speculation on the Google Specs. Google currently has a lot of activity surrounding them. What is next for them? Will they continue to grow or will they have a major fall?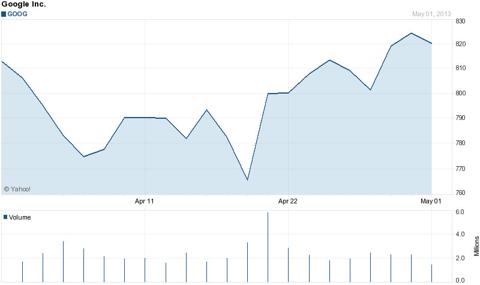 Source: Yahoo Finance
Not Buying WhatsApp - With Google facing direct competition from Facebook Home acquiring WhatsApp could have been a great momentum breaker. If the search engine giant were to acquire the messaging service app, it could be integrated in a way that would allow collaboration with the messaging service on phones powered by Android. Google could have possibly backed out of this deal due to the increased competition from other messaging services like Wechat in China and Line in Japan. Due to the competition they face from these other services, WhatsApp will require way more cash to stay ahead of these rising messaging apps. The main benefit that comes from Google not acquiring WhatsApp is not making the mistake social-networking competitor Facebook (NASDAQ:FB) made with Instragram, in which they overpaid. Instagram is a great application that receives a ton of traffic; However, Instagram has not been monetized properly. As far as WhatsApp is concerned, $1 billion is way too much money to pay for a service that only charges 99 cents (After a free trial year) and has no advertising model present. With advertising being at the very heart of what made Google such a profitable company, I'm unable to see how they will benefit from the service other than competing with Facebook Messenger.
Android: Sources predict that by the end of 2013, there will be over one billion people will be using Android phones and possibly another two billion within a year or two. As sub-$100 devices arrive, there is no doubt there could be an increase in market share for the Android phones, according to Executive Chairman Eric Schmidt. There are currently 750M Android phones in use, and close 1.5M device activations/day, which is up from 1.3M/day in September.
Google Specs: Is the world ready for mobile eyewear? Recently Google released its first version of "the specs". For this year, the introduction of Google Glass will be interesting especially for the holiday season. This product has definitely given the company first-movers advantage in the mobile eyewear space seeing as though rumors are circulating that Microsoft (NASDAQ:MSFT), Apple and Samsung (OTC:SSNLF) are developing their own glass product. All these companies seem to view the glass market as the biggest potential money-maker since the release of consumer tablet devices.
Apple & Yahoo Partnership: Yahoo! Inc. (NASDAQ:YHOO) is said to be talking with Apple about a partnership - according to a report from Bloomberg. Yahoo's CEO, Marissa Mayer has laid out a mobile-focused strategy that is rumored to be pretty impressive. It's obvious this partnership would benefit Yahoo more. This partnership with Yahoo and Apple could potentially slow the growth with Google Android. Google has a large market share and Apple may not be to kind in future about hosting the Google Search on their phone. The market is becoming a little more cut throat and with Apple using Yahoo's Search engine the market share for Google Android could decrease.
Conclusion: Google's stock has definitely had an impressive run and should continue to rise higher. This year will see the introduction of Google Glass. The impact alone for the holiday season alone may give this "blue-chip" stock a major boost. Just think of what happened when Apple first released the tablet. Gaining first-movers advantage is a major deal especially in this new found mobile eyewear space. History shows that in these situations every other company will follow. With that said expect Google's stock price to continue to grow.
Disclosure: I have no positions in any stocks mentioned, and no plans to initiate any positions within the next 72 hours. I wrote this article myself, and it expresses my own opinions. I am not receiving compensation for it (other than from Seeking Alpha). I have no business relationship with any company whose stock is mentioned in this article.