While the DJIA and S&P500 have been hitting all time highs, one group has been lagging -- the energy sector. This article will explain 5 reasons why a coming rotation into Dow components Exxon Mobil (NYSE:XOM) and Chevron (NYSE:CVX) could easily be responsible for a 160 point move in the DJIA over the next 6 months:
Natural gas prices - the outlook is improving.
Refining and chemical margins are strong.
Improved production growth.
Valuations should improve.
The DJIA "divisor."
Big Energy Stocks : Poised To Lead The Market Higher
As the chart below shows, the DJIA is up 17.4% over the past 5 years while the broadly based Energy Select Spider (NYSEARCA:XLE) is down -4.65%. While Chevron has beat the DJIA by 10% points, XOM has underperformed the DOW by ~15%. I will explain why Dow components XOM and CVX could easily be responsible for a 160 point move in the DJIA all by themselves.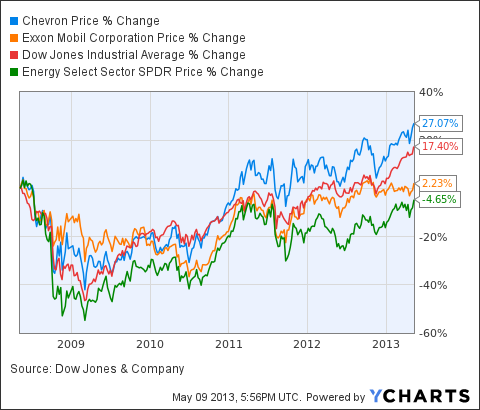 Reason #1: Natural Gas Prices - Outlook Improving
One reason Exxon has so severely underperformed the DJIA over the past 5 years was its purchase of natural gas company XTO. The deal closed in June of 2010, just before a sustained period of very low nat gas prices set in. However, the lows for nat gas were made in the spring of last year and prices have moved up significantly from the bottom.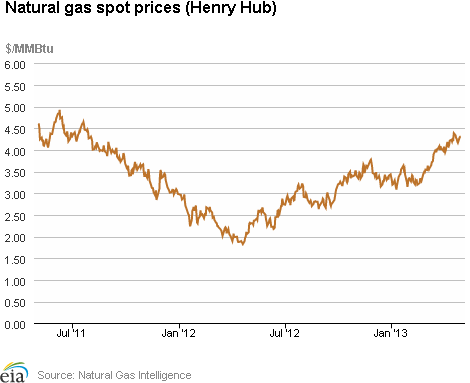 The dry gas rig count has dropped significantly as E&P companies go after more profitable liquids. The big step function in production has been absorbed and production has plateaued.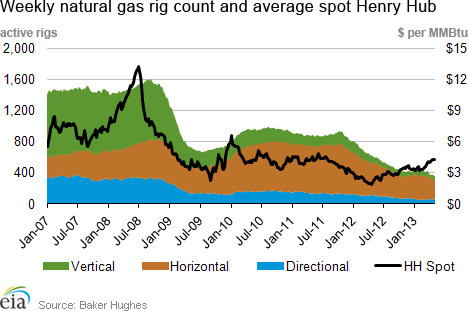 We all know natural gas has taken market share from coal in the power generation sector. We also know natural gas transportation is making gains in the long-haul trucking as well as in bus, refuse, and transportation fleets. However, an even larger source of demand is on the horizon: LNG exports. On a recent trip to Central America, President Obama made a case for exporting natural gas from the U.S. to the region. Yesterday it was reported Exxon signed an agreement with Qatar Petroleum International to move forward with construction of a $10 billion LNG export terminal in Texas. This plant is expected to have a capacity of 15.6 million tons/year or 2.8 Bcf/day. Total daily U.S. natural gas production is running about 82 Bcf/day. So this one LNG plant will export about 3.4% of total U.S. domestic natural gas production.
According to the Natural Gas Suppliers Association's top-40 list of U.S. natural gas producers, XOM was the #1 U.S. natural gas producer in 2012 and Chevron was #10:
#1 XOM : 3,822 MMcf/day
#10 CVX: 1,203 MMcf/day
While a $1/MMBtu change in the price of natural gas may not seem like much, it's a big deal when we are talking about these kinds of volumes. For XOM, a $1/MMBtu increase in natural gas prices would lead to an extra $3.8 million/day in revenue assuming the company realized Henry Hub prices:
1 MMBtu = 1,000 cf
XOM nat gas prod. = (3,822 MMcf/day)*(1 MMBtu/1,000 cf)
= 3.822*MM*MMBtu/day
= 3,822,000 MMBtu/day
= $3.822 million/day.
That would be an additional $342 million per quarter or $1.37 billion in a year. That's not chicken feed, even for a company as big as XOM.
Although U.S. LNG exports are a ways off into the future, it's only a matter of time before the market begins to factor them into the price of both natural gas and the stocks of large producers like XOM and CVX.
Reason #2: Refining Margins And Chemical Margins Are Strong
Domestic refining and chemical operations continue to benefit from low cost crude, natural gas, and natural gas liquids ("NGLs") feedstock. This is a fundamental long-term cost advantage for large U.S. energy companies like XOM and CVX. And we are seeing the results in earnings:
Exxon Mobil's downstream operation earned $1.545 billion (net income) in its Q1 2013. Its chemical operations earned $1.137 billion, up $436 million Y/Y.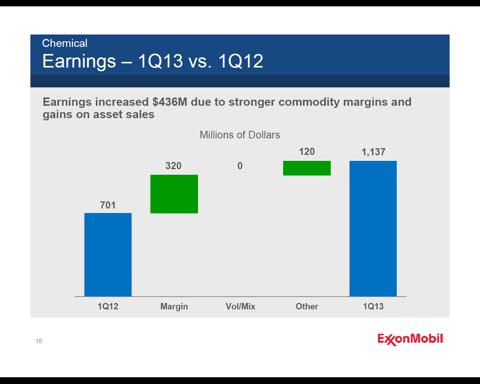 Chevron is also performing very well and continues to lead the industry in important financial metrics:
Upstream: 21.5% 2012 Adjusted ROCE
Downstream: 18.1% 2012 Adjusted ROCE
As a result, the CVX leads the industry in adjusted cash margins per barrel of oil equivalent: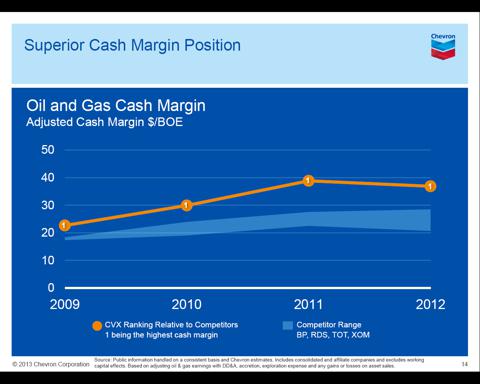 Reason #3: Improved Production Growth
Both Exxon and Chevron have solid production growth plans going forward. Among them:
Exxon recently announced the startup of the Kearl Oil Sands project. The initial phase will produce 110,000 barrels/day and an expansion project will double production by late 2014. The company expects Kearl to produce 4.6 billion barrels over the next 40 years.
The Gulf of Mexico ("GOM") will add significant production for Chevron in 2014. As I reported earlier in an article on Chevron's GOM operations, the company has three projects scheduled to start up in 2014, which have a combined total production capacity of 296,000+ boe/day.
Reason #4: Increased Valuation
XOM and CVX both currently have a P/E ratio = 9.3. This compares to the average DJIA P/E of 16.6. Despite surging U.S. oil production and talk of "low" oil prices, Brent is trading today at $102.55 and WTI is $94.55. Exxon and Chevron are extremely profitable in this energy price environment. Earnings are strong. Dividend growth is strong. Exxon and Chevron both recently raised their dividends and are now yielding 2.8% and 3.2%, respectively.
As the current bull market continues to run, I believe there will be a rotation from smaller non or low dividend paying energy stocks into the big boys like Chevron and Exxon. I believe their stock prices and P/E could easily rise 10% from today's level. In particular, XOM seems poised to make a run. Consider the earnings summary Exxon provided with its Q1 earnings release (see below). The company has steadily increased earnings from $3.99 in 2009 to $9.70 in 2012, yet the stock has gone nowhere. This is about to change.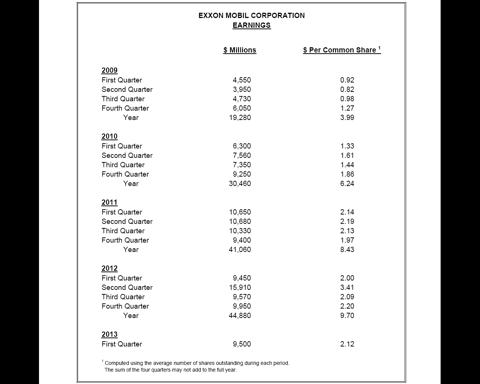 Reason #5: The DJIA Divisor
In the DJIA, higher priced stocks have a higher weighting than do lower priced stocks. Chevron is the second highest weighted stock in the DJIA after IBM with a 6.2% weighting. XOM is #7 at 4.7%.
While the S&P 500 is weighted by market cap, the DJIA is designed so that a 1 point move in any of the 30 stocks will move the index by an equal number of points. This is accomplished by use of the DJIA "divisor," which is published daily in The Wall Street Journal. The current divisor is 0.130216081.
Reasons #1-4 are fundamentals that I believe will push both Exxon and Chevron up ~10% over the next 6 months. This would correspond to moves of $9/share for Exxon and $12/share for CVX, or $21 total. To calculate the effect this would have on the DJIA, all we do is divide $21 by the divisor (0.130216081) and we get 160 DJIA points.
Summary and Conclusion
The DJIA and S&P500 are at all time highs with very little contribution from the broad based energy sector. This is about to change for the reasons listed above. As we enter into the later stages of the current bull market, central bank easing and fears of a market correction will cause a rotation into more the more liquid and higher yielding stocks like Exxon and Chevron. Indeed, Chevron has recently hit all-time highs and looks to be forming a bullish cup-n-handle configuration. Exxon Mobil is hovering just below its 52-week high resistance level and should break through for a substantial run higher after years of underperformance.
Investors should consider jumping on these two stocks before the train leaves the station.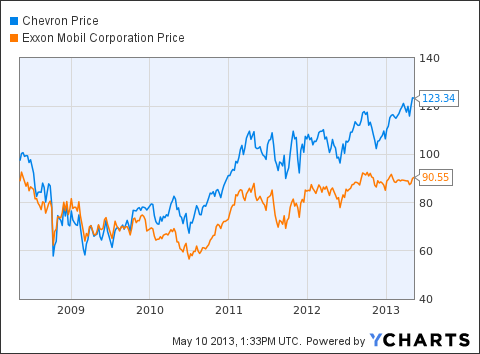 Disclosure: I am long CVX, XOM. I wrote this article myself, and it expresses my own opinions. I am not receiving compensation for it (other than from Seeking Alpha). I have no business relationship with any company whose stock is mentioned in this article.
Additional disclosure: I am an engineer, not a CFA. The information and data presented in this article was obtained from company documents and/or sources believed to be reliable, but has not been independently verified. Therefore, the author cannot guarantee its accuracy. Please do your own research and contact a qualified investment advisor. I am not responsible for investment decisions you make. Thanks for reading and good luck!