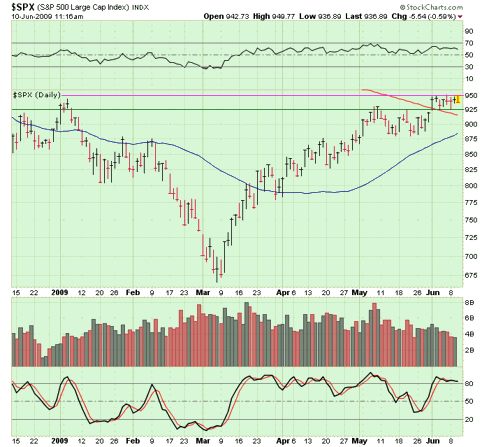 I have heard a lot of market commentators complaining lately about the daily volume on the major exchanges. Their argument is based on the notion that the recent rallies have not been accompanied by strong volume levels, and as such the rally attempts are suspect.

I beg to differ with those arguments, as I think the recent declines in trading volume may be a good thing, as it is setting us up with another potential breakout to higher levels. And it is on that breakout that I want to see volume levels increase. That would be a more bullish sign.

On the chart above, you can see that I have drawn two horizontal lines, one at SPX 925 and the other at SPX 950. The SPX first broke above that 925 level on June 1. This was also its first foray above the 200-day moving average in over a year. Resistance came in around SPX 950, an area that has been tested a few times so far, including again this morning.

You can see that for the last week and half the S&P 500 has traded within this tight range. I would call the recent action a consolidation of the thrust that took the SPX from its prior 880-925 trading range into this new range. And during consolidation phases, we want to see volume levels recede, just as they have been. So I have no issue with the light volume levels in recent trading sessions.

The next event that I would watch for is the potential breakout above SPX 950. I have been saying for a while now that if the market didn't rollover and have a bit of a correction soon, then it could lead to a situation where underinvested portfolio managers have their hands forced and rush to add equity exposure into quarter end, which could lead to another thrust higher in the market.

As of now, this pattern seems to be coming to fruition, but as traders we don't want to anticipate the breakout until we see it. So keep an eye on that SPX 950 level, and on a true break above that level, we will want to see the move accompanied by a rise in volume. That would be textbook.
Disclosure: no positions in companies mentioned