About 500 companies reported earnings this week, pushing the total number of companies that have reported this season up to more than 2,100. While the market is up on the week, earnings haven't been great. At the start of the week, the percentage of companies that had beaten earnings estimates this season stood above 59%. The additional 500-plus companies that reported this week only beat earnings at a 52% rate, pushing the overall earnings beat rate down to 57.6%.
As shown below, this would be the weakest reading of the entire bull market if earnings season ended today. The remaining companies set to report before the season ends next Thursday have a lot to live up to.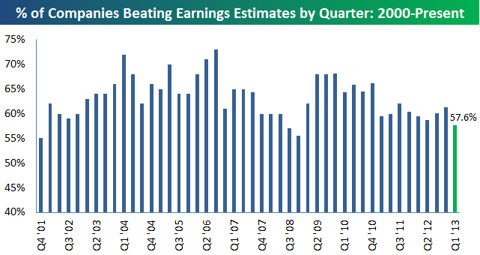 Click to enlarge
While the earnings beat rate ticked down quite a bit this week, the revenue beat rate pretty much remained the same. Last week the revenue beat rate for the entire earnings season stood at 51.7%, and as shown below, it currently stands at 51.6%.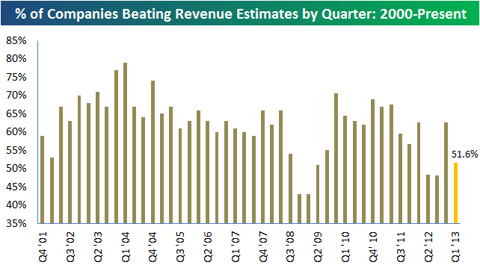 Click to enlarge