On Thursday May 9, Reynolds American, Inc. (NYSE:RAI) announced a quarterly dividend increase of $0.04/share to bring its upcoming dividend payout to $0.63/share. It should be noted that this increase represents a 6.80% rise from its prior dividend of $0.59/share, which was paid on April 1. In the wake of RAI's dividend increase I wanted to not only examine the company's Q1 results but highlight some of the key catalysts behind my decision to consider a long-term position in this particular tobacco play.
According to Thomas R. Adams, chief financial officer of Reynolds American, "This increase is in line with the company's policy of returning about 80 percent of net income to shareholders in the form of dividends, and underscores our commitment to returning value to shareholders". If Reynolds American can stick to its strategy of returning equity to shareholders by consistently meeting its goal of paying out 80% of its net income, there's a very good chance the company's dividend growth could become a bit more consistent over the next 12-24 months.
Overview: Based in Winston-Salem, North Carolina, Reynolds American, Inc. and through its subsidiaries, manufactures and sells cigarette and other tobacco products in the United States. The company operates through RJR Tobacco, American Snuff, and Santa Fe segments. (Yahoo! Finance)
On Thursday, shares of RAI, which currently possess a market cap of $25.97 billion, a P/E ratio of 17.65, a forward P/E ratio of 13.96, and a forward yield of 5.30% ($2.52), settled at $47.47/share.
Trend Status: Based on Thursday's closing price, shares of RAI are trading 2.22% above its 20-day simple moving average, 5.86% above its 50-day simple moving average, and 10.14% above its 200-day simple moving average. These numbers indicate a short-term, mid-term and long-term uptrend for the stock, which generally translates into a buying mode for traders.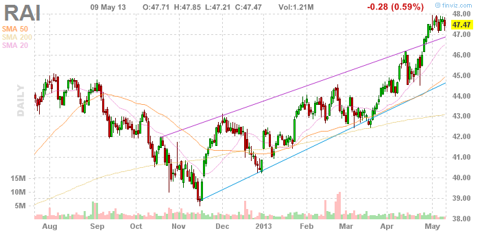 Strong Q1 Performance: On Tuesday April 23rd Reynolds American, Inc. reported the results of what I believe to be a very strong first quarter. The company's Q1 EPS of $0.72/share beat street estimates by $0.03/share and its revenue of $1.88 billion missed street estimates by the slightest of margins. The company's adjusted operating margin grew 4.4% to 36.0% and shipment volumes generated from its American Snuff and Grizzly segments grew 1.1% and 2.1%, respectively.
What is the single-most driving force behind my decision to consider Reynolds American? Very simply put, I happen to be a very big fan of the company's current $2.5 billion dollar share repurchase program. During the first quarter, Reynolds American continued to make good on its intention to purchase up to $2.5 billion of its own stocks, when it bought back a total of 6.8 million shares for nearly $300 million. It should be noted that Reynolds American has purchased a total of $1.6 of its intended $2.5 billion. If the company can continued to buy back shares and meet its intended goal of $2.5 billion in share buy backs 2013 could end up being quite the productive year.
Conclusion: When it comes to those who may be looking to establish a position in Reynolds American, I'd continue keep a watchful eye on not only the company's dividend behavior over the next 12-24 months, but any key developments that would positively affect the company's earnings growth, such as the continued growth of its American Snuff and Grizzly brands.
Disclosure: I have no positions in any stocks mentioned, but may initiate a long position in RAI over the next 72 hours. I wrote this article myself, and it expresses my own opinions. I am not receiving compensation for it (other than from Seeking Alpha). I have no business relationship with any company whose stock is mentioned in this article.