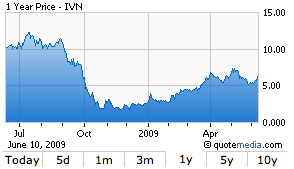 While shares of most copper companies have done well in recent weeks, Ivanhoe Mines Ltd. (IVN) is a notable exception. It has fallen from above C$8.50 a share to the C$6.00-C$7.00 range, and BMO Capital Markets analyst John Hayes upgraded the stock to "outperform" (from "market perform") based on the improved relative valuation.
Ivanhoe is unique, because there is still so much uncertainty about when its agreement to develop the giant Oyu Tolgoi project in Mongolia will get approved. But Mr. Hayes simply believes it is cheap at these levels.
"We believe the company's shares are not currently discounting potential for a timely resolution of the Oyu Tolgoi Investment Agreement," he wrote in a note to clients.
"The copper price should continue to be supported by better economic conditions and poor supply growth prospects over the longer term."
Mr. Hayes calculated that Ivanhoe is trading at a 54% discount to his 10% net asset value estimate of C$13.08 a share (at spot gold and copper prices of $951/oz and $2.25/lb, respectively). He warned that trading of the shares will likely remain volatile as long as there is uncertainty about the investment agreement on Oyu Tolgoi.