Last week's article focused on a stock that had big earnings gains in its most recent quarter. We're going to continue that theme this week, as we focus on a stock from the lagging basic materials sector which just reported blowout earnings this week. The basic materials sector is the worst-performing sector year-to-date, (up only 1.4%), and over the past year, (up only 5.7%), so it's a good place to find undervalued stocks.
Aceto Corp., (NASDAQ:ACET), is a micro cap chemicals stock that operates in 3 segments: Human Health (Finished Dosage Form Generics & Nutritionals); Pharmaceutical Ingredients (Active Pharmaceutical Ingredients & Intermediates); and Performance Chemicals (Specialty Chemicals & Agricultural Protection Products).
ACET just announced record sales, (up 24.3%), and record gross profit, (up 42.3%), for its fiscal third quarter. GAAP EPS increased 40.0% to $0.28, and Non-GAAP EPS increased 88.9% to $0.34. CEO Guccione stated, "Our sales growth was attributable to a very strong showing from our Pharmaceutical Ingredients segment, with 52.2% year-over-year growth, primarily driven by demand for a product launch as well as strong performance of various pharmaceutical intermediates. Our Human Health segment was also strong, with sales up 28.8%, compared to last year's third quarter. Recent product launches from Rising Pharmaceuticals fueled the segment's growth. Performance Chemicals' third quarter sales were essentially flat with the comparable quarter in fiscal 2012." (Source: Aceto website)
ACET's CEO warned analysts to "not expect a repeat in the fiscal 2013 fourth quarter...expectations are for a quarter much more in line with recent historical performance." However, ACET earned $.14 in last year's fiscal 4th quarter, (ending 6/30/12), which, if repeated, would put its full fiscal 2103 year non-GAAP EPS at $.83, a 27%-plus jump from fiscal 2012. Analysts' average estimates are for a 24.62% EPS rise for fiscal 2013, and a 22.22% rise in fiscal 2014, which makes ACET undervalued on a 2013 and 2014 PEG basis:

ACET is also undervalued on a 5-year PEG basis: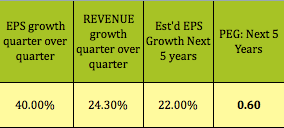 More Valuations and Liquidity: Although it operates in 9 countries, ACET is definitely tiny compared to the market caps and average share volume and liquidity of its industry. It looks undervalued for Price/Sales and Price/Book, and also has a higher than average earnings yield:

Dividends: ACET changed its dividend schedule from a semi-annual to a quarterly plan in 2012, and increased its total yearly payout to $.21, from $.20. It looks poised to pay out at least $.22 total in 2013:

Options: Although ACET has call options available, at present its Covered Calls trades aren't that attractive. However, we've listed a put-selling trade below, which expires in August, from our Cash Secured Puts Table. The bid and ask is $.25 - $.50 for this trade, so you may be able to improve upon the yield listed below. At $.25, you'd end up with a $9.75 breakeven, which is 10.79% below ACET's $10.93 price/share.

Financials: ACET carries a lower debt load than its peers, but its Management Efficiency ratios are below par. However, this hasn't stopped Institutional investors from increasing their holdings by 7.62% over the past 3 months.

Disclaimer: This article was written for informational purposes only and is not intended as investment advice.
Disclosure: The author was long ACET shares at the time of this writing.
Disclosure: I am long ACET. I wrote this article myself, and it expresses my own opinions. I am not receiving compensation for it (other than from Seeking Alpha). I have no business relationship with any company whose stock is mentioned in this article.