ABM Industries: (NYSE:ABM) Jun. 10, 2009 $18.65
52-week range: $11.64 (Feb. 20, 2009) - $27.47 (Sep. 3, 2008)
Dividend = $0.13 quarterly = 2.79% current yield
Company profile by Morningstar :
ABM Industries offers contractual facilities services for industrial and commercial properties. The company provides janitorial services (including floor cleaning and finishing, wall and window washing, and other cleaning services) parking, engineering, and security to hundreds of properties throughout North America. ABM Industries also markets janitorial supplies and equipment.
This company is the largest publicly traded facilities contractor in America. Fiscal 2009 (ends Oct. 31, 2009) will likely mark the fourteenth year of improved year-over-year earnings of the past sixteen. The dividend has been increased in each of the past 15 years.
Unlike most companies, ABM is on pace to see decent earnings per share growth this year. Their April quarter came in at $0.32 versus $0.29 on continuing operations after a January comparison of $0.25 versus $0.13. Management sees FY earnings of $1.25 - $1.35 against $1.10 in FY 2008.
Here are the per share numbers as reported by Value Line: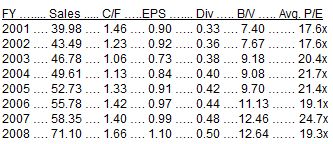 Zacks sees FY 2009 and 2010 EPS at $1.31 and $1.56 putting ABM's multiples at < 14.3x this year's and < 12x next year's estimates. Compare those to the historical levels in the chart above.
The current yield of 2.79% compares favorably with both ABM's historical payouts and that of bank CDs and T-bills currently available. The payout ratio is under 40% of expected 2009 earnings.
A rebound to 15x calendar year 2009 earnings would bring ABM shares back to above $20 by year-end. Is that a reasonable target? Sure. These shares hit peak prices of $22.50, $21.90, $24, $31.20 and $27.50 in each of the years 2004-2005-2006-2007 and 2008 respectively all when fundamentals were less favorable than they are today.
The trend towards corporate outsourcing bodes well for future revenue growth. Value Line rates ABM's 'earnings predictability' in the 85th percentile (with 100th being best).
Here's a nice combination play out to January 16, 2010:

If ABM shares rise by 7.3% to at least $20 by Jan. 16, 2010:
The $20 calls will be exercised.
Your shares will be sold for $20,000.
The $20 puts will expire worthless.
You will have collected $390 in dividends.
You will have no further option obligations.
You will end up with no shares and $20,390 cash for your original cash outlay of $13,850.
That's a best-case scenario total return of:
$6,540 / $13,850 = + 47.2% achieved in under 7.5 months on shares that only needed to rise by 7.3% from the trade's inception price.

What's the risk?
If ABM shares finish < $20 on Jan. 16, 2010:
The $20 calls will expire worthless.
The $20 puts will be exercised.
You will be forced to buy another 1000 shares of ABM
and to lay out an additional $20,000 cash.
You will have collected $390 in dividends.
You will have no further option obligations.
You will end up with 2000 shares of ABM and $390 cash.
What's the break-even point on the whole trade?
On the first 1000 shares it's the $18.65 purchase price less the $1.60 /share call premium = $17.05 /share.
On the 'put' shares it's the $20 strike price less the $3.20 /share put premium = $16.80 /share.
Your average cost would be the average of $17.05 + $16.80 / 2 = $16.93 /share or 9.2% below your starting price of $18.65 /share (excluding dividends).
What if the shares stay exactly where they are through expiration date?
You would own 2000 shares that could be sold for $37,300 and hold $390 from dividend payments.
Your net cash outlay would have been $13,850 + $20,000 = $33,850.
Cash at Liquidation = $37,300 + $390 = $37,690
Net Cash Outlay …................. = $33,850
Net Total Return …................. = $3,840 (if ABM remains unchanged)
Summary: If ABM shares climb to at least $20 (up 7.3%) by expiration date your total return will be over 47%. cash-on-cash.
If ABM is unchanged you still have a net profit of $3,840/$33,850 = 11.3%
in less than 7.5 months.
You are protected against loss unless ABM shares decline by more than 9.2% before January 16, 2010.
Disclosure: Author is long ABM shares and short ABM options.