Overview
As one of the largest operators of deepwater drilling rigs in the world, many look to Seadrill (NYSE:SDRL) to gain exposure to the deepwater portion of the drilling market. Headquartered in Norway and domiciled in Bermuda, Seadrill and its operating subsidiaries rent out their drilling rigs to its customers across the globe. Many investors look towards Seadrill for its exceptional in growth dividend payments. Currently, the stock yields north of 8.5%, which is one of the largest dividend yields among its peer group. As Seadrill continues to grow its fleet, it should be able to increase its earnings and cash flow, which could lead to a higher dividend payout and ultimately a higher share price.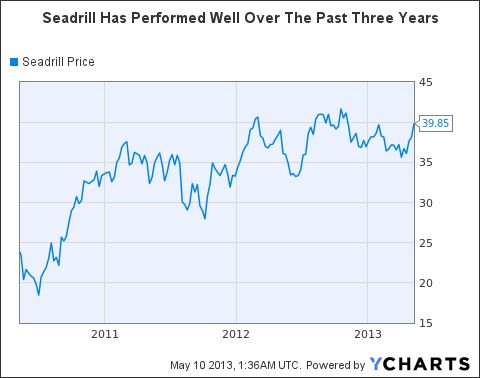 The Fleet
Seadrill operates four different types of drilling related units: Semi-Submersibles, Drillships, Jack-ups and tender rigs. As of the end of 2012, Seadrill and its consolidated companies had 43 offshore drilling units. These units are designed to meet the drilling needs of Seadrill's customers and many of the rigs have specialized equipment to better fits the clients' needs for a specific project. This helps Seadrill differentiate its rigs while building customer relationships, which in turn helps the company command premium rates on some of its units. Seadrill's top customer represents approximately 24% of the company's total backlog which stands at $21 Billion.
Fleet Additions
Low current cost of capital is helping the company fund its new builds, which should be able to place Seadrill at a competitive advantage. At the end of 2012 the company and its consolidated companies had 23 units under construction for future delivery. As Seadrill currently has one of the youngest fleets in the industry, the new additions to the portfolio will only help the company increase its competitive advantage and its profitability. This also will enable Seadrill to keep its status of having a high-quality and young fleet of offshore drilling rigs.
Public Subsidiaries
Seadrill has a rather large portfolio of public subsidiaries with some operating semi-autonomously from the parent. These companies include the US listed Seadrill Partners LLC (NYSE:SDLP) and the dual US-Norway listed North Atlantic Drilling (OTCPK:NATDF). Seadrill Partners is a limited partnership that Seadrill launched in late 2012 to attempt to utilize the tax advantages that limited partnerships offer in the United States. Currently, Seadrill Partners owns approximately a 30% ownership stake in four of Seadrill's rigs. North Atlantic Drilling or NADL was created in 2011 to differentiate itself as a high quality provider of harsh environment ready drilling rigs. Seadrill currently owns 74% of NADL. Seadrill also owns stakes in Sevan Drilling, Asia Offshore Drilling and Archer, to name a few.
Valuation
As purchasing drilling rigs is a significant capital expense, it is important to not only look at the income statement, but to focus on the cash flow statement where depreciation for the rigs can be added back and a may show a different picture of the company's health. Currently, Seadrill trades for around 11.8x TTM cash flow. This does not show that the company is extremely cheap, as it is on the higher end of its recent valuation range. However, Seadrill has spent a significant amount of money on capital projects, mainly new drilling units, and as this investment detracts from cash flow, it may have negatively impacted the company's recent cash flow. Over the long term, Seadrill should be able to increase its cash flow and earnings as new rigs come online and start earning revenue for the company.
Conclusion
Seadrill is poised to be able to continue to grow its profitability and dividend as its new build program adds new sources of revenue and income. If shares can be bought on a pullback and at a fair price, it could be a good addition to an income-focused portfolio.
Disclosure: I have no positions in any stocks mentioned, and no plans to initiate any positions within the next 72 hours. I wrote this article myself, and it expresses my own opinions. I am not receiving compensation for it (other than from Seeking Alpha). I have no business relationship with any company whose stock is mentioned in this article.