By Sumit Roy
Most commodities fell this week, giving back some of the gains from last week. However, stocks continued higher amid strong corporate earnings announcements. The S&P 500 hit a fresh record high above 1,635 on Thursday. The index was up less than 1% on the week, bringing its year-to-date gain to 14.1%.
Macroeconomic Highlights
Investor sentiment was boosted by strong labor market data in the U.S. The Department of Labor said that the number of people filing for unemployment benefits fell from 327K to 323K last week, the lowest level since January 2008.
In other news, China's imports grew by 16.8% from a year ago in April, better than the 13% that was expected. At the same time, exports grew by 14.7%, better than the 9.2% that was anticipated. China also reported that its Consumer Price Index grew by 2.4% year over year in April, up from 2.1% in March, but close to expectations.
Finally, earnings announcements by U.S. firms continued to trickle in. With 90% of companies having reported, 67% have beaten analyst estimates, while 24% have missed, according to CNBC. Earnings are on track to have grown 5.3% from a year ago in the quarter, much better than the growth of 0.5% to 2% that was forecast before earnings season began.
Commodity Wrap
| | | |
| --- | --- | --- |
| Commodity | Weekly Return | YTD Return |
| Soybeans | 2.89% | 5.50% |
| Palladium | 1.70% | 0.13% |
| Copper | 1.51% | -7.95% |
| Platinum | -0.84% | -3.37% |
| WTI | -1.04% | 3.05% |
| Brent | -1.52% | -7.65% |
| Silver | -1.82% | -21.98% |
| Wheat | -1.97% | -10.41% |
| Gold | -2.21% | -14.15% |
| Corn | -2.57% | -2.29% |
| Natural Gas | -2.72% | 17.31% |
Gold fell this week as the "dead-cat bounce" that carried prices from $1,322 to $1,480 ran its course, like we suspected it would. In our view, prices are now in the process of heading back down to retest that $1,322 low. If prices hold that level, a base can begin to be formed. But we are not discounting the possibility that gold makes new lows sometime this year. The bias remains to the downside, and we would refrain from initiating long positions until prices stabilize.
Gold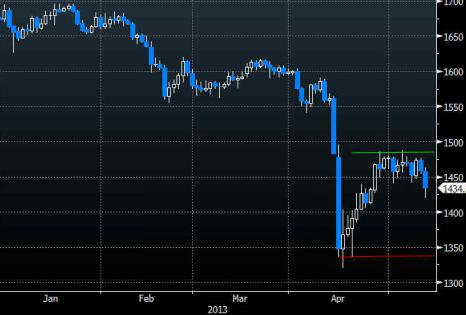 Silver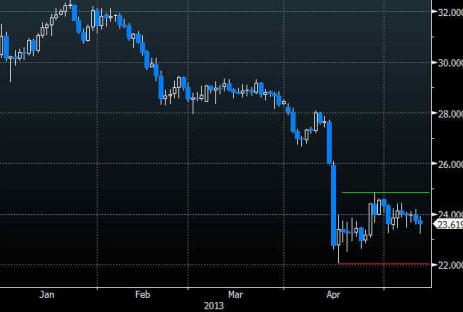 Platinum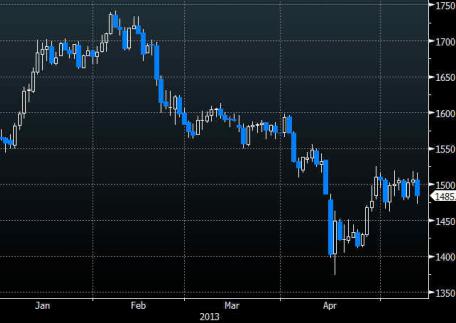 Palladium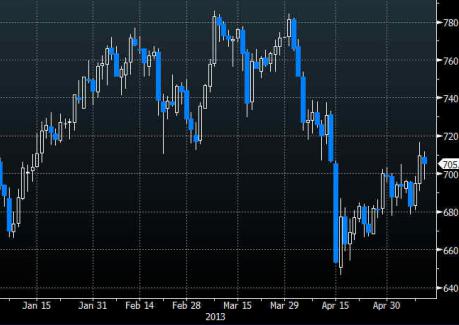 Crude fell on profit-taking. As can be seen from the chart below, Brent is in a shallow uptrend. We believe prices are reluctantly climbing amid the rally to record highs in stocks. But if and when stocks correct, oil will underperform.
Brent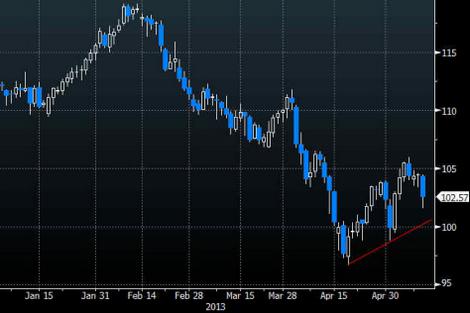 WTI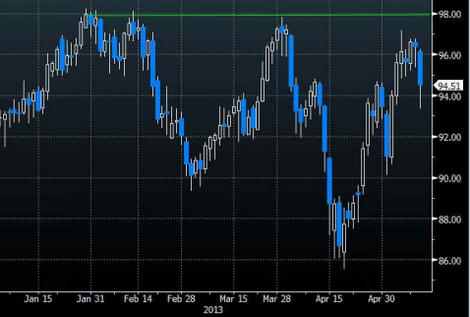 In its latest crop report, the USDA said that the U.S. corn harvest will total 14.14 billion bushels in the 2012/2013 season, close to expectations. Soybeans production may total 3.36 billion bushels, slightly below the 3.39 billion that was expected.
Corn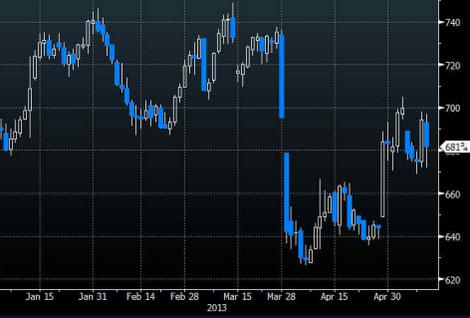 Soybeans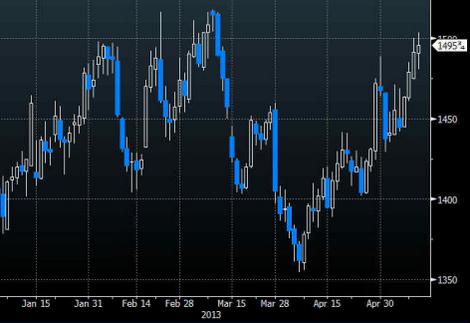 Wheat
Copper continued to rally after surging last week. Fundamentally, it is hard to get excited about copper, with stockpiles at the London Metal Exchange at 10-year highs. Like oil, we would expect copper to underperform if and when stocks pull back.
Copper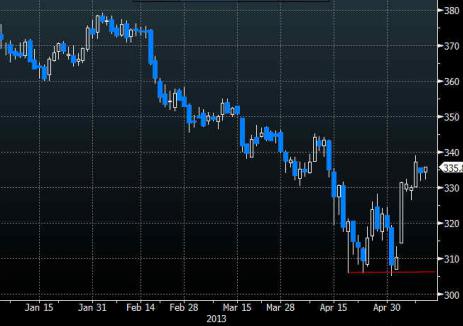 Natural gas fell again this week, weighed down by a large inventory build reported on Thursday by the EIA. Currently, prices are testing the $3.85/mmbtu support level.
A breakdown could push prices to $3.60, while a rebound would send prices back toward $4.40. Overall, upside risks outweigh downside risks, in our view.
Natural Gas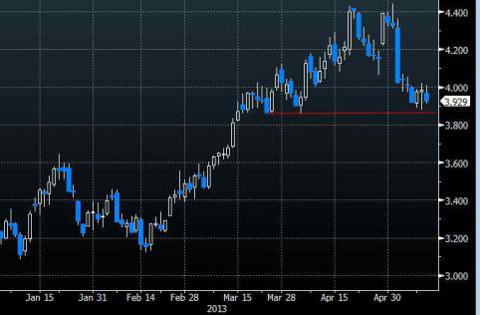 Click to enlarge