The rough and tumble conditions associated with the gigantic Oyu Tolgoi mine in Mongolia are about to pay off for Turquoise Hill Resources (NYSE:TRQ) and Rio Tinto (RIO) as approval to ship copper from the mine may be as close as two weeks away.
Rio Tinto CEO Sam Walsh said this:
We are still looking for some approvals in relation to exactly how we transport and ship the material ... that we expect to receive in the next couple of weeks.

I think we have moved well down the path in terms of resolving issues the government had tabled with us, enabling us really to move forward with the project.
Commercial production was previously expected to launch near the latter part of June, but Walsh says that copper may be able to be shipped by that time.
Turquoise Hill
On April 11 I wrote that Turquoise Hill was going to take off, and after falling to as low as $5.08 on April 17, it has soared to close at $7.57 per share on May 9. That's a big move by any metric, and I think it's just getting started.
Turquoise Hill is much easier to analyze than Rio Tinto, having fewer elements to take into account or to weigh it down.
Trading at $1.72 per share on November 17, 2008, Turquoise Hill then climbed to over $28 per share by the end of January 2011. While the initial hype and mysterious allure of the mine is over, the reserves there are very real, and even though Turquoise is majority-owned by Rio Tinto, it still has a lot of things going for it, including owning the majority stake in the mine.
With that in mind, it's easy to project the trajectory of the share price of Turquoise, based solely on the start of commercial production at the mine. Other factors could be talked about and dissected, but they will be more important after the initial jump in the price of Turquoise Hill shares, and it gets some quarterly reports under its belt.
If anticipation of production at the mine produced a share price of over $28 for the company, I see no reason why actual production at the mine couldn't do the same over time.
At the current share price Turquoise Hill could be a 3-bagger, and over time probably much more than that.
This is a unique situation for Turquoise and Rio Tinto, and Turquoise especially will easily overcome the current weakness in commodities by the launch of commercial production at Oyu Tolgoi, and the inevitable boost in news coverage as it gets under way.
Turquoise Hill already has momentum on its side and has been outperforming other miners of gold and copper. Many of them have yet to rebound from the punishing plunge in share price and sector outlook.
Turquoise Hill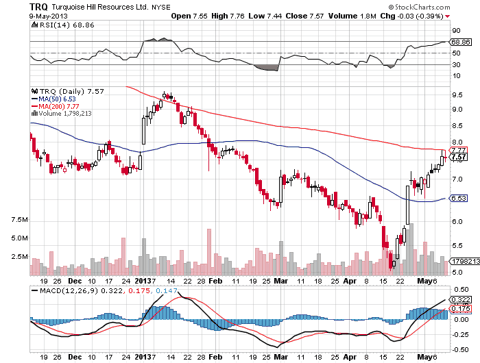 Rio Tinto and Oyu Tolgoi
For Rio Tinto, Oyu Tolgoi is only part of its portfolio of mines, although an extremely important one.
What is currently happening at the mine in general is a period of austerity, as evidenced by the hiring of Sam Walsh in the early part of 2013. He promised a period of cost cutting at the mining giant.
The most obvious drag on the company now is the recent landslide at the company's Bingham Canyon copper mine in Utah. It could cost the company over $700 million in revenue. Rio projects losses of about 100,000 tons at the mine in 2013.
That could take some of the shine off of commercial production starting soon at Oyu Tolgoi, but again, since it's such a highly anticipated event, it could help drive the share price of Rio Tinto up significantly. Even so, it's unlikely to get the type of traction Turquoise is sure to get. It's also questionable how long the bump up in share price will hold.
Rio Tinto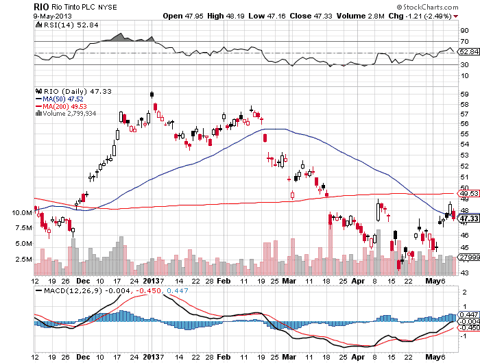 Northparkes Copper Mine
Questions have arisen in light of the Bingham Canyon landslide as to whether or not Rio would continue to shed assets.
According to Walsh, the landslide won't have an impact on divestment decisions. He added the company also won't panic and be pressured into selling at below market rates.
Macquarie Bank has reportedly been retained to sell the stake held by Rio Tinto in Northparkes, but the company refused to comment on that story. Copper production at Northparkes in 2012 for Rio's share in the project was 43,100 tons.
U.S. private equity firm Carlyle Group has submitted a bid for the mine, according to Dow Jones.
Other non-core businesses are in the process of being reviewed by the board, added Walsh, some of which are in addition to those already earmarked to be sold. That means commercial production at Oyu Tolgoi is even more important in the near term for Rio Tinto than originally anticipated.
Rio and Iron Ore
In spite of resistance from shareholders and opposition from analysts, iron ore continues to be a good revenue source for Rio Tinto, with a margin of about $80 a ton.
Rio Tinto Chairman Jan du Plessis said to shareholders the firm won't be "trapped into under investing in iron ore." The company has plans in place of raising annual production to 290 tons in 2013 and increase production to 360 million tons by the middle of 2015.
Some analysts have stated it would be a good idea for Rio to cut back on its iron ore expansion in order to try to get the price to increase. That has been rejected in lieu of volume.
Other shareholders are pushing to use capital to pay out higher dividends while lowering spending.
Iron ore, for now, will continue to be a growing part of the Rio Tinto story. Iron ore accounts for about two-thirds of the revenue generated by the mining giant at this time.
Rio Tinto is much more than we're talking about here, but this gives a snapshot of the company and some of the existing conditions and challenges it faces as the highly anticipated start of commercial production at Oyu Tolgoi approaches.
Conclusion
With Walsh stating "I think we have moved well down the path in terms of resolving issues the government had tabled with us, enabling us really to move forward with the project," it appears the red tape issues are being resolved in a timely manner, which has already started to raise anticipation of production starting at the huge project earlier than believed.
As official approval is being waited upon, the company is stockpiling copper concentrate to get ready for shipment.
Another positive sign is the price of copper has jumped since reaching a low in 2013 of $6,742 a ton. It now sells for $7,346 a ton as of May 9. If copper prices hold or increase, that would help Rio and Turquoise Hill as production gets nearer.
Long term this is an extraordinary opportunity for the two miners. Expectations are when the mine is in full production, 450,000 tons of copper and 330,000 ounces of gold will be produced annually.
There remains some risk to the project though, with the biggest being if the Mongolian government throws another curve ball in the mix, resulting in the project being put on hold again. If that doesn't happen, then it's game on.
The second risk is in funding the project. The initial investment of $6 billion is being funded by Rio Tinto and the Mongolian government. The second round of financing, which is estimated to cost $5.1 billion, has Rio on its own.
Either one of these miners are a good pick. Rio Tinto is obviously the best for the more cautious investor, and it includes a decent dividend. Over time Oyu Tolgoi will pay off in a big way for them. It's the opportunity of a lifetime.
The same goes for Turquoise Hill Resources. It's a little more risky, but the immensity of Oyu Tolgoi overcomes most of that risk. That also means the rewards are potentially more substantial as well.
Both of these companies are going to perform strongly for a long time, and it would make sense to invest in both of them. If I had to choose one over the other, it would definitely be Turquoise Hill Resources. Based upon percentages, over the next several years it's sure to outperform Rio, although it's bound to be more volatile as well.
Turquoise Hill will be releasing its quarterly results on May 13, 2013, with a follow up conference call on Tuesday, May 14, 2013 at 1:30 pm EST/10:30 am PST. This will be a good opportunity for investors to see how the company is positioned close to the launch of production.
Disclosure: I have no positions in any stocks mentioned, and no plans to initiate any positions within the next 72 hours. I wrote this article myself, and it expresses my own opinions. I am not receiving compensation for it (other than from Seeking Alpha). I have no business relationship with any company whose stock is mentioned in this article.