Back in my days at Reuters.com, when I felt feisty and wanted to generate some angry reader e-mails, I had a sure-fire formula: write an article extolling benefits of following sell-side analysts. That never failed to produce a deluge, regardless of what the performance numbers really showed.
Then came 2007-08, when every strategy, it seems, struggled - including those that involved use of analyst recommendations and/or earnings estimates.
Now, nearly halfway into 2009 and with the market seeming to have found it's footing again, it seems a good time to take another look at the sell side.
Besides the usual curiosity about which formerly successful strategies have regained their luster, analysts present a special case. It seems that the additional downsizing and restructuring that hit Wall Street in the recent past opens the question of how the modern sell side, such of it as continues to exist, compares with the one we got to know and love (or whatever) for much of the mid-2000s.
Loving the unloved
I doubt I need to go chapter-and-verse into the reasons why sell side analysts (those who work for major Wall Street firms) attracted so much scorn. But there was, and still is, something to be said for putting emotions aside, even anger (regardless of how well deserved one might think it is), and looking dispassionately at the results. Time and again I saw, and demonstrated, strong market-beating performance on the part of screens that were based upon estimate revision and analyst recommendations.
Detractors devote way too much attention to the words "buy," "hold," and "sell" or whatever equivalents the a particular firm would rather see used ("outperform, "neutral," "strong buy," etc.).
The labels are fluff, nothing more. The only thing anyone should care about regarding ratings is the notion of a best-to-worst scale. Analysts aren't experts in telling anyone whether and when to buy or sell stocks. They are supposed to have expertise in company analysis and to communicate that to portfolio managers who will make their own buy-or-sell decisions, and do so without reference to the clearly ridiculous notion of target prices. (How can you put a target price on a stock without a market forecast, something completely outside the control and expertise of analysts?)
Putting aside the details of how the ordinary activities of research departments were distorted into a dysfunctional mess, here's a quick review of what we should expect to get from analysts.
Institutional clients clearly expect direct communication regarding details of what makes the company tick and expectations regarding its future. Written reports are prepared, but often, the meat of this communication is verbal, between analyst and client. Such insights are not generally available to non-institutional investors.
There are two things the larger investment community can use: estimate data and recommendations scores (note the latter word; it's important).
The estimates are powerful, not so much because we expect them to be accurate (they never were, they aren't now, and they never will be, because humans cannot see into the future) but because they represent an unambiguous reflection of the analyst's here-and-now assessment of the company (all the things he or she tells the institutional clients).
As time passes, those assessments change. That's where we find the good stuff: change, or in Wall Street parlance, "revision." Estimate revision can be tracked and related to share price performance. And except for 200708, when noting seemed to work, upward estimate revisions mean the analyst is saying better things about the company to institutional clients and that has often been associated with relatively favorable upcoming share price performance. The reverse has often true with downside revisions.
Recommendations are almost never useful individually. There is rarely unanimity among analysts and there's often little reason to exalt the opinion of the last guy who managed to get quoted by a reporter, as opposed to all the others. Instead, we use a composite score that reflects all the ratings. Data providers such as First Call map the individual ratings to a common best-to-worst scale, assign a numeric score to each point on the scale, and then compute an average score, weighted based on the number of ratings at each position.
The end result is a number ranging from 1.00 (most bullish) to 5.00 (most bearish). Realistically, few ratings exists at the most bearish end of the range.
But that's OK. We know that a score, say, of 1.38 is a heck of a lot more bullish than 2.76. (This is why professional investor never lost a minute of sleep over analysts' reluctance to come right out and say "sell." We can build these numeric scores, and changes in scores, into stock-selection models.
In addition to using analyst information this way, there's one more thing that's crucial. I won't allow estimates or recommendations to get me into a stock I couldn't otherwise find appealing. When I was at Reuters.com and only had access to screening, I added rules that addressed factors other than analyst information.
At Portfolio123, I confine my screen to analyst data only but keep it broad, such as to have a large number of passing stocks. Then, I use a ranking system based on a solid cross-section of fundamentals and choose the top ten stocks. (This particular ranking system, P123 Balanced, is explained in the Appendix at the bottom of a prior Seeking Alpha article which can be seen here.)
Generating ideas
Here are the tests in the analyst screen I'm using now.
The stock should be covered by at least five analysts

In terms of estimate revision (over the past four weeks), the company should rank in the top half relative to others in the same industry

In terms of 13-week improvement in analyst recommendations, the company should rank in the top half relative to others in the same industry
Figure 1 shows the results of a 3/31/01 - 6/9/09 backtest assuming four-week rebalancing and 0.25% price slippage per trade.
Figure 1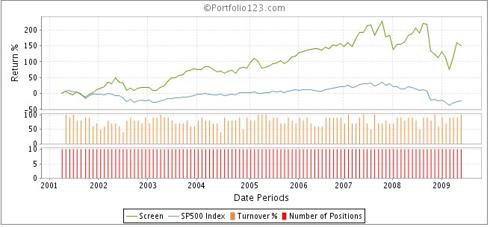 The 2007-08 period was quite choppy, more so than much of what I've seen elsewhere. But the end result is more favorable. Many other models charted a smoother trend in 2007-08, but the problem was that the trend pointed consistently downward. This may simply be an aspect of the overall market struggles. Or it may have something to do with the way the sell-side has been restructured. The modern cohort may still perform well on the whole, but make more missteps along the way than the previous "generation." Time will tell. But for now, we're seeing a real-life example of the classic risk-reward conundrum. This analyst-based model has shown itself capable of delivering strong overall returns even in tough times, so long as one is wiling to withstand some wide fluctuations along the way.
The stocks
Table 1 presents the current top-ten listing, in descending rank order. What's interesting here is the absence of big-name stocks, the ones that make headlines.
Table 1
Analyst Sentiment Screen - Top 10 Stocks

Companies

Industry

EMCOR Group (NYSE:EME)

Construction Services

DynCorp International (DCP)

Misc. Transportation

World Fuel Services (NYSE:INT)

Oil & Gas Operations

Rowan Companies (NYSE:RDC)

Oil Well Services & Equipment

PetSmart (NASDAQ:PETM)

Retail (Specialty)

Deckers Outdoor (NASDAQ:DECK)

Footwear

Genesco (NYSE:GCO)

Retail (Apparel)

Ross Stores (NASDAQ:ROST)

Retail (Apparel)

CARBO Ceramics (NYSE:CRR)

Oil Well Services & Equipment

Aeropostale (NYSE:ARO)

Retail (Apparel)
The ordinariness of the names, a characteristic of the earlier generation of analyst models, brings to mind an important point I often made in the early-2000s to reporters who interviewed me about the Wall Street scandals. I pointed out that they could easily name the Internet analyst at Merrill Lynch. But could they name the Specialty chemicals analyst at Oppenheimer, or the Household Products analyst at Goldman. None could.
Journalists are well taught the adage "If dog bites man, it's not news. If man bits dog, it's news." When analysts made scandal-related headlines, it was, pretty much by definition, man-bites-dog. However, a screen such as this works with the more mundane dog-bites-man aspect of Wall Street research.
Disclosures: None