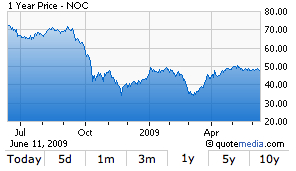 Northrop Grumman (NYSE:NOC) (Analyst Report) is a margin-upside and cash redeployment story, in our view. During 2008, total order backlog reached a company record of $78 billion. This lays a great foundation for future organic growth.

The company -- with an order backlog of $76.9 billion after the end of the 1st quarter of fiscal 2009 -- offers a diversified program portfolio mix, continued improvement in sales and earnings, an improving balance sheet and an ongoing share repurchase program.

In the short-term, performance will be affected by higher FAS/CAS exposure and the Departement of Defense's [DoD] deferral of the tanker bid. However, this defense contractor remains well-positioned for solid defense spending on network-centric/intel initiatives and continues to make progress toward high priority integrated system design and solutions. The high value postal service contract will further help diversify the company away from its reliance on the defense sector.

For the 1st quarter of 2009, Northrop Grumman reported a 48% increase in earnings from continuing operations to $389 million, or $1.17 per diluted share, compared with $263 million, or $0.76 per diluted share, in the 1st quarter of 2008.

The bottom-line results beat Street analysts' consensus estimate of $1.08 per share by 8.3%.

Likewise, top-line revenue in the 2009 1st quarter increased 7.8% to $8.3 billion from $7.7 billion in the 1st quarter of 2008.

Northrop Grumman's increased guidance for fiscal 2009 diluted operating earnings per share remains within a range of $4.65 to $4.90 per share, up from the prior range of $4.50 to $4.75 per share. Likewise, the company's increased pension-adjusted diluted EPS from continuing operations remains at $5.30 to $5.55 per share, up from $5.15 to $5.40 per share.

Return-on-Equity (ROE) DuPont Decomposition Analysis:

click to enlarge



From 2005 through 2008, the company's return-on-equity improved consistently year over year. Annual ROE improvements were primarily attributable to increased sales per dollar of total assets as well as increasing operating profit margins. Such results were partially offset by increases in leverage and cost of debt as well as a declining tax retention rate.

Looking ahead, in 2009 we expect ROE to improve further due to improved asset turnover, partially offset by lower operating profit and increased leverage.

Free Cash Flow to Equity (FCFE) Analysis: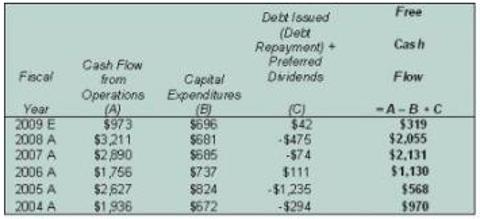 (All figures in millions)

The company's free cash flow to equity (FCFE) remained healthy and positive -- though moderately volatile -- from 2004 through 2008, driven by similar volatility in cash flow from operations (CFO), capital expenditures and net debt cash flows. In 2007, FCFE increased by 89% on the back of a 65% rise in CFO and lower capital expenditures. In 2006, despite a significant 33% decline in CFO, FCFE improved 99% to $1.1 billion in 2006 with an 11% decrease in capex and net debt cash inflows. Previously, in 2005, FCFE declined sharply when 36% greater CFO was more that offset by a 23% increase in capex and significant net debt redemptions.

Looking ahead through 2009, we expect FCFE to decline year-over-year due to significantly lower projected CFO, despite relatively stable levels of capital expenditures and lower issue of new debt.

NOC common stock trades at 9.8x and 8.6x our 2009 and our 2010 EPS estimates, respectively, or at a moderate discount to the broader Aerospace & Defense industry and at the lower-end of the range of some of its more comparable defense contractors. Likewise, relative multiples of cash flow, sales and book value all indicate valuations in the lower-end of the range of NOC's comparable industry peers.

We remain confident that NOC will return to reach new historic highs over the next 12 to 24 months with an outperforming total return relative to the broader stock market and the Aerospace & Defense industry. Accordingly, we maintain our BUY recommendation on NOC with a six-month target price of $52.00, or 10.5x and 9.3x, respectively, our 2009 and 2010 EPS estimates. Price appreciation to our near-term valuation target coupled with the company's recently increased $0.43 per share quarterly cash dividend -- which we view as sustainable and secure based upon low projected earnings payouts -- represents 19.6% total return potential.

Los Angeles-based Northrop Grumman Corporation is one of the world's leading shipbuilders, and the second largest defense contractor in the U.S. The company supplies a broad array of products and services to the U.S. Department of Defense (DoD), including electronic systems, information technology, submarines and surface ships, aircraft, space technology, and systems integration services.