Chesapeake Energy Corp. (NYSE:CHK) is an oil and gas E&P company. It is the second largest producer of natural gas in the US; and it is the 11th largest producer of oil and NGLs in the US. It owns large leasehold positions in many of the leading US onshore unconventional oil and gas fields. These include (but are not limited to) the Eagle Ford, the Utica, the Granite Wash, the Cleveland, the Tonkawa, the Mississippi Lime, the Niobrara, the Marcellus, the Haynesville/Bossier, and the Barnett plays. The company also owns substantial marketing and oilfield services businesses through its subsidiaries Chesapeake Energy Marketing Inc. and Chesapeake Oilfield Services LLC.
In the latest quarter - Q1 2013 - CHK beat on both earnings and revenues. It reported adjusted profit of $0.30 per share. This result represented 67% year over year growth, and it beat the average analysts' estimate of $0.26 per share handily. CHK reported revenues of $3.42B. This result was up 42% from Q1 2012; and it easily beat analysts' average estimates of $3.1B.
These good results were based on good production growth (and a rebound in natural gas prices). Q1 2013 production grew 9% year over year and 1% sequentially to 4 bcfe/d. Liquids production increased to 24% of total production versus 19% a year ago. Oil production was up 56% year over year to 103,000 bpd. NGLs production was up 14% year over year to 54,000 bpd. Natural gas production was up 2% year over year to 3.0 bcf/d. The chart below depicts CHK's great production growth.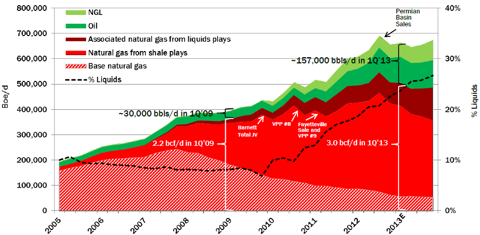 Simultaneously CHK lowered production and G&A costs 26% year over year to $1.11 per Mcfe. It lowered its projected drilling and completion CAPEX from about $8.7B in 2012 to about $6B in 2013. It did this through the use of more efficient techniques such as pad drilling. Further 85% of drilling and completion CAPEX for FY2013 are focused on liquids plays. The chart below gives the approximate breakout by play.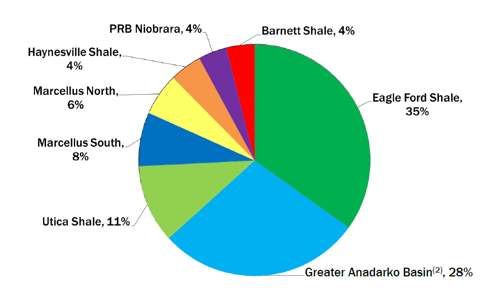 While accomplishing this efficiency improvement, CHK simultaneously improved its safety record to 1.5 million man hours without a recordable injury. This is the work of a well run company. Many companies would have seen the injury rate go up at such a time.
CHK has an approximately $3.5B funding gap for FY2013. In order to fill this gap, it has plans to make $4B to $7B of asset sales during FY2013. CHK has already signed and/or closed on $2B of asset sales in 2013. In other words, with about one quarter of the year gone, it has accomplished one half of the low end of its goal. CHK should be able to meet the low end of this goal with ease. If it reaches the high end of the goal (or even somewhere in between, CHK should be able to pay down on its nearly $13.4B in debt. CHK's former goal had been to get its debt figure to $9.5B by year end 2013. This seems unlikely to happen; but a figure of $11B (or even less) seems plausible. CHK is definitely headed in the right direction.
CHK has approximately 14 million net acres in leaseholds. These include 19.6 Tcfe of proved reserves and 4.0 Bcfe/d of production. It has sundry other assets such as midstream pipelines, oil field services, etc. In sum it has plenty of assets to sell without greatly impacting its business. Keep in mind that it has been growing production in recent years, while still selling off major producing assets. Considering CHK's production growth rate of 15%-20% in recent years, its production growth in the face of big sales is extremely impressive.
CHK has reasonably good hedges in place. It has 78% of its projected natural gas production hedged for 2013 at an average price of $3.72 per Mcf. This is roughly $1 per Mcf higher than the prices it got last year. On top of this, natural gas prices have been hovering around $4/Mcf. This too is considerably higher than in 2012. With oil expected to provide 60% of revenues in 2013, CHK has 88% of its expected 2013 oil production hedged at an average price of $95.43/barrel. The greatly increased oil production (roughly 38 million barrels versus 2012's 31 million barrels), FY2013 should be a much more profitable year than 2012 for CHK, no matter what the world economy does. This means CHK is assured of taking in much more money than it did in 2012 in both revenues and earnings.
Finally CHK upped its FY2013 oil production guidance its Q1 report by 1 million barrels to a new range of 37 million to 39 million barrels. It reduced its FY2013 NGLs production guidance by 1 million barrels to 23 million to 25 million barrels. This is a much lesser top and bottom line effect than the oil guidance increase. It raised it FY2013 natural gas natural gas production guidance to a range of 1.06 to 1.09 Tcf, which is an increase of 2% over prior guidance. Overall these are highly bullish guidance changes.
Further production cost during Q1 2013 averaged $0.86 per Mcfe. This was down 18% from $1.05 per Mcfe in the year ago quarter. G&A expenses were down 29% at $0.25 per Mcfe versus $0.35 per Mcfe in the year ago quarter. Consequently, CHK also lowered its FY2013 guidance for these figures. The FY2013 production cost estimate is now $0.05/Mcfe lower at a range of $0.85 to $0.90 per Mcfe. The guidance of the G&A expenses for FY2013 have been lowered by $0.04 per Mcfe to $0.30 to $0.35 per Mcfe. These changes are expected to amount to an additional $100 million in operating cash flow for FY2013; and as you can see from the Q1 2013 figures, the actual results for FY2013 might be closer to $200 million in added operating cash flow.
CHK recently had a lawsuit against it for calling some of its higher yield bonds dismissed. This means some of its financing cost will be lower by approximately $100 million for FY2013. Overall CHK has improved in almost every category for FY2013. It gives every indication of being an extremely well run company. It deserves investors' loyalty; and investors are likely to be rewarded for their loyalty soon.
CHK also pays a dividend of approximately 1.7%. This may not seem like much, but it shows that CHK is serious about becoming an oil and gas major. If CHK can get its debt level down below $10B, that will likely be a level at which it will raise its dividend to the area of 2.5%. This would be close to that of oil major Exxon Mobil Corp. (NYSE:XOM).
Of course, there is also the speculation that CHK will be bought out by a major such as Chevron (NYSE:CVX) or Exxon Mobil. It is unquestionably a great value. However, its size and its real value tend to act against this happening. Still such speculation is likely to raise the value of the stock.
Some detractors of CHK point to the rather low prices CHK has gotten for some of its leasehold assets lately. For instance CHK recently sold 99,000 net acres of lease holdings in the Marcellus and the Utica to EQT Corp. (NYSE:EQT). This seems ridiculously cheap. However, 42,000 of the 67,000 net acres in the Marcellus are unlikely to be developed even by EQT due to near term lease expirations. CHK has to consider such things, especially with natural gas prices currently making natural gas drilling questionably economic. The disposal of assets, which CHK does not foresee developing near term, is a good idea. It may look ugly, but it is far better than letting leases expire worthless a little further down the line. It also reflects CHK's new strategy of harvesting assets and decreasing debt (not going further into debt to ensure it keeps all of its assets). This should cheer stockholders. CHK has truly huge remaining assets, even with its many asset sales. CHK is a buy.
The two year chart of CHK provides some technical direction for this trade.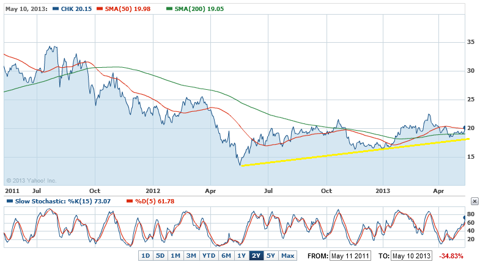 The slow stochastic sub chart indicates that CHK is neither oversold nor overbought. The main chart indicates that CHK is in a slow uptrend. The yellow line shows that CHK has been putting in a series of higher lows over the last year. This is bullish. The 50-day SMA is above the 200-day SMA. This is bullish. The stock price on Friday, May 10, 2013 passed through the 50-day SMA heading upward. This is a buy signal. Both the fundamentals and the technicals agree that CHK is a buy. This nearly guarantees success for an investment in CHK.
There is one caveat. The overall market (using the SPY as a proxy) is still far overbought. It is overdue for a pullback. There is no saying exactly when this will occur. The Fed has been pumping money into the economy with its QE programs. This adds to the uncertainty of the timing of a pullback. In the case of an overall market pullback, CHK with a Beta of 1.36 would assuredly fall with the market. For this reason, you may wish to average into CHK. On the other hand, CHK should report consistently better results in FY2013. This ought to push the value of the stock up consistently. You may not wish to wait too long to buy it. CHK is as close to a sure thing as you are likely to find in the stock market. The new management, which is headed by Archie Dunham, is acting to assure investors; and this is having the desired effect. CHK is a buy. It has a four star CAPS rating.
Note: Some of the above fundamental financial data is from Yahoo Finance.
Disclosure: I have no positions in any stocks mentioned, but may initiate a long position in CHK over the next 72 hours. I wrote this article myself, and it expresses my own opinions. I am not receiving compensation for it (other than from Seeking Alpha). I have no business relationship with any company whose stock is mentioned in this article.