Actionable Items:
Highest Positive Spread: Invesco VK Senior Income (NYSE:VVR)
Focus Stock: Mexico Fund (NYSE:MXF)
Last Week's Focus Stock: LMP Real Estate Income Fund (NYSE:RIT)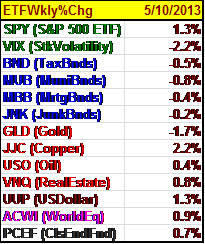 Bonds: While unemployment is not at its 6.5% range and inflation is not at its 2.0% threshold, bonds may be on their way down.
While bond prices are all down (see Chart 1), from a price perspective, the easing of bonds may be a normal reaction for asset classes to respond. While sequestration is still "on" and Europe is still in a quagmire, maybe equities (with threshold rates above bonds) are the place-to-be.
While the US Dollar (NYSEARCA:UUP) is up 1.3%, Gold (NYSEARCA:GLD) prices are tumbling (-1.7%). Copper (NYSEARCA:JJC) is up 2.2% and Oil (NYSEARCA:USO) is 0.4% better.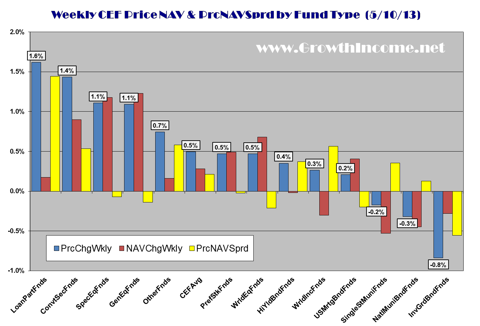 CEF Weekly Fund Type Performance: This week saw price rises for LoanPartFnds (1.6%), ConvtSecFnds (1.4%) and SpecEqFnds (1.1%). The laggards were bond funds. SingleStMuniFnds (-0.2%), NatlMuniBndFnds (-0.3) and InvGrdBndFnds (-0.8%) were all down. InvGrdBndFnds PrcNAVSprd was -0.6%.
Highest Spread and Stock for the Week: Invesco VK Senior Income was ahead by a price increase of +4.9% (monthly distribution per share of $0.0305 raises it to 5.4%) and NAV per share was down by -0.2%. The PrcNAVSprd was +5.1%. (A positive number may mean a future decline in share price). The annual monthly distributions per share are at a 6.4% yield (a fairly high yield). The net assets are $1,277 million with 26.3% for financial leverage ($125 million) and $332.0 million for structural leverage. The fee structure is 2.0%. The premium is 9.9% which is a 52 week high of 10.1%. The participating loan program is what pundits are recommending.
Lowest Spread and Focus Stock for the Week: Mexico Fund was our Focus Stock of the Week. MXF's share price was negative -6.6% and its NAV per share was a negative -0.7%. Its PrcNAVSprd decline was -5.9%. The premium is 3.1% which is 17.5% for the 52 Week High. The assets are $440.2 million with no debt. The 4/8/13 distribution was $0.7703 per share, which was 29.2% for the quarterly distribution. The quarterly annualized distribution was 9.1%. Mexico is becoming the "factory-floor workers" for the U.S.
Focus Stock and High Price for Last Week: Last week's "Focus Stock" was LMP Real Estate Income Fund. The stock got to the highest level at 2.8% for the week on Tuesday. RIT dropped off for the week on Friday by 0.003%.
Disclosure: I have no positions in any stocks mentioned, and no plans to initiate any positions within the next 72 hours. I wrote this article myself, and it expresses my own opinions. I am not receiving compensation for it. I have no business relationship with any company whose stock is mentioned in this article.