SunPower (NASDAQ:SPWR) announced its 1Q13 results on May 2 with strong performance from both rooftop and ground mount projects. The better-than-expected results sent SPWR shares up more than 17 percent on that day thanks to strong demand from North America and Japan. In a typical low season of solar energy installation, SPWR's revenue beat and loss narrowing really mean a solid start for SPWR and a cheerful solar photovoltaic (PV) industry as well. SPWR will provide the company's second quarter and fiscal year 2013 guidance at its Analyst Day to be held on May 15, 2013, which should be quite interesting to investors in terms of market drivers, product and manufacturing capacities, business upside opportunities, and profitability.
Market drivers
North American and Japanese markets will be SPWR's business growth drivers. SPWR's geographic markets cover regions of Americas, EMEA and APAC, of which Americas takes the major share of above 70% of total revenue in recent quarters, shown as the table below. SPWR sales in Europe is declining due to the continuous reduction of feed-in-tariff in main PV installation markets while its income in Japanese market is expanding and contributes double-digit percent of revenue in Q1, 2013.

(SPWR geographic markets)
In 2012, SPWR had a total 863MW revenue recognized, of which 470MW were generated in the U.S. That indicates SPWR has a market share of 15% in the U.S. PV market of 2012. SPWR's 2013 market share of the U.S. PV market should have room for upside due to its power plant business fruition, e.g., 250MW California Valley Solar Ranch (CVSR) and 579MW Antelope Valley Solar Projects (AVSP). The 2013 annual PV installation in the U.S. is expected to be 4.3 GW, which represents 29% growth over 2012. Besides a steady growth rate of the utility PV segment, the residential rooftop part will be a strong driver in coming years as the third-party finance programs gain more and more popularity.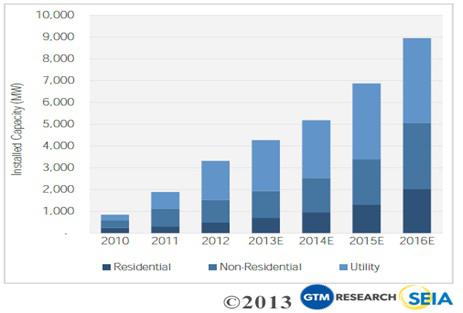 (U.S. PV installation forecast, source: GTM research & SEIA)
The Japanese PV market doubled in 2012 to 2.47 GW, up from 1.3 GW in 2011, and this year it is set to grow by 120% to more than 5GW, benefiting from the world most attractive PV incentive policy. The gap between the Japanese PV demand and domestic cells and modules production capacity will be a great opportunity for overseas manufacturers, like SPWR. Products from abroad accounted for over 30% in 2012 and this ratio could be even higher in 2013.
Product and manufacturing capacities
In April, SPWR launched its X-series family module with the highest efficiency of 21.5% so far in the world, which is based on SPWR's proprietary Gen 3 Maxeon cells. X21 type is composed of 96 pieces of 5"(125x125mm) monocrystalline cell with benefits of high energy output, no light induced degradation, better low-light and spectral response and low temperature coefficient. These features almost overcome all the drawbacks of conventional crystalline silicon solar cells. SPWR's mainstream module right now is E-series, which applies Gen 2 Maxeon cells. SPWR's cell and module is no doubt of the industry leading product, and we are more interested to see the cost reduction roadmap no matter how it is measured: module cost per watt or levelized cost of energy (LCOE).
In terms of solar cell production facilities, SPWR has its own cell manufacturing in Philippines (Fab 2) and a joint venture with AUO (Fab 3) in Malaysia. The name-plate capacities of these two Fabs are 700MW and 800MW respectively, and the ramp schedule is as follow,

(SPWR cell manufacturing ramp)
SPWR's main module manufacturing facilities are located in Philippines and Mexico with capacities of 600MW and 500MW respectively. In addition, SPWR acquired some module assembly facilities in France and South Africa with a combined 170MW capacity. SPWR also uses third-party contract manufacturers in California and China for module production.
Business upside
SPWR's products and services cover from solar cell and module to system integration. Its business depends increasingly on the U.S. market. Sales outside the U.S. represented approximately 30%, 47% and 72% of total revenue for fiscal years 2012, 2011, and 2010, respectively.
In terms of power plant business, SPWR achieved great success when it sold AVSP to MidAmerican at the end of last year. Except CVSR and AVSP, SPWR has not shown a clear project pipeline as First Solar (NASDAQ:FSLR) has. Fortunately, SPWR may clarify this pipeline matter which it is working closely with Total in many countries on the Analyst Day.
On rooftop aspect, the demand in the U.S. is very strong due to more and more lease financing programs emerging. SPWR has already sold out its financed capacity in Q1, 2013. Introduction of more third-party financing schemes with low cost and favorable terms is a must for SPWR to expand its rooftop business. In addition, SPWR has broken in Japanese rooftop segment productively by partnership with Toshiba and Sharp.
Profitability
SPWR claimed to be profitable by the end of 2013 and contributions to Q1's strong gross margin were from AVSP development, cost reduction and growth in the Japanese market. I think the main conditions for SPWR to be profitable are,
1. Module and system ASP will be stabilized throughout 2013.
2. Quarterly revenue recognized megawatt should be 240-250MW at least.
3. Cost reduction plan is doing well.
There are other factors, like lease financing capacity and manufacturing process step reduction, may affect SPWR's profitability. It is also important for SPWR to manage production capacity ramp to effectively absorb overhead and meet market demand with seasonality at the same time.
Summary
SPWR made a good start this year, which is hopefully a positive sign for the PV industry. We could expect more of its business update and guidance from the Analyst Day, and I make the following guess
1. SPWR will reach 1GW recognized revenue milestone in 2013.
2. GAAP gross margin will be around 20% when exiting 2013
3. Residential lease installation will accomplish 200MW cumulatively by the end of 2013.
4. Fab 3 expansion will be moved up to 2014.
5. SPWR LCOE-based module price will be comparable to Chinese module ASP.
Disclosure: I have no positions in any stocks mentioned, and no plans to initiate any positions within the next 72 hours. I wrote this article myself, and it expresses my own opinions. I am not receiving compensation for it (other than from Seeking Alpha). I have no business relationship with any company whose stock is mentioned in this article.