The love affair between Wall Street and the Bureau of Labor Statistics' (BLS) employment situation report - aka the Jobs Report - continues to amaze me. It is nearly a worthless data set in real time if your intent is to have some vision of market and economic direction.
Much has been written on this topic. Here are three views of the BLS Jobs data:
The bottom line is that the jobs data does not provide reliable information in real time. But this is not the point intended to be made here. The point is that the jobs data does not correlate to, or even give any vision in, predicting economic or market performance.
Non-Farm Private Employment (lighter blue line), Dow Jones Industrial Average (green line), GDP (dark blue line), Personal Consumption Expenditure (red line) and Consumer Credit (orange line) - all indexed to Jan 2000: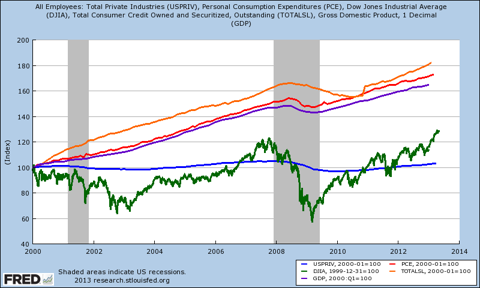 Consider that indicators do not need to be logical - they just need to work. There is no evidence that jobs data has any forward vision. Historically, jobs gave little clue of an impending recession, or indication a recovery had begun until the economic recovery was well underway. Comparing jobs to the Chicago Fed National Activity Index (CFNAI) is about a six month to one year lag for alerting one to economic turning points.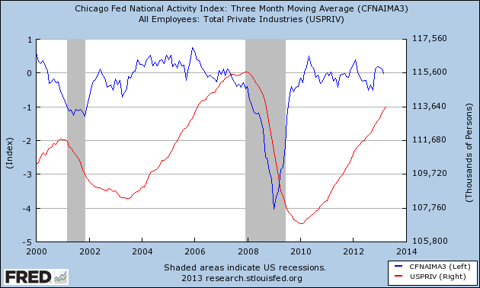 And neither the BLS jobs report nor the CFNAI is accurate in real time - but both are accurate within 12 months for pinpointing turning points.
So it begs the question: Why does the market focus on the jobs report?
My normal weekly summary is in my instablog.
Disclosure: I have no positions in any stocks mentioned, and no plans to initiate any positions within the next 72 hours. I wrote this article myself, and it expresses my own opinions. I am not receiving compensation for it. I have no business relationship with any company whose stock is mentioned in this article.