April 2013 was a good month for preferred stock investors. New preferred stocks issued during April 2013 offer an average dividend rate of 6.65% to income investors. The number of new preferred stocks introduced during April also marks a substantial increase in the number of new preferreds when compared to new issues from a year ago. Last month's 17 new securities is a 42% increase over the twelve new issues from April 2012 [1].
While the average 6.65% rate is not as exciting as the rates we were seeing a couple of years ago, it is substantially better than the other alternatives currently available to income investors. Investment grade corporate bonds closed the month of April offering an average yield of 3.73%, while bank CDs are stuck at 1.1% [2].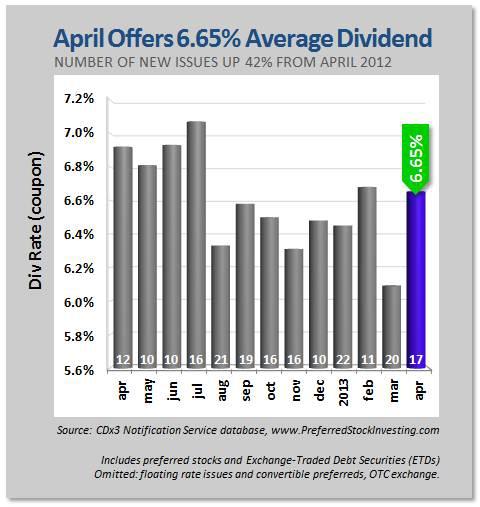 The average 6.65% dividend rate for April preferred stocks is the second best result for this important metric that we have seen since July 2012.
The seventeen new April issues brings the total number of preferred stocks issued since April of last year to an even 200 new securities for investors to pick from. That means that of the 958 preferred stocks currently trading on U.S. stock exchanges, 21% of them are no more than one year old. These 200 new preferred stocks have at least four more years of call protected dividends to pay in most cases.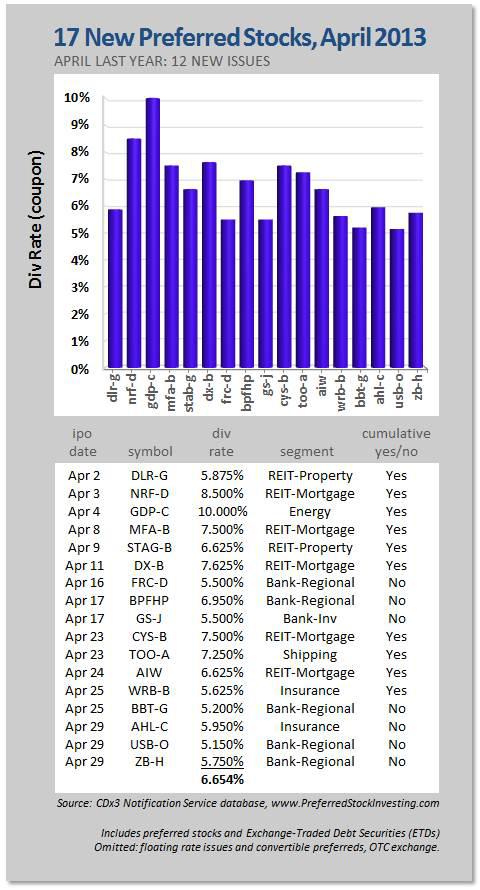 Diversification
The seventeen new preferred stocks issued during April 2013 come from seven different industry segments - property REITs, mortgage REITs, regional banks, investment banks, insurance, energy and shipping.
Property REITs were less represented than usual with only two new issues: DLR-G from Digital Realty (NYSE:DLR) and STAG-B from Stag Industrial (NYSE:STAG).
Mortgage REITs, on the other hand, weighed in heavily with NRF-D from Northstar Realty Finance (NYSE:NRF), MFA-B from MFA Financial (NYSE:MFA), DX-B from Dynex Capital (NYSE:DX), CYS-B from CYS Investments (NYSE:CYS) and AIW from Arlington Asset Investment Corp. (NYSE:AI).
Banks continue to issue traditional preferred stocks to, in many cases, replace their previously popular trust preferred stocks (TRUPS). Regional banks issued FRC-D from First Republic (NYSE:FRC), BPFHP from Boston Private (NASDAQ:BPFH), BBT-G from BB&T Corp. (NYSE:BBT), USB-O from U.S. Bancorp (NYSE:USB) and ZB-H from Zions (NASDAQ:ZION). The only investment bank preferred issued during April was GS-J from Goldman Sachs (NYSE:GS).
Insurers contributed two issues as well with WRB-B from W.R. Berkley (NYSE:WRB) and AHL-C from lesser known Aspen Insurance (NYSE:AHL).
Wrapping up the April offerings was GDP-C from energy company Goodrich Petroleum (GDP) and a rare issue from the shipping business in TOO-A from Teekay Offshore Partners (NYSE:TOO).
Cumulative Dividends
Cumulative dividends are those that the issuing company is allowed to "defer" but not "suspend" - a key distinction in preferred stock prospectus terminology.
While the allowable deferral period for a preferred stock with cumulative dividends can be lengthy, a preferred stock that has this provision is certainly better than one that does not, all other characteristics being equal (see "Cumulative Preferred Stock Dividend Characteristic Saves Citizens Republic Shareholders").
Interestingly, all of the REIT-issued preferred stocks for April offer cumulative dividends to preferred stock investors.
With the exception of AHL-C from Aspen Insurance, all of the April issues with non-cumulative dividends are from banks (regional and investment). The previously popular bank-issued TRUPS had cumulative dividends and counted toward the bank's "Tier 1 Capital" reserves. But what good are bank reserves if somewhat else has a claim to them in the event of an emergency (as is the case with cumulative dividends)?
Recent domestic (Wall Street Reform Act) and international (Basel III) reserve regulations now require that for preferred stocks to count toward Tier 1 Capital reserves, their dividends must be non-cumulative- hence April's six non-cumulative bank-issued traditional preferred stocks.
Increasing Interest Rates
We all know that at some point in the future, interest rates are going to have to go up. According to an April Bloomberg survey of primary bond traders, most expect the Federal Reserve to start increasing the federal funds rate in mid-2015.
Buy-and-hold preferred stock investors look forward to such a period, bringing new preferred stocks offering increasing dividend rates.
But after the initial knee jerk reaction of fearful sellers and elated buyers (see "Fed Policy Fails On Jobs But Highlights Opportunity For Income Investors" for chart), the market prices of fixed-rate securities (bonds, preferred stocks) will tend to trend downward as long as interest rates continue to increase.
Consequently, preferred stock investors who are planning on selling their holdings during a future period of increasing rates need to be more diligent about price movements than they might otherwise have to be.
Preferred stock investors, both individual and institutional, are generally buy-and-hold investors, in it for the reliable dividend income that these securities provide. Newly introduced preferreds are generally more popular than older issues since the call protected dividend payout is longer with newer issues.
April 2013 provided not just a bumper crop of new preferred stocks but did so at a dividend rate that compares very favorably to the other alternatives currently being offered to income investors.
Footnotes:
[1] Source for all preferred stock data in this article: CDx3 Notification Service database (PreferredStockInvesting.com). Disclosure: The CDx3 Notification Service is my preferred stock email alert and research newsletter service and includes the database of all preferred stocks and exchange-traded debt securities traded on U.S. stock exchanges used for this article.
[2] Source for average April 2013 investment grade corporate bond yield: U.S. Federal Reserve (federalreserve.gov). Average bank CD yield is average APY for the top ten 24-month certificates offered by U.S. banks at the end of April 2013 (source: bankrate.com).
Disclosure: I have no positions in any stocks mentioned, and no plans to initiate any positions within the next 72 hours. I wrote this article myself, and it expresses my own opinions. I am not receiving compensation for it (other than from Seeking Alpha). I have no business relationship with any company whose stock is mentioned in this article.
Disclaimer: Securities identified within this article are for illustration purposes only and are not to be taken as recommendations.