"The four most dangerous words in investing are: 'this time it's different.'" Sir John Templeton.
Readers of my book and articles will know that I track the 17.6 year stock market cycle and in particular the specific 2.2/4.4 year cyclical turning points. Awareness of this long term Balenthiran Cycle is essential for understanding where markets are headed and being positioned accordingly.
The Balenthiran Cycle (which uses price data from the Dow Jones Industrial Average (NYSEARCA:DIA) going back 100 years) forecasts that the current secular bear market won't end until 2018. However when I was a guest on CNBC, as well as in comments to my articles, the response that I keep hearing is that a new secular bull market has already begun, central bankers have won. QE has triumphed over a cycle that has survived the Great Depression, two world wars and both the US and UK abandoning the gold standard. Basically "this time it's different!"
However this time is not different and as well as the 17.6 year stock market cycle forecasting a significant low in 2013, another shorter term cycle is as well.
The 17.6 Week Stock Market Cycle
It is also useful to monitor shorter timeframe cycles in addition to longer term cycles. One in particular is very informative, the 17.6 week cycle, and it is flashing red right now!

Click to enlarge
Source: The 17.6 Year Stock Market Cycle
As can be seen from the chart above, the third harmonic of the 17.6 week cycle has coincided almost exactly with interim highs during the cyclical bull market. The dates given by the cycle are shown in the following table, along with the actual market highs: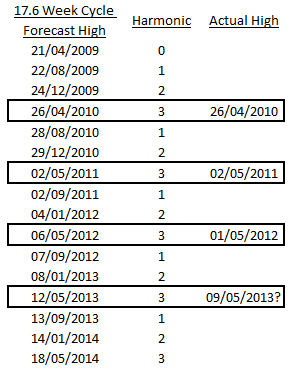 The chart above also shows that a typical correction following a high is completed during the next 17.6 week cycle, which put us at 13th September 2013, one day before St. Leger Day!
Sell in May? The famous saying began in Britain as "Sell in May and go away, stay away till St. Leger Day." St. Leger Day is the final horse race of the British equivalent of the Triple Crown.
Supporting the argument that a top is here is the amount of leverage that is currently deployed to buy stocks, it is remarkable how short people's memories are.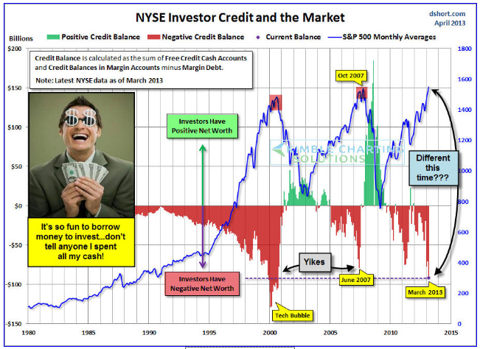 Click to enlarge
Source: Advisor Perspectives
Sentiment is too bearish to indicate a top is the other frequent argument used to justify on-going bullish action. But looking at the AAII data shows that a bullish survey reading greater than 50% is a poor predictor of market tops. As you can see, during this uptrend many corrections have occurred with bullish readings around 40%, exactly where we are now!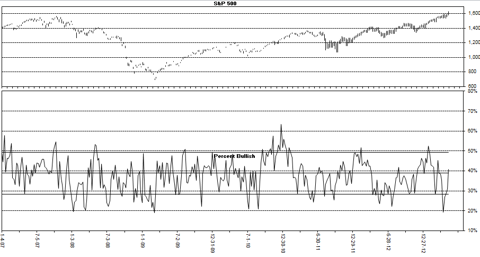 Click to enlarge
Source: AAII Investor Sentiment Survey
To summarize, cycles are showing that it is likely that there is an interim top due about now and this is supported by exuberance in terms of leverage. Although many investors are skeptical about this rally, only 27% are bearish, and sentiment is not a good predictor of stock market corrections.
Whilst being long from 2009 was the right course of action, there are good reasons not to trust this QE fuelled rally. I am anticipating a correction of around 10% to 20% based on historic experience but expect this to rebound quickly during 2014. I am not saying sell everything, just be aware of the cyclical nature of the markets.
Disclosure: I have no positions in any stocks mentioned, and no plans to initiate any positions within the next 72 hours. I wrote this article myself, and it expresses my own opinions. I am not receiving compensation for it. I have no business relationship with any company whose stock is mentioned in this article.