Keeping an eye on the short interest of a stock you currently hold or one you are about to purchase is a good idea because it can reveal the sentiment of the market and help identify companies that may have recently fallen out of favor. This is especially important to smaller companies because they are more susceptible to a short squeeze, but equally important to larger companies because it can provide investors with an alarm signaling potential problems and/or new information.
For this article, I have highlighted the short interest in Apple, GE and Home Depot. I have selected these for presentation because the short interest in each company has more than doubled in the first four months of 2013 (approximately doubled for GE).
Apple (NASDAQ:AAPL)
click to enlarge)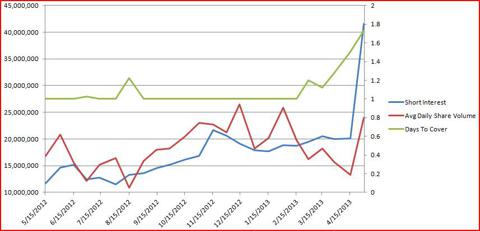 Between April 15th and April 30th the short interest in Apple more than doubled to 41,589,490 shares. This is the most shares shorted in the entire year and, even with a higher average daily volume of 23.9 million shares, days to cover was also at its yearly high of 1.73 days. With a float of 938.3 million, this resulted in a 4.4% short to float ratio. As this is a lagging indicator (reported on 5/9/13 for shares shorted on 4/30/13), shares are up from their 4/30/13 share price and currently trade at $451.82.
General Electric (NYSE:GE)
click to enlarge)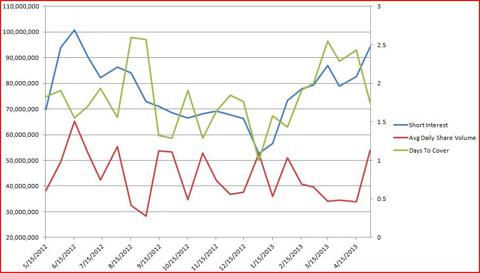 Between April 15th and April 30th, the short interest in General Electric went up 13.97% to 94,248,934 shares. The number of shares short is approaching the highest point in the last year (6/15/12-100.8 million shares short) and is almost double the lowest (12/31/12 - 52.6 million shares short). This increased short interest accounted for 0.9% of GE's total float of 10.37 billion shares. Much like Apple's shares, GE's stock trades slightly higher than it did at 4/30/13, current price is $22.70 per share.
Home Depot (NYSE:HD)
click to enlarge)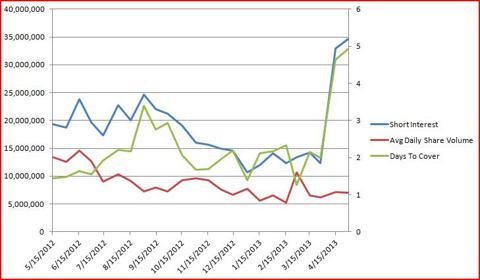 While the short interest for Home Depot didn't materially change from the amount held short on 4/15/13, it is important to note that it did increase to twice that of the amount reported at 3/28/13. As of April 30th the short interest was 34.7 million and the days to cover stood at 4.94 days, both yearly highs. This amounts to 2.3% of Home Depot's 1.49 billion share float. Home Depot is scheduled to report its first quarter earnings on May 21st, shares currently trade near their 52 week highs at $75.72.
Short Interest = number of shares sold short.

Days to Cover = number of shares sold short divided by the average daily trading volume.

An increase in the short interest and/or days to cover is a bearish indicator that may be caused by a fundamental business change, bad news, or a short sellers bad investment. This information is supplementary to a more thorough business analysis and should not be acted upon alone. This information is only provided and should only be viewed as a monitor for new events and trends. Rethinking and monitoring your investments is just as important as acquiring them!
Sources:
Number of shares float was found at Yahoo Finance
Short interest information was found here.
Disclosure: I am long AAPL. I wrote this article myself, and it expresses my own opinions. I am not receiving compensation for it (other than from Seeking Alpha). I have no business relationship with any company whose stock is mentioned in this article.