Intel (NASDAQ:INTC) is putting a lot of stock behind its Haswell product, as Paul Otellini, President, CEO and Director, noted in the company's Q1 2013 earnings call held on April 16, 2013. Mr. Otellini indicated the new Haswell product offering will provide improved operating performance, improved power consumption/battery life, form factor innovation and integration with touch. Mr. Otellini, set to retire on May 16, 2013 and to be replaced by Brian Krzanich, further noted the Haswell offering will enable lower price points and new form factors to be offered by its OEMs. Stacy Smith, CFO and Executive Vice President, indicated Intel expects to return to growth in the second half of this year as a result of the Haswell product and expects double-digit growth for the full year. Mr. Smith also added growth will be improved as a result of expected improving macroeconomic environment, product portfolio and broad range of market segments.
Intel reported first quarter revenue of $12.6 billion and is forecasting $12.9 billion revenue in the second quarter. As a result of higher than expected excess capacity charges related to older generation process technologies, and reusing the equipment for the next generation 14 nanometer technology, Intel was able to decrease its forecasted capital spending by $1billion for the year. Additionally, Intel's inventories in Q1 decreased by $400 million from the fourth quarter of 2012.
Mr. Otellini indicated that Intel now competes in every computing market segment and further added Intel is making good progress in the tablet and phone market segments, with tablet volume doubling in the first quarter. Mr. Otellini further noted the company is seeing robust growth in ultrabooks, detachable devices and convertibles. Mr. Smith further added Intel is seeing robust growth rates in the high-performance computing market segment supporting the roll-out of the cloud. On a slightly positive note, Mr. Smith noted the enterprise segment grew somewhat in Q2- it had been declining in prior quarters.
On a very positive note, Altera (NASDAQ:ALTR) is moving its leading edge products to Intel's 14 nanometer technology, but Mr. Otellini indicated the company will not see significant revenue from the Altera relationship for two or three years. Mr. Otellini further indicated Intel's foundry business requires three things for success: value-based pricing, not enabling a chip competitor and a relationship going beyond a foundry transaction.
In a previous article related to Intel, the company's transition to new market segments was discussed and which Intel now notes it appears to be getting some traction. Additionally, in the previous article, a married put position which is now a little over 6% profitable was offered as a way to invest in Intel's upside with limited exposure to the downside. Since publishing the previous article, Intel's stock price is up sharply as shown below: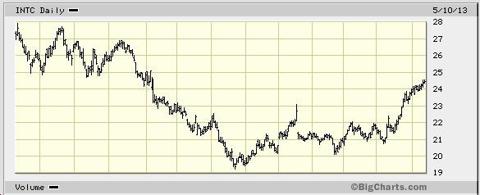 With Intel's future prospects, further investment is considered. Again, a protected position is considered for Intel via a married put stock option strategy. The married put stock option strategy positions for unlimited upside with limited downside. The position may be entered by purchasing a put option against a long position in the stock. The expiration month for the put option is typically selected several months in the future in order to reduce the per-day cost of the put option "insurance".
Using PowerOptions, a number of potential married put positions were found for option expiration in the month of October as shown below: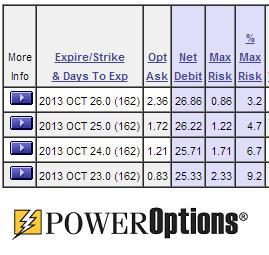 The married put position using the 2013 Oct 25 put option looks attractive as it has a maximum potential loss, before consideration for dividends, of 4.7%. When including expected dividend payments during the holding period, the maximum potential loss is reduced to 3.8%, so even if Intel's stock price drops to zero, the maximum loss which can be sustained is 3.8%. The details for entering the Intel married put position are shown below:
Intel Married Put Position:
Buy INTC stock (existing or purchased)

Buy INTC 2013 Oct 25 put at $1.72
A profit/loss graph for one contract of the Intel married put position is shown below: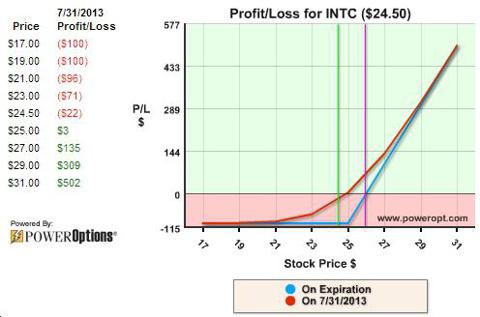 As the price of the stock increases, the value of the married put position also increases. If the price of the stock drops below the $25 strike price of the put option, then the value of the married put position remains unchanged. And, if the price of the stock increases to above the $25 strike price of the put option, then income methods may be applied in order to receive income and reduce risk.
Disclosure: I have no positions in any stocks mentioned, and no plans to initiate any positions within the next 72 hours. I wrote this article myself, and it expresses my own opinions. I am not receiving compensation for it (other than from Seeking Alpha). I have no business relationship with any company whose stock is mentioned in this article.