Let's face it, this bull market is perhaps one of the scariest that I have ever been part of. I suppose the reasons are right in front of us, and can be broken down into just a few core issues.
The market keeps making new highs almost every week, which could mean it is going too far too fast.
The Federal Reserve has policies in place that not only add liquidity, but makes borrowing cheap, and interest rates low. If they shift gears too quickly; OUCH.
The US economy seems to be healing, but whenever we turn around there seems to be a fiscal or global economic crisis somewhere.
The unemployment rate is still high, no matter what the anemic job growth reports report. Too many folks are simply out of the job market. If that continues, and incomes stay low, where will the consumer spending come from?
I can go on and on but I will let my readers chime in with comments about the "scariness" of this bull run. For us retired, dividend seeking, income investors, the Team Alpha Retirement Portfolio has enabled us to be well diversified, well balanced, and continues to pay us a solid income stream no matter how the share prices react.
My opinion is that the stocks in the portfolio are still fundamentally sound enough to begin going long right now, and anticipate pullbacks along the way to add to positions.
A Brief Look Back
The last portfolio update (click here) showed very impressive results, and they are stronger through the first 10 days of May. This mix of stocks is sound, and the allocations in each stock are prudent.
The Team Alpha portfolio consists of Ford (NYSE:F) Chevron (NYSE:CVX) Apple (NASDAQ:AAPL), McDonald's (NYSE:MCD), Exxon Mobil (NYSE:XOM), Johnson & Johnson (NYSE:JNJ), AT&T (NYSE:T), General Electric (NYSE:GE), BlackRock Kelso Capital (NASDAQ:BKCC), KKR Financial (KFN), Procter & Gamble (NYSE:PG), CSX Corp. (NYSE:CSX), Realty Income (NYSE:O), Coca-Cola (NYSE:KO), Annaly Capital (NYSE:NLY), Cisco (NASDAQ:CSCO), Bristol-Myers Squibb (NYSE:BMY), Healthcare Select Sector SPDR (NYSEARCA:XLV), and Wells Fargo (NYSE:WFC).
Stocks Held
Allocation %
O
6%
KO
3%
GE
8%
JNJ
6%
XOM
6%
T
7%
PG
6%
NLY
2%
CSCO
6%
MCD
7%
BMY
5%
WFC
3%
KFN
4%
BKCC
4%
CVX
4%
XLV
6%
CSX
4%
AAPL
6%
F
2%
Cash
3%
Investors Want To Go Long But Seem Afraid
I have roughly 600 subscribers to my free "early alert" e-mail program, and the most often asked question I have been getting is: "What price should I buy (fill in any of the stocks in the portfolio) at?" The comments that go along with it usually pertain to how much the particular stock, or stocks, have gone up.
Many of the folks either want to add to positions, or start a portfolio, and are squeamish about entry points. I wish I had a definitive answer for everyone, but the fact of the matter is that nobody knows when (or if?) a correction will happen before yet another run up of 10-15% higher. I myself am bullish on the market, and I am looking for the Dow to hit 16,000 by the end of the year.
I suppose we can look at some market sentiments to try and read some tea leaves for any clues that might be hidden.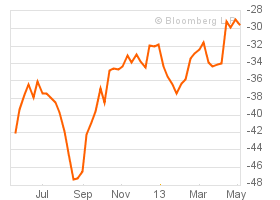 Consumer comfort levels increased from early this year, as you can see from this Bloomberg survey. In their survey report, Bloomberg noted the obvious:
Stock-market gains and rising home values have improved the outlook for wealthier Americans, underpinning total consumer spending, which accounts for about 70 percent of the economy. At the same time, the lagged effect of higher taxes is hurting the pocketbooks of the rest, one reason why it may be difficult for confidence to improve much more without bigger gains employment.
The takeaway here, is that there might be a disconnect between the stock market and the economy. However, as long as that 70% "underpinning" keeps chugging along, the stock market could continue to rise. I am also encouraged by the tepid comment about employment, even in the face of improved consumer comfort levels.
To me it means there are still walls of worry for this bull market to climb, which every secular bull market needs to keep going higher.
The Conference Board reports that the level of CEO confidence has risen from 46% to 54% as of the end of April. While improved, the survey of CEOs from around the globe is still somewhat neutral, but they report some signs of improvement.
My takeaway here, is that perhaps there will be a better hiring environment in the future, but not just yet. To me, this is also one of those walls of worry that can give the market more leg room.
If we take a look at the Citigroup "Panic/Euphoria" chart, as noted in this report, we can also see some "improvement", but still near the so called "flat-line":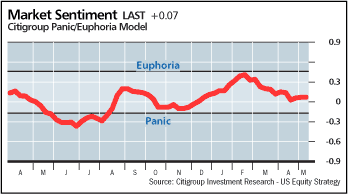 The fact that this chart shows the market sentiment clearly in the middle, gives me even more confidence that the stock market will continue moving higher, but perhaps at a measured pace. I like measured paces by the way!
Just to mix things up a bit, we also can look at this chart from CNNMoney, on the "fear and greed" index.

I think this is a pretty cool chart actually. There are 7 indicators that are used to calculate this metric, which can be found by checking out this link. Since fear and greed are the driving forces in the market, once everyone is "greedy" (or in the market) that is when I want to get out (or just hold on to what I have of course).
I would prefer the chart show a "50" level, but since the market and housing prices have recovered significantly, I suppose that would REALLY be unrealistic. The number did move down from the previous week though.
The Bottom Line
I stated earlier that the Team Alpha Retirement Portfolio has enough balance and diversification to reduce risk, even when the market corrects. The annual income of the portfolio is based on a current YOC of roughly 4.96%. By focusing on the goals of an income seeking investor, my thesis of "going long now" is emboldened by the charts and graphs I have noted.
Markets will always pull back or correct. It is unavoidable. That being said, if investors keep their eye on the ball, and know what their financial goals are, as well as risk tolerance, I believe each of you will gain more clarity with your decisions.
Disclaimer: The opinions reflected in this article are those of the author. This is not a recommendation to either buy or sell any security. Please do your own research prior to making any investment decision.
Disclosure: I am long AAPL, BKCC, BMY, CSCO, CSX, CVX, F, GE, JNJ, KFN, KO, MCD, NLY, O, T, WFC, XLV, XOM. I wrote this article myself, and it expresses my own opinions. I am not receiving compensation for it (other than from Seeking Alpha). I have no business relationship with any company whose stock is mentioned in this article.