After the markets closed on Thursday May 9, I tried to get a copy of Molycorp's (MCP) earnings release from its corporate website prior to the conference call with management. However, the company's website was shut down, probably overloaded from millions of longs and shorts trying to access it. It reminded me of the movie "Trading Places" where commodities traders feverishly tried to get a hold of the infamous "crop report" - a secretive report on orange crop forecasts.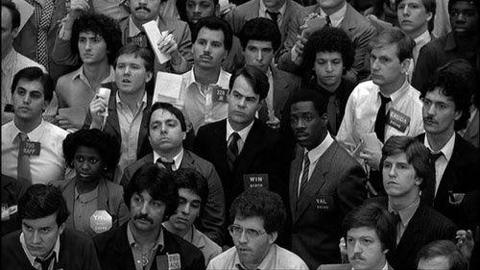 The article, "Molycorp Earnings Surprise: Pain Ahead For Shorts?", describes my reaction to the "Molycorp 1Q report":
When I finally got my hands on the earnings release, the first two metrics I saw were "revenues up 9% versus 4Q 2012" and "cash out flows of $36.6 million." I immediately figured there would be "pain ahead" for shorts.
I have been holding June puts on Molycorp for weeks, with the investment thesis that Q1 2013 revenue would be lower than the previous quarter's, higher than normal cash outflows from operations, writedown of inventory and another goodwill impairment charge. At the end of the trading day on Thursday, I purchased May calls in order to protect my downside, just in case the Molycorp Q1 report was better than expected. And it's a good thing I did because other than a $40.1 million write-down of inventory, none of the events supporting my investment thesis occurred.
The stock opened trading on Friday up $0.42 (7.5%) to $6.01. Around noon the stock traded at $6.73 (up 20.3%) and began an ascent to as high as $7.75. After massive short covering - at the end of April, the stock had short interest of 44.8 million shares with an implied 8.9 days to cover - the stock eventually closed at $7.34 (up 31.3%). Nearly 61 million shares changed hands - 10 times normal trading volume. After the smoke had cleared, I had made multiples from my investment in Molycorp call options, more than enough to cover the losses on my puts. The following chart displays the stock's trading volume and price movement over the past week.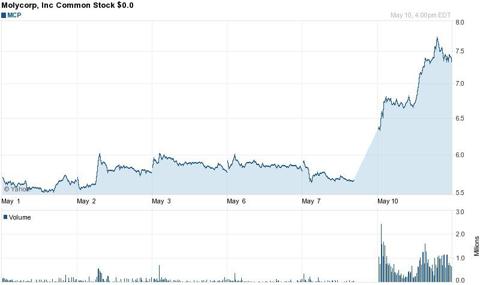 Molycorp is "Playing Possum"
The following chart displays Molycorp's revenue and earnings for each of the past three quarters:

I was expecting another down quarter in terms of revenue. In fact, I was almost certain of it. As I look back onto where this "certainty" came from, all signs point to the 4Q 2012 conference call in March. According to the article, "Molycorp 4Q Earnings: Digging Into The Details", interim CEO Constantine Karayannopoulos explained the 35% decline in revenue quarter-over-quarter, and intimated that Q1 2013 revenues could be worse.
He explained how in certain of its business segments, clients were experiencing a build up of inventory which would slow demand until the second half of 2013. Furthermore, as certain companies in its supply chain - Seagate (NASDAQ:STX), Western Digital (NYSE:WDC), and Nidec (NYSE:NJ) - continue to suffer from soft global demand, Molycorp's sales would also suffer. He was very candid about how he expected global demand and prices for rare earths to continue to deteriorate in the near term, yet gain traction in the second half of 2013.
Conclusion
I was able to profit from my Molycorp trades in totality. The profits from my call options outweighed the losses on my puts. At $7.31 per share, I think the stock is overvalued and the beneficiary of short covering. I believe short sellers have priced in a bankruptcy scenario which will not materialize for at least a few quarters, if at all. I am still looking for an optimal entry point on the stock. In the meantime, I will maintain a "market neutral" position of puts and calls. In the near term, other investors may want to consider a similar trading strategy.
Disclosure: I am short MCP. I wrote this article myself, and it expresses my own opinions. I am not receiving compensation for it (other than from Seeking Alpha). I have no business relationship with any company whose stock is mentioned in this article.
Additional disclosure: I own September calls, September puts and Junes puts on Molycorp