Stock price: €24,9 ($35.06 USD)
Conclusion: Risk reward looks attractive, looking for 20%+rerating.
Follow-up post Deutsche Bank presentation.
Like other brewers, Heineken (HINKY.PK) started the year with higher pricing but declining volumes (down 6%) in a depressed environment. In addition, Heineken is losing share in the US market and we think it will take time to reverse that trend, as a better job is required to support the brand.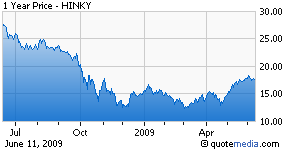 Therefore, much will depend on its capacity to achieve additional costs savings following the delivery of €450m ($633.4m USD) of costs savings between 2006 and 2008 linked to Fit2Fight programme. Management has launched 20 new initiatives (Total Cost Management programme) focusing on cost reductions that will impact the next three years. Although savings have not been quantified, we feel that the size could be comparable.
Many projects are underway (centralisation of back office and procurement, closure of breweries in UK, France, Spain and Ireland ). They should reduce costs in the supply chain, wholesale business and support functions in Europe and in Americas.
In addition, the leadership gained in the UK market through the acquisition of Scottish and Newcastle should help the group to change the dynamics and prioritise margins over volumes.
Lastly, except in Eastern Europe, Heineken should benefit from flat input costs and improved gross margin. We are looking for flat earnings this year and 14% growth in EPS next year. Net debt /EBITDA is expected to come below 2.5x by the end of 2010 helped by lower capex and improved working capital.
Heineken (P/E 12x and EV/EBITDA 7.5x) trades at 15% discount to the sector. In addition, our long term DCF valuation points to €30-32 per share. Heineken NV is even more attractive with a 20% discount to Heineken.
Disclosure: No position