Sina Corporation (NASDAQ:SINA) will announce earnings after the close on Wednesday, May 15, 2013. SINA is sort of the Yahoo of the Chinese market, and shares many of the opportunities and challenges of its American counterpart. While its social networking platform (Weibo) has grown rapidly of late, the company has encountered difficulty in monetizing its traffic flow. A recent alliance with a major Chinese e-commerce company (Alibaba, which bought an 18% interest in Weibo for $586 million) may change the situation entirely.
Let's check how SINA has fared with its last four earnings announcements:

Click to enlarge
SINA has a solid record of beating estimates - all four of the last four quarters - and in three of those quarters the stock moved higher after the announcement, twice moderately by a little less than 3% and once significantly, up 11.3%. But in November of last year, the stock was hammered down 15.1% in spite of beating estimates. More surprisingly, the stock had also traded lower over the preceding month and whisper numbers were lower than analyst expectations, two indications that expectations were not particularly high going into the announcement day.
The big move down was caused by weak guidance - the company said that the good results were due to the London Olympics, something that would not help future quarters. There is a strong possibility that investors were hoping that SINA would confirm rumors that Alibaba was buying part of SINA's Weibo platform (an event that did not take place until late in April and the stock shot up over 10%). In any event, the November quarter experience was a reminder that earnings are not the only important part of the announcement event - revenues, margins, and guidance are equally-significant factors that cause the stock price to move one way or the other, and sometimes something outside of the numbers alters the outcome as well (usually, causing the price to fall).
This time around, if history is any indicator, the company will probably exceed estimates once again. The quarter includes the Chinese New Year holidays which dampens economic activity across the board, and the analysts are projecting a $.03 loss after three consecutive quarters of profits (although the projected loss is quite a bit less than the year-earlier loss of $.21).
Even if SINA does beat again, I believe a strong argument could be made that the stock will trade lower after the announcement. First, and most importantly, expectations seem to be quite high. The stock has run up 30% over the last three weeks and the whisper number is for a gain of $.01 rather than a loss of $.03.
Second, the stock is a little pricey. With a trailing P/E of 127 and a forward P/E of 32, the stock looks expensive when YOY revenue growth is only 4.3% (source: Yahoo.com). Of course, if the Alibaba alliance really does add $380 million to SINA's revenues over the next three years as the company said it would, sales would grow at about 25% more than it has in the past, and the 32 forward P/E would not look so expensive. Regardless, it is unlikely that the current quarter will contain any concrete benefits from the alliance.
Third, hedge funds are selling shares (6.2% of the total float last quarter). I think it is important to follow the actions of hedge funds and institutional investors. While they surely are not always right, you can count on their having done some intensive research before committing (or removing) their funds to or from a company. On balance, at least some of them believe the outlook is not so great.
If you like SINA, I suspect there will be an opportunity to buy shares at a bargain price shortly after earnings are announced on Wednesday.
If you are an options nut like I am, you might follow what I plan to do prior to the announcement. Implied volatility (IV) of the May options is almost double that of the June options, and it is tempting to sell as much of that premium as possible. With the stock selling at about $59, I will buy an equal number of calendar spreads (buying June and selling May) at the 60 strike (using calls) and at the 57.5 and 55 strikes (using puts).
The risk profile graph for these positions is as follows, assuming that IV for the June options will fall from its current 46 to 38 (although this may be conservative because after the last announcement, IV for the next month out was about 46):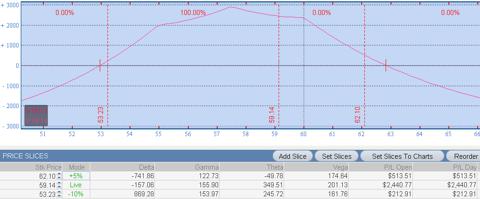 Click to enlarge
These calendar spreads (10 at each strike) would cost about $3500 in total to buy. If the stock ends up anywhere in the range of $55 - $60 (where I think it is most likely to be), the positions should make about a 50% gain after commissions. If it falls more than 10% or moves higher by about 5%, losses start to accumulate. This seems to be a fairly generous break-even range, at least in my opinion. The option prices are theoretically expecting a 12.4% price change, but I doubt if it will be that great.
I am not betting my yet unbuilt guest house on this option play like I did last week in my Seeking Alpha How To Play The Green Mountain Coffee Roaster... (NASDAQ:GMCR) when I made 20% even though the stock moved in the opposite direction I expected, but it is another good example of my thesis that expectations are a more important determinant of what the company's stock does after the earnings announcement than the earnings themselves. So far, betting on the expectation factor has been successful the great majority of the time (i.e., when expectations are unusually high, bet on a lower stock price after the announcement, and vice versa).
Disclosure: I am long GMCR. I wrote this article myself, and it expresses my own opinions. I am not receiving compensation for it (other than from Seeking Alpha). I have no business relationship with any company whose stock is mentioned in this article.
Additional disclosure: I plan to place the neutral-bearish option trades on SINA as outlined in the article before the close of trading on Wednesday.