Summary
The market continued higher again last week, although it was a light move overall. There was not a lot of data to keep the market moving this past week, as data and earnings were minimal. Chinese Trade Balance data was a big plus for the market as it showed strong export growth, but that was about the only big news of the week. The coming week will start to show a lot more data around April that will be important for keeping the market moving. Some key reports to watch will be Retail Sales, Housing Starts, and Michigan Consumer Sentiment. Additionally, we get a number of important earnings reports this week that will be crucial to the market's movement. Look for the Dow Jones (NYSEARCA:DIA) and Nasdaq (NASDAQ:QQQ) to correct a lot if data is not good this week.
Chart Overview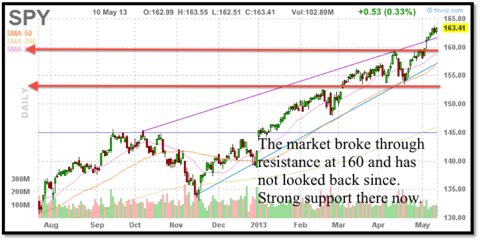 As we can see from the chart above, we broke the key resistance line on the SPDR S&P 500 (NYSEARCA:SPY) that had held since March, and the range we had been in since that started is now broken. Breaking that key resistance should signal more upside unless we quickly lose footing. 160 is support. We may see 165 resistance for a new range for the market. The market is still in a strong bull trend.
Economic Data
| | | | |
| --- | --- | --- | --- |
| Date | Data Report | Market Expectations | Previous Report |
| May 13 | Retail Sales - April | -0.3% | -0.4% |
| May 13 | Business Inventories - March | 0.3% | 0.1% |
| May 14 | Import/Export Prices - April | N/A | -0.2% |
| May 15 | PPI - April | -0.5% | -0.6% |
| May 15 | Empire Manufacturing - May | 3.5 | 3.1 |
| May 15 | Industrial Production - April | -0.2% | 0.4% |
| May 15 | NAHB Housing Market Index - May | 44 | 42 |
| May 15 | Crude Inventories - 5/11 | N/A | 0.23M |
| May 16 | Initial Claims - 5/11 | 330K | 323K |
| May 16 | Continuing Claims - 5/4 | 3005K | 3005K |
| May 16 | Housing Starts - April | 970K | 1036K |
| May 16 | Building Permits - April | 950K | 902K |
| May 16 | Philly Fed - May | 2.5 | 1.3 |
| May 16 | Natural Gas Inventories | N/A | 88bcf |
| May 17 | Michigan Sentiment - May | 78.5 | 76.4 |
| May 17 | Leading Indicators - April | 0.3% | -0.1% |
It is a busy week for the market with lots of important data. We get Retail Sales and Business Inventories on Monday. Retail Sales will be crucial as they were negative in March and need to bounce back in April to show signs that the consumer is still in this market. PPI, on Wednesday, will be important, as it should show how producer prices are doing. Empire Manufacturing for May will be released on Wednesday as well, which is expected to show slight growth. A positive report will be key here as well. Housing Starts, Building Permits, and Philly Fed on Thursday will all be important as well. Starts are expected to decline while Permits and the Philly Fed Index are expected to expand. Finally, we will be looking for Michigan Sentiment to expand in May for its first reading. March data was weak, and if we see more of the same for April, it could disrupt this bull move. More solid data, though, will be cheered.
Foreign Markets
Outside of the U.S., Europe and Asia will not have quite the same impact as the past week because of heightened economic data for the U.S. Monday, we get Chinese Industrial Production and Retail Sales. Both are expected to show expansion, which will be very important to the market moving forward. On Tuesday, the German ZEW Survey will be released. It is expected to move from 36 to 40 for growth. Green shoots like this in Europe are important for the market. On Wednesday, we get eurozone, French, Italian, and German GDP. Only Italy is expected to grow year/year, so it will be interesting to see how these reports come out. Thursday and Friday are pretty light for both markets. The GDP reports on Wednesday are crucial this week, so look for them to have a major impact.
Earnings
| | |
| --- | --- |
| Date | Key Company |
| May 13 | Take-Two (NASDAQ:TTWO) |
| May 15 | Arctic Cat (NASDAQ:ACAT) |
| May 15 | Deere (NYSE:DE) |
| May 15 | Macy's (NYSE:M) |
| May 15 | Jack in the Box (NASDAQ:JACK) |
| May 16 | Kohl's (NYSE:KSS) |
| May 16 | Wal-Mart (NYSE:WMT) |
| May 16 | Applied Materials (NASDAQ:AMAT) |
| May 16 | JC Penney (NYSE:JCP) |
| May 16 | Nordstrom (NYSE:JWN) |
This week is still light on earnings, but we still have some interesting reports from Deere (DE), Macy's (M), Wal-Mart (WMT), J.C. Penney (JCP), and Nordstrom (JWN). The week gives us a very crucial look at different consumer classes. WMT will give us a great look at low-income and middle-income consumers, while M and JCP will give us a good look at middle-class to middle-upper. JWN should give us a great look at upper class.
Fed Outlook
The Federal Reserve has some interesting developments this week. We get the New York Fed releasing quarterly household debt on Tuesday. That report should be interesting for the market as well. We get the Philly Fed Index on Thursday, which is always important to the market. Finally, we have seven speeches throughout the week. The market will parse those speeches for important wordage about any cuts to monetary easing.
Conclusion
It is an important data week for the market, and we should see a lot of reaction to key data for April and first data for May. March was a bad month for the economy, so investors will be looking for an April bounce back. If we do not get it, we may start to see some signs of weakness in the market. Additionally, key European data as well as earnings from some bellwethers will help steer the market throughout this week as well.
Trades
Equity Alpha
Ticker: Las Vegas Sands (NYSE:LVS)
One stock we like heading into this week is LVS. The company is on the breakout right now, and we think it's a good time to buy as continued upside looks very promising. The company had a very promising report at the beginning of the month, and they are seeing a lot of buyer interest. Macau is the key for LVs right now. The company had a record number of gamblers in Macau at 14M. The company is the leader there over Wynn (NASDAQ:WYNN) and others, and it's doing better than its competitors as well. We believe growth will remain strong as the middle and upper classes of China continue to rise.
Right now, the knock on shares is its value. Future PE is over 18 and price/sales are over 4. Neither show value in shares, so if you want to buy LVS, you have to believe that growth will remain strong. We are confident about this. The company is opening another hotel in Macau by mid-2015 -- The Parisian. Additionally, the company saw 7% growth in its Vegas operations in Q1. We believe that Vegas is due for a bounce back as discretionary spending has been on the rise for Americans as well. Further, the hotel chain is well positioned in the upper-to-middle-class range that is seeing wealth growing with a strong stock market. The future is Macau for LVS.
In April, gross revenue grew over 13%. The company is expected to see earnings growth of 30% this year and 14% next year. 2013 is a big year with Macau's rebound and growth. While 2014 may see a slowdown, 2015 should be a big year with The Parisian opening. We believe that the stock is priced for growth through the end of year, and we are confident that this is a great growth stock to own for the rest of the year. Volatility is low in shares, and there is a lot of potential for growth. The stock is breaking key resistance at 57.70, and we like the company to breakout from this area.
Buy Point: $58.50
Target: $62, $70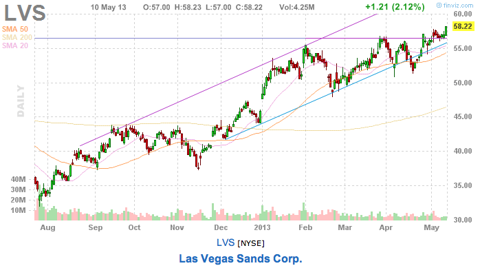 Options
Ticker: Monsanto (NYSE:MON)
Agriculture looks like it may have bottomed, but while a lot of the ag stocks like Agrium (NYSE:AGU), Teucrium Corn (NYSEARCA:CORN), Mosaic (NYSE:MOS), and other saw an April lull due to droughts, Monsanto was fairly strong. The company reported great earnings at the beginning of April, and it has charged higher in May. Earnings at the beginning of April showed nearly 20% profit growths for the company, along with a rise in its full year forecast. The company's corn and herbicide business was very strong. Growth in emerging markets was good as well as sales for seeds that work well in drought conditions. MON has become so strong as a seed provider that the company can do well in great conditions, as more farmers will want to produce. During tough ag conditions, MON can benefit due to its ability to provide alternative seeds and chemicals that can help. That duality makes the moat for MON strong.
We believe the company is very promising, and it is a great addition to any portfolio. First off, growth looks strong for this year and ahead. Expectations are for MON to see about 12% sales growth this year and 7% next year. Earnings are expected to grow 25% in 2013 and 15% in 2014. Growth looks great for this company. Future PE for the company is at 20, so value is also not there in MON shares. Yet, as we stated above, where is MON going to get hit? The world's food needs are growing, and MON is expecting strong growth in Latin America moving forward. The company's PEG ratio at 1.8 does show some decent value compared to MON's growth, and we believe that growth is very solid moving forward over other growth stocks.
If one wants to get involved in MON, a great way to start (given some overvaluation concerns) is through a bull put spread. We can write options and get premium for it. If the stock declines a lot, we have the right to shares at a lower level then as well.
Trade: MON, Jul20, 100/97.50 Bull Put Spread
Max Gain: 20%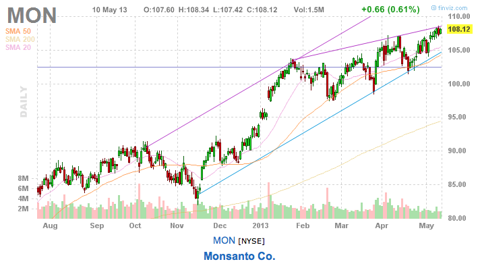 Another stock we like as a trade into earnings is Michael Kors (NYSE:KORS). KORS has had fantastic earnings reports, but the company has continued to suffer from a lot of volatility in between reports. The story, though, for KORS remains growth. In the coming quarter, KORS is expected to see nearly 100% earnings growth to match 43%+ revenue growth. The company has benefited greatly from foreign growth in China, and that growth will help the company achieve over 60% sales growth this year and over 30% sales growth next year. The company has a very low PEG ratio at 1.1. That ratio is obviously due to such high growth, so if the company does not do well in its growth, the ratio does not matter. KORS has shown no signs of stopping its growth, and as we have highlighted in previous articles, KORS is in a great spot for consumers.
As noted in previous articles:
The reason we really like KORS is it has found a great niche beneath ultra-luxury and above mid-level. KORS is taking advantage of what Business Insider labeled as HENRYs (High Earners Not Rich Yet). These consumers make $100K-$250K, but they are not ultra-wealthy. They are spending more money, and there are over 21M of them. The consumers like the look of KORS clothes, which are fashionable and glitzy. Yet these consumers cannot afford luxury goods. They can afford the $400-$500 bags and $200-$300 watches. With such strong growth expected in 2013 and the company moving into foreign nations right now, upside looks great. We like starting a position using a Feb16 bull put spread of 50/48 strikes. If KORS continues higher, we make the entire premium. If KORS drops for whatever reason, we can obtain shares at a cheaper price.
We look for growth into earnings as shares are breaking out of key resistance levels. We believe shares could get back to $65 by earnings, where the stock was after its last earnings report.
Ticker: KORS, Long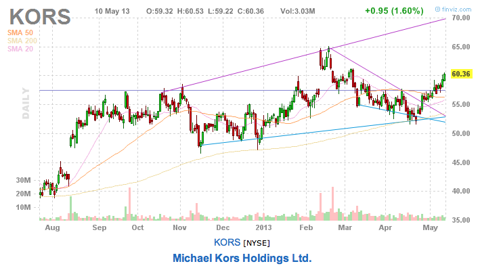 Disclosure: I have no positions in any stocks mentioned, and no plans to initiate any positions within the next 72 hours.
Business relationship disclosure: The Oxen Group is a team of analysts. This article was written by David Ristau, one of our writers. We did not receive compensation for this article (other than from Seeking Alpha), and we have no business relationship with any company whose stock is mentioned in this article.