AmerisourceBergen (NYSE:ABC) is a global supply chain company serving pharmaceutical companies and healthcare providers. The company generates about $80 billion is sales by selling brand-name drugs, generics, over-the-counter products and services to a diverse mix of customers.
AmerisourceBergen, an $8 billion distributor of pharmaceutical products, reported first quarter 2013 financial results. ABC's results provide the basis for our investment thesis.
AmerisourceBergen reported its fiscal year second quarter, ended March 31, 2013. Diluted earnings per share from continuing operations were $0.87. Revenue in the quarter was $20.5 billion, up 4.0%. The company also reaffirmed its expectations for fiscal year 2013 adjusted diluted earnings per share from continuing operations in the range of $3.04 to $3.14.
For the first six months of the fiscal year, revenues were up 4.8% to $41.8 billion; diluted EPS from continuing operations of $1.61, up 11.0%; gross profit of $1.4 billion, up 10.0% and share repurchases of $284.7 million.
First, the statement of income shows results for the March 2013 quarter versus the March 2012 quarter and also for the preceding two full years (2012 and 2011). The first factor we can assess from the income statement is growth. Net sales grew 4.1% in the March quarter compared to the prior year quarter. Sales declined 0.6% in fiscal year 2012 ending September from 2011. More importantly, operating profit declined 7.1% to $350.1 million in March (increased 7.1% in FY2012), net income declined by 78.5% (increased 1.9% in FY2012), and earnings per share were up 3.6% (9.6%). EPS grew faster than net income due to share count reduction of 27.8 million shares from the prior year's level. Shares outstanding were reduced by approximately 10% in 2013 versus 2011.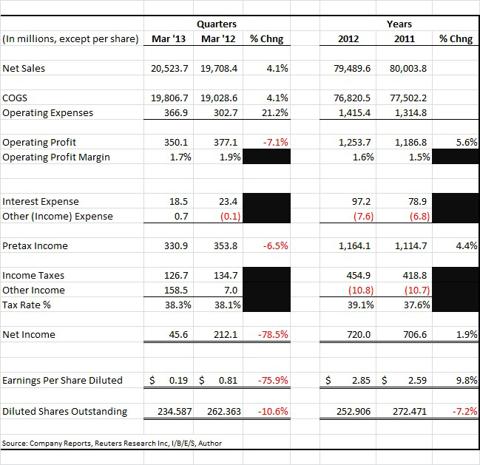 ABC has invested capital of $3,742.6 million. ROE for the most current periods (the quarter ended March 2013 and the year ended September 2012) is over 1.9% and 27.0%. EBIT to invested capital is 8.8% for the quarter ended March 2013 and almost 32.3% for the year ended September 2012.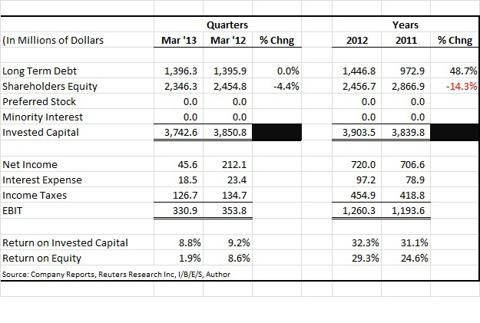 AmerisourceBergen grew free cash flow by 392.3% for the first quarter of 2013 and 13.0% in all of 2012. Cash ROIC for 2012 was 29.2%, up from 26.3% in 2011.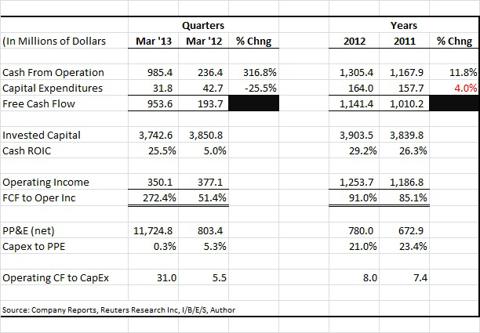 CapEx to PP&E -- our barometer of changes in capital intensity -- was 21.0% in 2012 and 24.3% in 2011. Operating Cash Flow to CapEx was 8.0X in 2012 and 7.4X in 2011.
On the whole, AmerisourceBergen has passed our fundamental analysis and from a fundamental viewpoint alone, would likely make a good investment.
In March, the company announced a strategic, long-term relationship with Walgreens (WAG) and Alliance Boots. The agreement provides for an expanded relationship with Walgreens and Alliance Boots, including a ten-year comprehensive primary pharmaceutical distribution contract with Walgreens, access to generic drugs and related products through the Walgreens Boots Alliance joint venture, among other incentives. In addition, Walgreens and Boots Alliance have been granted rights to purchase an equity position in AmerisourceBergen.
In a separate development, the company agreed to sell its packaging business AndersonBrecon for $308 million in cash to an investor group led by Frazier Healthcare Ventures.
AmerisourceBergen pays an indicated dividend of $0.84, which provides a yield of 1.5%. The company has also been aggressive in buying back shares. The five year average buyback is about 7.3% of shares outstanding.
The company's share price has grown about 50.0% over the twelve months. However, I think it is still undervalued and has room to appreciate. By my calculations, ABC has an EV/EBITDA ratio of 7.57X, which is less than its two major competitors. The company's two major competitors are McKesson Corp. (NYSE:MCK) and Cardinal Heath (NYSE:CAH). In comparing the companies on valuation, I use EV/EBITDA and Free Cash Flow to Price.
| | | |
| --- | --- | --- |
| Company | EV/EBITDA | FCF To Price |
| ABC | 7.57 | 9.63 |
| CAH | 8.38 | 7.04 |
| MCK | 9.65 | 4.23 |
In comparing profitability of the three companies, I focus on EBITDA less CapEx to Invested Capital and Cash Return on Invested Capital. I find that AmerisourceBergen is more profitable than its competitors.
| | | |
| --- | --- | --- |
| Company | EBITDA-CapEx/Invested Capital | Cash ROIC |
| ABC | 40.37 | 32.51 |
| CAH | 18.02 | 10.56 |
| MCK | 22.6 | 9.86 |
My conclusion is that AmerisourceBergen is a financially solid company with demonstrable profitability that is undervalued as compared to its competition.
Disclosure: I have no positions in any stocks mentioned, and no plans to initiate any positions within the next 72 hours. I wrote this article myself, and it expresses my own opinions. I am not receiving compensation for it (other than from Seeking Alpha). I have no business relationship with any company whose stock is mentioned in this article.