Friday's employment report from Statistics Canada demonstrated once again how the public sector is leading the way in job growth in Canada:
"There were 34,000 more people working in the public sector in April, while there was little change in the number of private sector employees and the self-employed.

Over the previous 12 months, public sector employment increased 2.6% or 94,000, while growth in self-employment was 2.2% (+59,000), the bulk of which was in the first quarter of 2013. The number of private sector employees was little changed compared with 12 months earlier, as gains in the second half of 2012 were offset by losses in 2013."
So jobs in the private sector are stagnant, and self-employment generated most of its gains in the past year in a one-quarter burst. Meanwhile, the public sector is showing the healthiest job growth.
As a result, Canada has experienced very little progress in driving down unemployment over the last two years.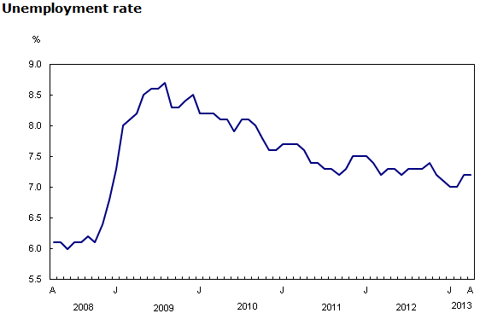 Unemployment rate in Canada
Source: Statistics Canada - Labour Force Survey, April 2013
Canada's sluggish job market parallels the slow progress in the U.S. However, at least in the U.S., the private sector is leading the way in job creation. In fact, the public sector continues to shrink. I consider Canada's relative under-performance to be yet one more strike against the Canadian dollar versus the U.S. dollar (NYSEARCA:FXC). The Canadian dollar remains over-valued, and the Canadian economy will perform much better once it finally weakens again.
Ever since I projected that a sustained weakening was finally underway, the Canadian dollar has instead strengthened further. I have used this move as an opportunity to grow my long position on the U.S. dollar versus the Canadian dollar from a small size to a "medium" size. I will continue to accumulate on weakness. The chart below shows the USD/CAD managed to find support at its 200-day moving average (DMA). A critical retest of 50DMA resistance is right around the corner.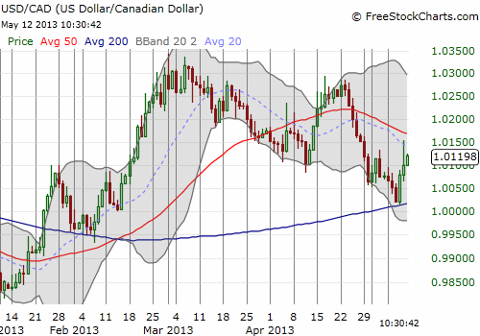 USD/CAD finds support at the 200DMA. Now can it break through 50DMA resistance?
Source: FreeStockCharts.com
Last week, the U.S. dollar (NYSEARCA:UUP) found renewed life against all major currencies. Should this trend continue, I think the Canadian dollar will be one of the biggest relative losers in the short-term as it has a lot of "catch-up" to do.
Disclosure: In forex, I am long USD/CAD. I wrote this article myself, and it expresses my own opinions. I am not receiving compensation for it (other than from Seeking Alpha). I have no business relationship with any company whose stock is mentioned in this article.